Thursday April 25th, get ready for free pampering, food, cocktails, music and FASHION because AnnaFesta is having their grand opening at ConneXions Boutique in Southwest Plaza starting now!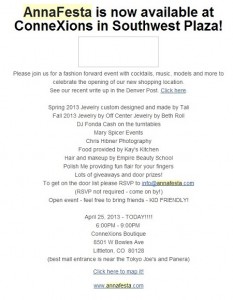 You are invited to come out and celebrate this amazing event as AnnaFesta grows with the fashion industry. Guests will be able to view a preview show of AnnaFesta's Fall 2013 Collection!
What to expect:
– Spring 2013 Jewelry custom designed by Tali
– Just Polish will be on hand adding flair to your fingers!
– Chris Hibner Photography on hand for fabulous photos.
– Food by Kay's Kitchen.
– Live DJ set by Fonda Cash
– Fall 2013 Jewelry by Off Center Jewelry by Beth Roll
Who: AnnaFesta
What: Celebration of AnnaFesta's grand opening at Southwest Plaza.
Where:
ConneXions Boutique
8501 W. Bowles Ave., Littleton, Colorado 80128
When: Thursday April 25th, 2013 from 6:00 pm to 9:00pm
Why: Support local fashion and help celebrate the achievement!
We at FCF hope to see you there!!!
To see more AnnaFesta visit: www.annafesta.com