Thursday April 25th at 6pm, AnnaFesta had their grand opening at ConneXions Boutique at Southwest Plaza, located at 8501 W. Bowles Ave. Littleton, Colorado 80128. The event was fantastic!!! Many guests attended the preview show of Anne Fanganello's Fall 2013 Collection.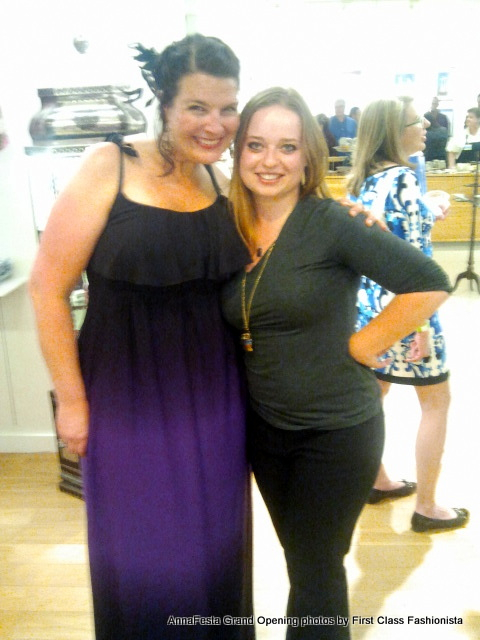 Walking into the new boutique was like stepping into an art show! Listening to the sweet sounds of DJ Fonda Cash, guests enjoyed every corner of the ConneXions Boutique which presented a unique style of art. Artists featured within the boutique included Suns Vision, Antoinette Engelke, Brian Wall Fine Art, Cristine Boyd, Janet Rossi, Light Falls Canyon, Dale Dahley, Judi Mitchell, Lamecia Landrum, Michael Schuessler, Patrick McDuffee, and Fine Wood Transformations. The Spring 2013 Collection of custom jewelry from Tali and Off Center Jewelry by Beth Roll was shown at the event and those in attendance were able to purchase the jewelry at 20% off by the end of the show!
Guests also enjoyed getting their nails pampered by Just Polish, while professional photographer Chris Hibner was there taking photos of it all.
In the seconded section of the boutique, there were finger foods by Kay's Kitchen. The food was amazing! They had crackers and jello dips like jalapeño and tomato, along with cream cheese, jerky, bacon flavored dips, nuts, saucy meatballs, orange ice cream flavored cookies and chewy caramel candies. Some artisan cooks included WineTable, My Kitchen Camp, Home of Bacon Jam, Colorado Beef's Premium BBQ Sauce, and Oregon Trail Jerky. These artists showed off their special ingredients during the event, which were also available for sale within the ConneXions Boutique.
The night was filled with free cocktails, amazing food, extravagant fashion designs by Anne Fanganello, and friendly people supporting this amazing woman and her success within the fashion industry! FCF was so happy to be a part of this amazing event and it was a pleasure to meet Anne Fanganello in person!!!
For more information visit the AnnaFesta website at www.annafesta.com.