The Program: Layout and Design by A. Dennis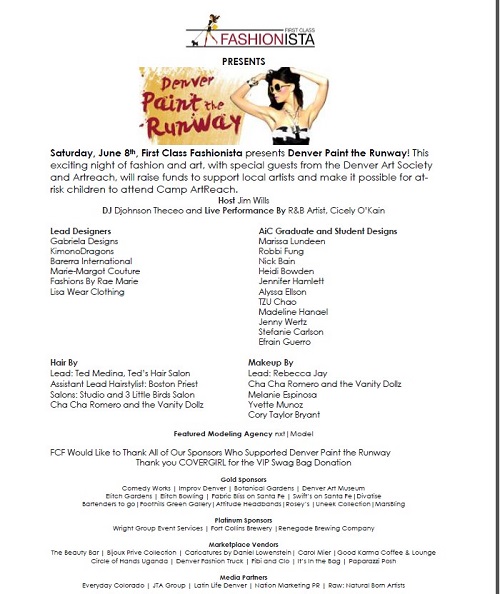 Hi my fellow fashionistas and fashionistos! It has been a while. Well for those of you who don't know, FCF put on quite literally the show of a lifetime. Being our first event, Denver Paint the Runway was a huge success. Let me be the first to thank all you loyal readers and supporters! Without you none of this would have even been thought of, so a big thank you from the First Class Fashionista family. I'm here to give you guys the INSIDE story on Denver Paint the Runway. This article will provide background only known to the FCF team!
Planning this event took incalculable man hours and countless amounts of dedication by the FCF team. When Lonza first approached me and two fellow writers about possibly doing an event everyone was in almost instantaneously. After deciding the show basics, the theme, the benefiting charities etc. The hard work began. Planning a show with a budget is hard enough—but planning a show with NO budget is even harder! Luckily, due to Lonza's (our editor) fierce loyalty to the Denver fashion industry, many different people signed on to help FCF. The lead designers included: Rae Marie Hurst, Juan Jimenez, Maggie Burns, Lisa Wear, Gabriella Martinez and Francis D Roces. The talented graduate and student designers from the Art Institute of Colorado, which were formally introduced to the Denver fashion community included myself, FCF blogger Marissa Lundeen, FCF blogger Robyn Fung, FCF blogger Alyssa Ellson, Heidi Bowden, Jeniffer Hamlett, Tzu Chao, Madeline Haenel, Jenny Wertz, Stephanie Carlson and Efrain Guerro.
Finding sponsors, which meant emailing countless companies, was something the FCF team did on a daily basis. Having THAT much email traffic was REALLY confusing! But like champs, the FCF team pushed through. During all of the business side of things, we had to discuss creative semantics within the show such as hair and makeup. Ted Medina being a longtime supporter of FCF, we were fortunate enough to work with this hairstylist credited as Denver's hair guru. Supporting salons and makeup artists included Andrea Tucker's Studio: A Collective of Stylist, Cha Cha Romero and the Vanity Dollz, Three Little Birds, Paul Mitchell, Boston Priest, lead makeup artist Rebecca Jay, Melanie Espinosa, Yvette Munoz, Cory Taylor Bryant, Dionah Austgen. Impressively, each salon brought their own top hairstylists to blow the hair out of the water! In the midst of all this, we had to find models to walk in the designer's clothing. We asked the designers to call their preferred models and we held a model casting for the student portion of the show. Overall we were blown away by the amount of support we had from that end of fashion. Models thank you for being the face of Denver fashion! Some of Denver's top models stomped down the runway along with a mixture of new faces. The model call results was nothing short of spectacular.
The day of the show arrived. One of the designers in the show, Rae Marie, said to me, "Everything that can go wrong, will." Although everything didn't go wrong, there were a few bumps in the road. But no matter how big the bumps seemed to be, everyone handled it well and remained calm (well as calm as they could being nervous and all). I half expected for things to just start falling into place but, like a jigsaw puzzle, it took some work to get the pieces to all fit. I was constantly running around backstage helping students, designers and models get organized. To our benefit, all the seasoned designers participating in the show knew what to expect and handled things accordingly. So, most of my attention was directed towards those who had never really shown before, the students. Even though most of the students had never done a show before, I was shocked at how professional all of them were.
Thrilled at the fact that FCF had given them a platform in which they could show their work, many of the students were just as nervous and stressed out as I was. To all the students from my Alma mater, AiC, I was proud to see such talent walking down the runway. Actually, one of my personal friends in the audience was telling me that people at the show were stunned that these pieces were done by students. Maggie Burns, Rae Marie, Juan Jimenez, Lisa Wear, Gabriella Martinez, and Kimono Dragons actually ALL created new lines specifically for this event. At the end of the evening, Denver Paint the Runway went off without a problem and we ended up raising some money to support local artists and make it possible for at-risk children to attend art camp this summer.
If you didn't get mentioned in this article, we want you to know we appreciate ALL of you who helped make DPTR a success! Special thanks goes out to our graphic designer Jarrod Jemison, model Suzie Kaufman for being the face of DPTR, DJ Donald Johnson, Jim Wills for hosting the show, special guests Iman Oubou, NFL player Derrick Martin (and more), our runway coach extraordinaire Oksana Lewicki, Liz Pineda of the Beauty Bar and Rae Marie for their mentorship, Divatise for supplying All of the vino and Cicely O'kain's manager and event promoter for supplying ALL of the hard liquor for the event. –AND thank you Cicely for delivering the message of DPTR so beautifully. First Class Fashionista believes the children are the future, and learning to love yourself is The Greatest Love of All…Thank you Denver Art Society for hosting this fashion and art collaboration/a game changing event for Denver, Colorado.
Again we at FCF can't thank you, the readers, and our dear friends who participated in the show enough. You have all been such a huge part in making FCF what it is today. And you never know…we might be doing this again. See you on the DPTR runway next year!
Denver Paint the Runway was featured on Colorado's "Everyday" show, online and in print.
Check out 303 Magazine's "Local Apparel Designer's Paint the Runway with a Flourish", The Westword's "Wearing it Well", Latin Life Denver magazine's "Fashionista's Paint the Runway for a Worthy Cause", Ask Miss A's "Denver Paint the Runway" recap, Examiner Alaina Brandenburger's Denver Paint the Runway Draws a Stylish Crowd, and Fashion Denver's Review. Thank you to all the media outlets, like the Denver Post, that posted pre-coverage articles upon request!
Denver Paint the Runway Slideshow: Photography by Robert A Rice, Jim Bailey, Tory Rust, Michael Beckerman and Brandon Sanchez (picture galleries below)

Selected Denver Paint the Runway Photos by DPTR official Event Photog Jim Bailey

Selected DPTR Photos by Event Photog Michael Beckerman

Selected DPTR Photos by Event Photog Brandon Sanchez

Selected DPTR Photos by Event Photog Robert A Rice

Selected DPTR Photos by Event Photog Tory Rust