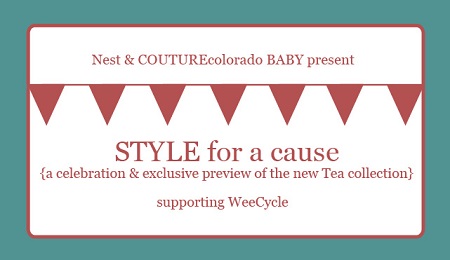 Presented by Nest and COUTUREcolorado, Style for a Cause is a fabulous event coming Sunday, June 23, 2013 to Denver, CO. It will be great fun for the whole family, and it's for a good cause too!
What: STYLE for a Cause Event by COUTUREcolorado Baby+ Nest
When: Sunday, June 23, 2013 3pm to 5pm
Where: 2808 E 6th Avenue (near Detroit Street) Denver, 80206
Tickets: Limited but complimentary. Reserve your tickes here www.eventbrite.com/event/6566513619/firstcf
Details:
Each season, Tea travels the globe in search of inspiration, and translates their discoveries into modern children's fashion. Join Nest and COUTUREcolorado Baby as they unveil the newest country at the source of Tea's designs.
Shop at a Nest pop-up boutique, stocked with the first delivery of the new collection. Nest will reveal exclusive samples from all five of Tea's next deliveries, not yet in stores anywhere in the world, and will be taking pre-orders for fall. View the collection in a live preview, with a Tea fashion show. Be the first to dress your "little citizens" in the spirit of global adventure, and receive 15% off your full price Tea purchases from Nest at the event.
Bring the whole family and celebrate with:
activity tables for crafty kids
fabulous raffle items
all under Decor Design + Production Group's inspired and whimsical environment
This event in the COUTUREcolorado Style for a Cause series supports WeeCycle in a diaper drive. WeeCycle's mission is to help low income families with infants and toddlers in the Denver metro area by providing them with new and gently used baby gear free of charge.
For each pack of diapers you bring to donate, receive a raffle ticket to place near the item of your choice from our community partners.
Raffle Sponsors and Contributors:
Decor Design and Production Group
Common Couture
Sarah and Brad Photography
Great Play – Cherry Creek
Hip Violet
Make My Notebook
Peppercorn Kids
Chickadee Studios
Shelby Peters, Mobile Stylist
Lexis Works
Glaze
ambajam
Venue Sponsorships:
Swoozies
Barre3
Nest