FirstClassFashionista would like to invite you to shop: DesignerClothes@FirstClassFashionista
DesignerShoes@FirstClassFashionista
DesignerHandbags@FirstClassFashionista
*BOOKMARK THIS SITE* Official Celebrity Fashion and Gossip Website
Here is where you can tell thousands of fans what you think. Share a comment with thousands of visitors. *Copyright Protected. First Class Fashionista permits a direct link and credit.
Desperate Housewives Season 5 "Mirror Mirror" Highlights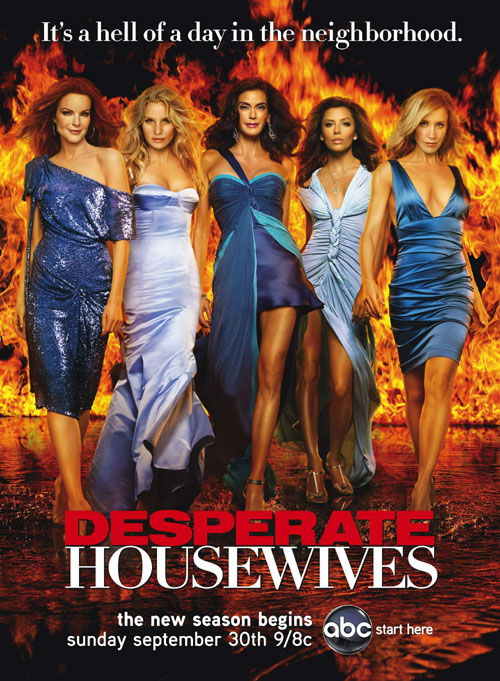 Gabby:
Gabby thinks she may be pregnant and she finds out that Carlos lied about having a vasectomy. Carlos wants a son. Gabby is very thankful, however, when the pregnancy test is negative.
*Shop Discount Pierre Hardy Shoes Cheap Sale as seen on Gabby.
Susan:
Jack wants to move in with Susan. He has fallen in love with her. But a conflicted Susan reflects back on their casual relationship agreement. Jack kisses Katherine to make a point. *Shop Banana Republic as seen on Lynette.
Bree:
Initially, Bree agrees to let Orson become a partner in the business. But when Orson wants to announce his partnership, Bree becomes agitated. She hasn't informed Katherine of said partnership. Orson doesn't understand Bree, so he asks for a divorce…Bree explains that it was Katherine who helped her get sober when he was away. Orson agrees to let Katherine decide if and when he will make partner in the company. Shop Discount Dolce & Gabbana Shoe Sale as seen on Bree
Eddie:
Dave insist on giving Katherine McClusky a party for her 70th birthday. The surprise party is at Susan's house. Eddie takes Mrs. M out for a drink and stops by Susan's. SURPRISE! However, Mrs. M is very agitated. She tries to expose Dave but ends up being sent to the hospital for a psych evaluation. *Shop Discount Stuart Weitzman Shoes as seen on Eddie