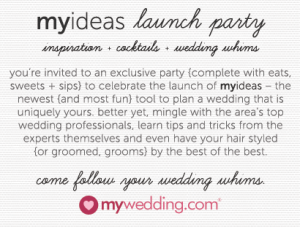 This just in! MyWedding.com cordially invites you to attend the myideas launch party at Mile High Station tomorrow!!! myideas is the site's latest tool to help you plan the wedding day YOU envision. Join Colorado's top wedding professionals in an indulgent atmosphere of pampering, prizes, and treats. Sample cocktails and cake as you learn a few of the best tips and tricks of the business. Sounds yummy…? And, guess what? The event is absolutely free.
The first 100 couples will receive a wedding worthy tote. Prizes include a romantic two night stay at Devil's Thumb Ranch, gift certificates, bridal jewelry and gift baskets.
To RSVP visit www.eventbrite.com/event/6936193341. Doors open at 6PM. Mile High Station is located at 2027 West Lower Colfax Ave. Denver, CO. Got questions? Email weddingwhims@mywedding.com.