What does your trendy new shirt from Forever 21 have in common with the Affordable Care Act? Now consumers will become more conscious to the schedules posted in the office of their favorite retail stores.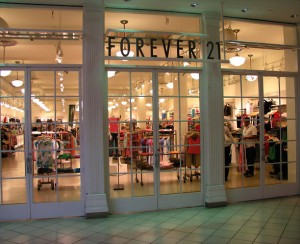 Forever 21 is being accused of slashing workers hours as a way to avoid paying benefits within the new health care insurance law, better known as Obamacare.
The Obamacare plan will go into effect in 2014. The government has delayed any mandatory procedures for employers to provide coverage to full-time employees until 2015.
This trendy retail store has denied these accusations by writing on their Facebook page that the cutbacks are based on projected store sales and that they are completely independent of the Affordable Care Act. According to reports, the company may cut hours of some full-time employees to a max of 29.5 hours a week. This would create employee schedules of just under 30-hours a week making them part-time and non-eligible for the Affordable Care Act which requires companies who employ 50 or more workers to provide health insurance for their full-time employees. Forever 21 states that less than 1% of their 30,000 US employees will be affected.
Normally when a company cuts their employees hours, it means they are seeing slower sales. This is not true for Forever 21. In a September interview with CNN, founder DO Won Chang said the company was on track at $4 billion in 2012 sales compared to the $2.3 billion in 2003. It seems Forever 21 is growing larger than their rival retailer Gap.
If you head on over to the Forever 21 Facebook page, you will find some angry consumers threatening to boycott Forever 21 and vow to stop shopping there. Other consumers are blaming the health care system. Here's what customers are saying:
"Expected sales says everyone should go to 29.5 hours? I guess we will all pick up the tab for their healthcare (emergency rooms) and their food (food stamps)."

"Forever 21, don't listen to these people, they're completely ignorant of how to run a business."

"Just lost my daughter's time and my dollars,Your politics should not victimize your workers."

"Cutting benefits and finding loopholes to put more money in your pockets is not right."

"Your first priority should be the people that work to bring you your profit, not lining the pockets of your executives. Shame on you for being yet another company to leech off of the American people."
Forever 21 is not the first company to have this happen to them. Other companies like Regal Entertainment Group have seen similar attention after cutbacks. While Subway is preparing for the unwanted attention as they are planning to reduce hours.
Loren Goodridge, who owns 21 Subway franchises, told NBC News, "To tell somebody that you've got to decrease their hours because of a law passed in Washington is very frustrating to me. I know the impact I'm having on some of my employees."
The understanding is, Forever 21 may cut the hours of some full-time employees and rehire them as part-time employee. After auditing their staff levels, payroll and spending budget, Carla Macias (associate director of human resources) wrote, "we are reducing a number of full-time non-management positions." The positions affected include; stock associates, sales associates, store maintenance, accessory specialist, and cashiers.
As if this news is not bad enough, it looks like Forever 21 will also cut coverage to part-time workers who were once eligible for medical, dental, vision and paid time off.
Share your comments and opinions about this matter.