"Satin, Wool, Silk, Chiffon."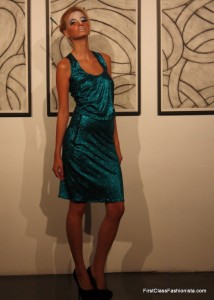 Satin, wool, silk and chiffon were the four primary fabrics and a concise summary of what we saw at Barrera International's Autumn/Winter 2014 preview. Amidst a night of Asia-meets-French themed fun, Juan Jimenez put on a beautiful show, presenting a wide range of women's clothing as well as a few pieces in menswear. The Menswear was an unexpected but pleasant surprise! Usually I see one or the other at a show.
The turn-out was wonderful for a Denver designer event, and VIP was treated to early entry as well as a menu suited to the evening. Two different cocktails, a peach and a lime, were mixed at the bar, and created to pair with food that was given out on trays to the attendees; all in the name of cultural fusion. I thought the chorizo wantons were especially clever. Private catering and preparation was provided by Armando Olivas and Kirstie Bidwell.
The hair and makeup team also did a wonderful job in helping to tell the narrative Barrera International was going for. Ted Medina headed the Jbeverly hills design team and undertook the challenge of creating an accompanying look for the women and men to keep cohesion throughout the message of the Autumn/Winter 2014 collection. The half-faced pseudo-geisha makeup was really appealing to me, it was super striking! Watching the team actually achieve some of the looks was incredible. I was about 2 hours early to the actual event, so getting to sneak backstage has its perks. I'm happy when my hair straightens properly, so I was super impressed. Not to mention it was a heat storm upstairs in their workspace. Jbeverly has a salon in Centennial, so if you want the runway treatment, don't hesitate to contact them. They even handed out goodie bags at the event, and despite not intending to, I ended up being given one. Eek, free beauty stuff! It's full of products I can't wait to try.
When the time finally came for the show, the preparation taken by Jimenez' team really showed. The runway route took the models down a long, straight staircase (braver girls than me in heels, I assure you), to the front, and artfully around the established gallery walls of the room before exiting into the standing room area for the GA guests to see. It was a nice example of using the space as it was, and Space Gallery has a very interesting set up to work with. During the walk, the music selection was perfect. I sat there, entranced by the procession of garments in time to the soundtrack. The garments had a lot of movement in them, especially some of the slinkier and more lustrous fabrics.
According to the Barrera International website, Juan Jimenez' pieces are "mainly cut, assembled, stitched and sewn by hand". Coming from a background in fashion design, this method of construction is both good and bad. Some of the stitching and hand-tacking produces effects not possible by machines or traditional techniques, as well as making these pieces closer to hand-only couture garments. In a few of the draped garments, you can really see how it greatly benefits the overall of the gathering or pulling; giving some fabrics or seams an ethereal weightlessness. However, do not expect the edges to be finished or all of the seams to be invisible- most of the hems are pinked with pinking shears and turned up. Zippers are tricky to put in by hand, so a few wayward stitches are going to be visible. But that's the price you pay for artesian garments. They're telltale signs that a person made these, no doubt lovingly, with their own hands. So it's up to personal preference.
Overall, Barrera International knows how to put on a fashion show. The atmosphere was good, the turnout was great, and people looked genuinely interested in the clothing. I believe that Barrera International has the potential to do very well in the fashion scene, and in Denver specifically, if they continue to please like they did Thursday night. All of the pieces shown are fully customizable, so if anyone is interested in having a one-of-a-kind garment, Juan Jimenez can be reached via info@barrerainternational.com or by phone at (720) 409-7811. It would be supporting an independent designer, if you are into that, and it's also a way to never have to worry if you and a friend are going to show up in the same outfit.
Enjoy the video and pics! Feel free to share, share, share!