Have you ever seen a lamp on the runway…? A birdcage? A Painting? Fashion is a lifestyle, and this year FGI Denver added interior design and floral to the bi-annual Rising Star Award's competition. Hosted by Colorado and Company's Denise Plante on Friday, September 6th, there was never a dull moment. 14 finalists presented 6 looks or pieces, and at the end of the evening an envelope was passed to FGI's Regional Director, Carol Engel-Enright…So who is FGI Denver's 2013 Rising Star?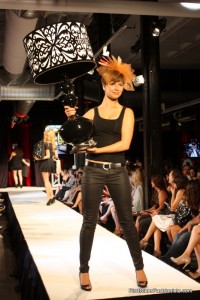 I must admit I followed a few of my favorite rising stars to the awards, and I got a chance to chat with Anne Fanganello, Deedee Vicory, and Rachel Marie Hurst before the show. I can feel the energy as we made small talk and took pictures together. Rachel clued me in on the 4-way tie for the ready-to-wear category. This year there was so much talent competing to be the next 2013 Rising Star, I too began to relish the excitement as I enjoyed a plate full of gourmet bites during the red carpet reception.
Making my way around the room, the silent auction items were definitely worth bidding on. My guest and I bid on one or two of the electronics and who couldn't pass up an awesome travel deal? This was a fun event with great food, great industry friends, and great auction items galore. All the proceeds from the silent auction went to Dress for Success, FGI Denver's 2013 Rising Star partner.
On the runway Carol Engel-Enright explained what the Rising Star Awards was all about.
"If you start with a great idea, you can make anything happen. Our passion is to feature and highlight entrepreneurs. The Rising Star is the contestant who will most likely be a national brand in the next five years," explained Engel-Enright.
And the show began. What an experience. The 2013 Rising Star Awards catwalk opened with Carol Ann Wachter designs, showcasing two occasion dresses, a woman's pantsuit and items that are ready to mix and match. Then the interior design. I wanted to re-decorate my home with the things I saw on the runway. From children's wear to bridal wear and even Cheeky Aprons (lingerie for the kitchen), FGI Denver seemed to have left no stone unturned to find this year's 2013 Rising Star Awards winner. In Denver, honestly, men's fashion is lacking on the runway but FGI Denver discovered menswear designer Jung Park and his Metro Boom boutique on Platte Street. He came up with his brand while pursing his MBA.
Special thanks to Linda Bowen Scott, 2013 Corporate Sponsorship Chair and Bijoux Prive Collection owner and designer for inviting First Class Fashionista! I like to think of myself as the Anthony Bourdain of Denver fashion! It's a mouth full, but did I say everything right? And the 2013 Rising Star is…And…Drum roll please…Carol Ann Wachter. Enjoy the pics and video below. Please feel free to share, share, And share. I never read another write-up before I sit down to write, so it's legit. It's okay to share. I promise.
Question? Could FCF be the next rising star of Denver? Someday, will FGI Denver host a writer/blogger Rising Star category? Yes, we are not designers, hair or makeup but we, as writers, represent the accessible "careers in the fashion and related lifestyles industries." Imagine the fun and the curiosity 303 Magazine, Fashion Denver and publications like First Class Fashionista can bring to such a grande, and promising event.
About Fashion Group International of Denver:
Fashion Group International (FGI) is a non-profit association of professional executives worldwide, promoting the advancement of careers in the fashion and related lifestyle industries. FGI Denver organized its chapter in 1958. Of the 42 chapters around the world, Denver is an award-winning chapter that has been recognized yearly for its outstanding leadership in member support and special events.
About Dress for Success:
The mission of Dress for Success is to promote the economic independence of disadvantaged women by providing professional attire, career tools and a network of support to help women thrive in work and in life.