As a child, most little girls dream of the day they get to walk down the aisle in a sparkling white dress. Their family and friends will be smiling as they move forward to their new life. A man in a black suit will be waiting for them at the altar as they exchange vows and become one. For some this is still a fantasy, but for others they are looking for the dress with the perfect fit and when they find it they will feel as if it was made for them!
The 2013 Fall trends for wedding dresses are virtually anything a bride may want. From vintage to modern; these styles will fulfill any bride's fantasy on her wedding day.
The first trend for Fall 2013 are FLOWERS and TEXTURE!
Whether the flowers are on the dress or placed on a head piece, this is the trend. Designers like Claire Pettibone are placing these flowers on crowns, necklaces and as adornments on the dress. Designer Douglas Hannant is showing texture throughout his collection with accordion style pleats, ruffles, embroidery, beading and lace overlays.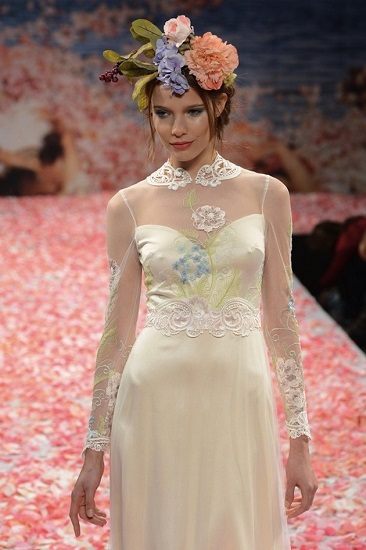 Claire Pettibone Fall 2013-Long Sleeved dress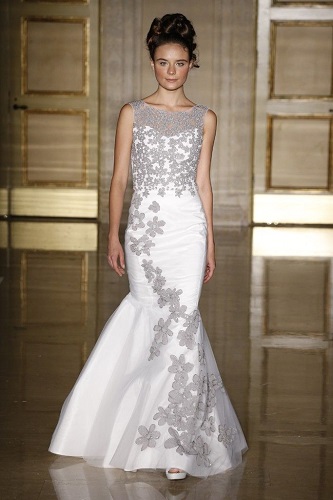 Fall 2013 Wedding Dress Douglas Hannant Bridal
The next trend for Fall 2013 is LACE!
Now lace has always been involved in wedding dresses for centuries. Lace is seen as delicate, fragile and feminine. This year lace is used as a cultural and vintage aspect to wedding dresses. Lace is worn on the veil and around the neckline, hemline, arms and shoulders of dresses. Fashion designers like Reem Acra and Marchesa has done a fabulous job in showing this aspect in their collections.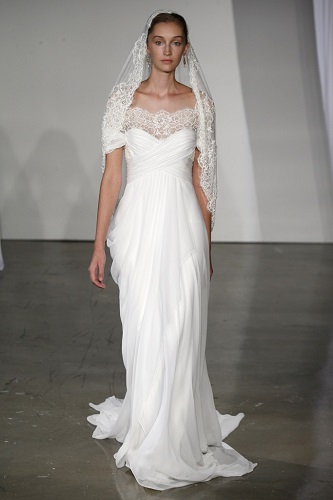 Marchesa Fall 2013 Bridal
And then there was the MINIMALIST!
Some brides go over the top on their wedding gowns with lace, adornments, embellishments, ruffles, bows…etc. But for others they like the simple, classic and relaxed look on their special day. This year it is okay to be subtle, yet classic. As we all know, the attention will be on the bride no matter what, so you can embrace the ivory classic strapless dress that will create memories for a life time.
1920's inspired wedding gowns are in!
After watching The Great Gatsby who wouldn't want to show off a 1920's flapper style wedding gown? Within these styles, necklines are high and hemlines are short. These dresses show off a massive amount of embroidery and adornments.
1950's and 60's inspired gowns…retro is making a comeback!
Whether you enjoy the pin-up red lipstick style or short bobs and A-line styled dresses, you're in for a surprise this season. Retro is in, and this goes to show that all fashion styles come back eventually. You can check out Sabrina Motasem's collection at the following link: http://www.motasem.co.uk/brides/yvettelace.html
Are you an hourglass figure? If so, then this style is for you!
Fitted dresses are making a comeback. Women are taking care of their bodies and watching their waistlines, making the mermaid style dress fall back in their closets. Fitted styles can show off your corset and accentuate the body from the calf up. One might think these dresses are hard to walk in, but they are designed by professionals who know the bride needs to walk down the aisle.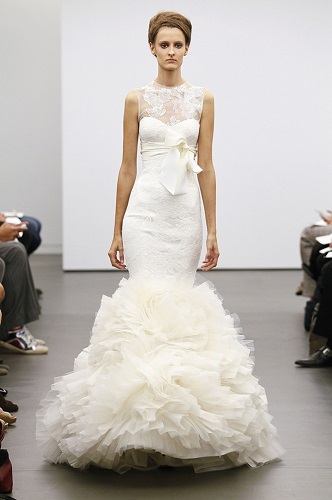 Vera Wang 2013 Fall Bridal
Vera-Wang-Fall-2013-bridal-collection-5
Colors are taking over the classic white wedding gown tradition.
Designers like Vera Wang are shedding the belief that a wedding gown should be white. To some people, many think the thought of wearing a white wedding gown is too common and overdone, making brides step out of these boundaries and into an ivory, red, pink, blue, silver, gray or even a black wedding gown. If a full colored wedding gown is not for you, there is always the option of colorful embellishments and overlays to create your perfect dress. Celebrities like Avril Lavigne, Gwen Stefani, Elizabeth Taylor and Dita Von Teese have been seen wearing colorful wedding gowns.
So you want to dance at your wedding?
If you're a dancer expecting to swing dance with your new husband, a short dress might be in your future. A-line skirts and flapper style dresses are demolishing the norm for Fall/Winter 2013.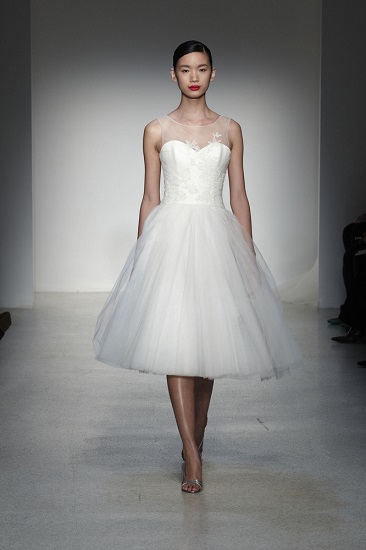 And then there were TRAINS!
The all-time classic train of a dress that is carried by the pages (young boys/or girls ages 6-9 who carry the train, also known as "train bearers"). The train is the classic wedding trend that has stuck around for many years. Having a train can show off a dramatic back scoop and a cinched in waist. If you want a train on your dress, but you still want to dance at your wedding; many dresses button up at the train.
Final thought:
If you agree with the following trends and found something you would enjoy wearing on your wedding day, don't hesitate to tell your wedding dress boutique or designer about your dream wedding dress style. Whether you want something whimsical or something classic, make sure your wedding dress is a style you love and will feel comfortable wearing. Remember, it is your day and your dress should reflect who you are.
Here are some links to wedding dress designers who costume make and re-make gowns in the Denver-Metro area:
http://www.theweddingseamstress.com
ALSO! We at FCF would love to hear from you! Whether you're getting married or not, tell us about your dream wedding dress.