Let's let some citrus in!
I'm already stuck in depression that fall fashion week is over. It always seems so short and I never have enough time to watch every show I want to! So while the leaves change color, I have been re-watching the runway shows- thank you, Internet!- and I have to say, I love the color that sneaks through!
Most of what I've seen has been so dark, so black and neutral, it was exciting to see colors- orange, nonetheless- at fashion week. Here are a few of my favorites thus far: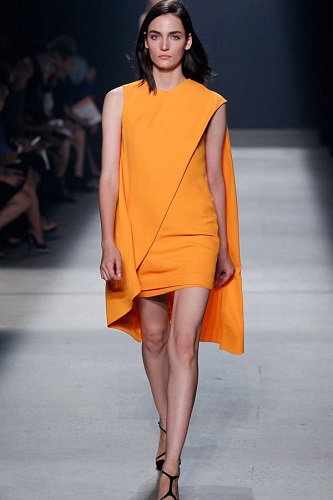 Narciso Rodriguez
Rocking this cloaked sheath dress at Pier 57. Paired with neutral hair and makeup, the color really steals the show.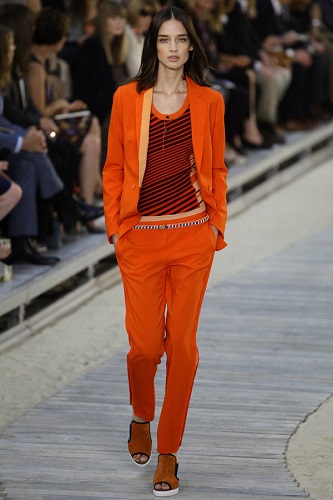 Tommy Hilfiger
Orange top, orange slacks, and an orange blazer. I may have died and gone to heaven. You'd think it would be too much, but as for most runway shows, she seems to pull it off effortlessly. Maybe it's the orange-toned blush on her perfect cheekbones. I'm not sure how I feel about those clog/high-top shoes, but if they happened to fall into my possession, I'm sure I would wear them shamelessly.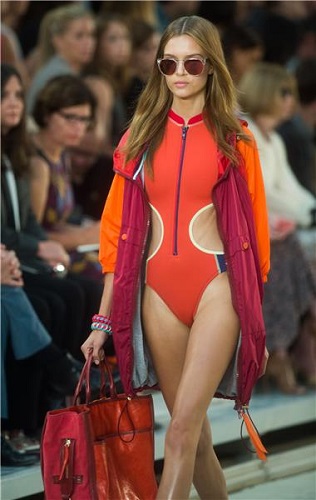 Tommy Hilfiger
A monokini, a coat, and a bag. Tommy Hilfiger showed a tons of orange in their Spring/Summer 2014, and I am very excited. I'm already having bag envy.
After watching these shows, it's apparent that if you're going to rock orange (or almost any bright, bold color), the trend is going to be to match it with the same or similar shades of color. As seen in the photos, I'm apparently going to have to match orange with orange. I'm game.
What are some of your favorite Fall fashion week moments, dear readers? The patented Betsey Johnson romp down the runway? The Corpse Bride-esque Thom Browne models? I would love to hear them!