Tickets on Sale Now for the Gino Velardi Fashion Show 2013, Thursday, Oct. 3rd at EXDO Event Center. Doors open at 6pm.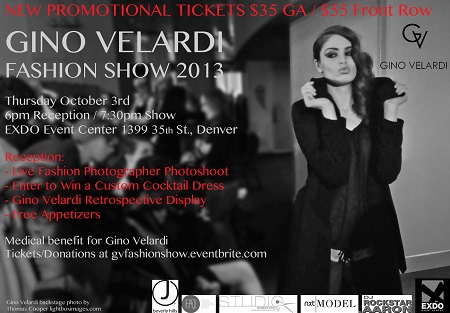 It's Gino Velardi's first solo fashion show since 2009!
What: Benefit for Gino Velardi for medical bills related to his colon cancer. Denver native, self-taught fashion designer Gino Velardi is hosting a fashion show, and tickets are now on sale. Velardi to showcase cocktail dresses, evening apparel, coats, and stylish wearable fashions.
When: Thursday, October 3, 2013. 6 p.m. Reception and 7:30 p.m fashion show.
Reception to host:
A museum style Gino Velardi Retrospective
Enter to Win a Custom Gino Velardi Cocktail Dress!
Live Fashion Photographer Photoshoot
Free Appetizers and Cash Bar Available
Where: EXDO Event Center at 1399 35th St, Denver, CO 80205
Purchase tickets or make an in-kind donation online at http://gvfashionshow.eventbrite.com.
Tickets on sale through October 3rd, $35 for General Admission and $55 for Front Row, until sold out!
Why: Support Gino Velardi, his ingenious fashion designs, and local fashion. Attend and have a fabulous time while witnessing some of the latest in style and fashion!