This is the official announcement for Colorado Fashion Week 2013. We suggest you get your tickets while they last!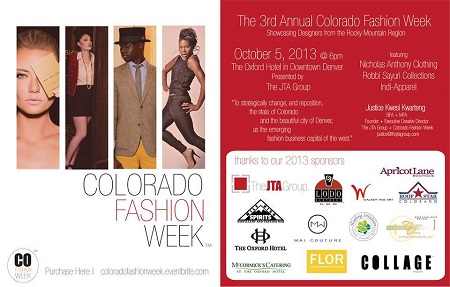 October 3rd, 2013: Day 1
This will be the first time CFW will begin later, as they are expecting their guests to attend the Gino Velardi Fashion Show and Fundraiser Event held at the EXDO Event Center at 1399 35th St. in Denver at 6:00pm. Tickets for this event can be purchased at gvfashionshow.eventbrite.com. Remember, each ticket sold supports and raises funds to help offset the designer's medical bills due to cancer.
October 3rd, 2013: Night
The Official CFW 2013 Opening Ceremony Fashion Party, held at Mile High Spirits, 2920 Larimer St. Denver, at 9:00pm-2:00am.
October 4th, 2013: Day 2
CFW meet and greet cocktail hour will be held at 3:00pm at Walker Fine Art Center: gallery + events at W. 11th Ave Denver. Following the meet and greet will be the CFW 2013 Business of Fashion Town Hall Meeting and Panel Discussion at 4:00pm.
October 5th, 2013: Day 3
The Main Night of Runway Presentations for CFW 2013
6:00pm-10:00pm at The Oxford Hotel located at: 1600 17th St. Denver
(Show schedule and list of designers subject to change.)
6:00pm: Doors open to VIP
6:30pm: VIP meet and greet, doors open to general admission
7:00pm: Runway presentations formally begin!
Designers list includes:
7:00pm: The Robbi Sayuri Collections – official debut runway presentation
7:15pm: The Elfriede Gamow CFW Special Tribute runway presentation
7:30pm: MAI Couture Make-Up Artistry Runway presentation
7:45pm: The Indi-Apparel, CFW runway presentation
8:00pm: INTERMISSION
8:15pm: The Kimono Dragons, by Francis Roces
8:25pm: The Apricot Lane Boutique Denver runway presentation
8:35pm: Regal Rowe, by Sinath Jerome debut runway presentation
9:00pm: The Nicholas Anthony Clothing, CFW runway presentation
Let's keep the party going!
10:00pm-2:00am: CFW 2013 Closing Night Fashion Party. Located at Mile High Spirits, 2920 Larimer St. Denver
October 6th, 2013: Day 4
CFW 2013 Trunk Show Event, from 12:00pm-3:00pm. This event will be held at Apricot Lane Boutique at 1411 Larimer Square, Denver.
Special guests include:CEO and founder of MAI Couture; Mai Tran and Apricot Lane Boutique Denver's CEO, Chris Rivard.
Meet and Greet with CFW 2013 Designers: Diana Lopez of Indi-Apparel, Robbi Sayuri of Robbi Sayuri Collections and Anthony Heimann of Nicholas Anthony Clothing
Sponsors of CFW 2013 include: The Oxford Hotel, MAI Couture, UNITE, RoofStar Colorado, Mile High Spirits LLC, McCormick's At The Oxford, Healing Intuition Massage Clinic, JTA Fashion Image + Style, COLLAGE Digital Magazine, Apricot Lane Boutique Denver and Walker Fine Art Center: gallery + events space.
Promotional and marketing partners include: Cedric Pride Entertainment LLC, Conceited Ego and FLOR.
Last, but not least, the people who are responsible for the behind the scenes production of CFW and its host:
MC + Host; Lauren Whitney, CBS 4 Denver Weather Anchor
Founder, executive producer and creative director; Justice Kwesi Kwarteng, BFA, MFA: JTA Group
Runway fashion stylist: Tina Hall, tinahallstyle.com
Beauty director: Tiffany O'Toole
Graphic designer: Anthony Stillitano
CFW intern: Riley Martin
Ticket information available at http://coloradofashionweek.eventbrite.com.
We at FCF are so proud to cover this event and invite all of our readers, friends and family to come support Colorado Fashion Week!