First and foremost let me just say that Gino put on an AMAZING show. Overall, I left the venue feeling blown away and with more than a little bit of clothing envy. I want some of those pieces. Want with a capital 'grabby hands'.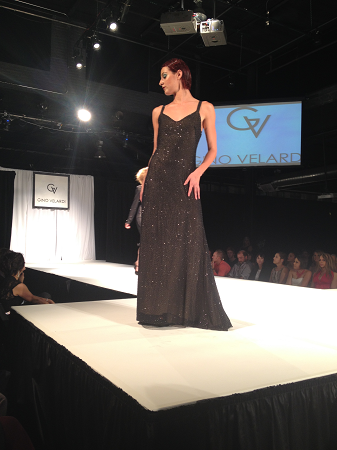 Just a quick recap, Gino Velardi put on a show prior to the official beginning of Colorado Fashion Week to help pay for his medical bills. The show was first and foremost a fundraiser, and guests were both offered the chance to enter to win a custom couture gown- I did not receive that magic e-mail, so I'll be sulking for a few days- and a look at some of his other works in a retrospective-style display.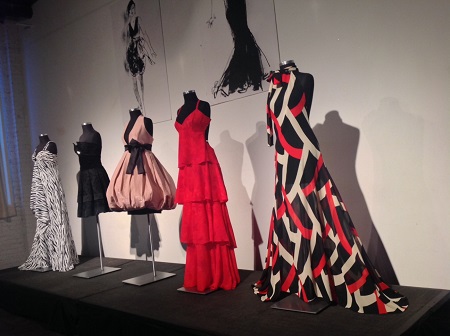 A retrospective look at Velardi's previous works
The doors opened at 6pm at the EXDO Events Center, plenty of time to mingle with everyone as they showed up. Gino himself was busy backstage, and although Marissa and I tried to get a few backstage shots, there was far too much changing and fitting going on to show you anything. Sorry- guys! Guests were treated to a fully-stocked cash bar, along with some wonderful catering provided by Vincenza's Italian Restaurant & Bakery. For a good two hours, DJ Rockstar Aaron entertained event-goers with a bit of a pop retrospective to tie into Gino's theme; spinning old tunes from ABBA and the Backstreet Boys progressing up to today's popular hits from Adele and Lana Del Ray as the night wore on.
Although the show was delayed about a half an hour, setting an 8pm runway start rather than a 7:30pm start time, it was worth the almost painful wait. The show featured more than 70 looks, featuring lovely models like the always-fierce Antoinette Rose.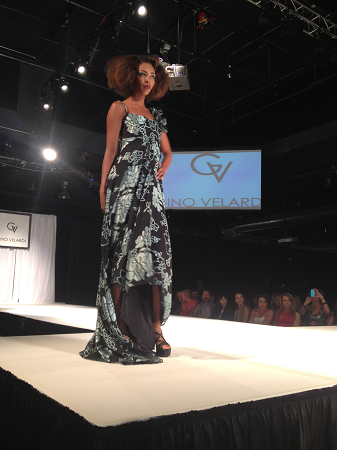 Antoinette Rose in Gino Velardi Designs
I hope the gallery of photos will speak to the work better than I can There was a lot of beautiful tailored pieces throughout the collection and a wide variety of interesting stylelines. I was most impressed by the variety of the collection and how it still remained totally cohesive and transitioned seamlessly! There were only a few OOPS! moments. The seam on a pantsuit looked split under the arm, and one of the side seams on a skirt also appeared to have torn in the backstage to runway process. Out of respect to the designer, I did not include images of these moments. To see something like this on the runway, you would've had to have a detail-oriented eye anyway! Additionally, as is often a problem when working with a great deal of sequined fabrics, there were quite a few loose little threads on a few of the garments. I so badly wanted to run up and snip them! Maybe they'll enlist my help backstage in the future (wink, wink) to prevent this from happening again.
The hair and makeup was beautifully executed by STUDIO A Collective of Stylists team and Andrea Tucker, as well as J Beverly Hills/TEDS HAIR Studio. There were a few blowout hair styles and a handful of finger-waved 1920's girls that really made the couture collection look high-end chic.
Rumor has it, Gino Velardi will be hosting another fashion show sometime this month, so keep up with him on the Gino Velardi Designs Facebook or bookmark the designer's official webpage for upcoming events and other news. Don't worry, we at FCF always have our ear to the ground, so we'll be sure to keep you updated as well.
I was very impressed by these designs, and excited for the chance to be at the show with fellow FCF team members Marissa and Maddie! So check out Gino's website and if you have a chance to attend an event of his in the future, I suggest you make an effort to be there!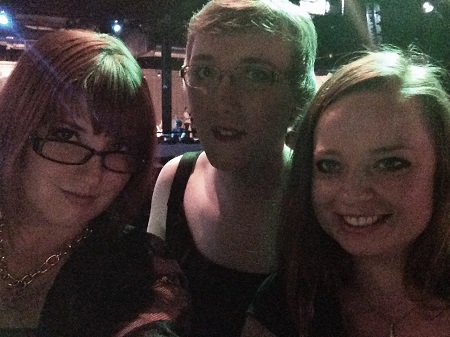 Myself, Maddie, and Marissa of FCF enjoying the show. Feel free to copy and share any of the photos in the gallery below! Please do not remove credits. Thank you for being a fan of FCF!!!