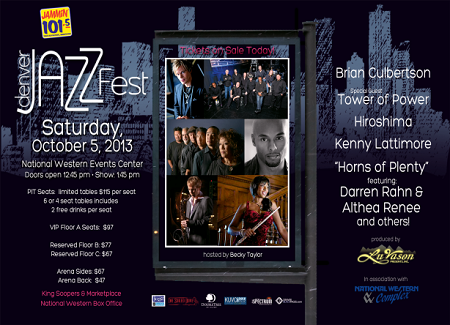 Last Saturday, October 5th, Lu Vason Presents gave lovers of jazz and the soulful sound the opportunity to be a part of history in the making at the first annual Denver Jazz Festival hosted by the National Western Complex. The outstanding line up included Horns of Plenty, Darren Rahn & Althea Rene, Kenny Lattimore, Hiroshima, Tower of Power, and Brian Culbertson. With such iconic talent on the program, the inaugural Jazz Fest was sure to be nothing less than a success, and it was. Seeing hits like "You are My Star Ship" and "You're Still a Young Man" performed live by the original artists was cooler than cool.
It had been a decade since Denver, CO saw Hiroshima perform. If any instrument makes a band different than any other, then that's the Koto. Jane shared the story of how she fell in love with the harp-like string instrument. When she was 6 years old, she and her family came to America from Japan and relocated to the old Westside of Los Angeles, California. Her teacher played the Koto, and when Jane decided to take up lessons, she says her friends teased her and called it grandma's music so she "went underground" to continue to study.
"If you have a dream, and you feel it, see it; you can do it," says Jane.
There was much to do at this year's Jazz Fest. Located in the left corner of the marketplace, a barbeque sandwich with all the fixings, baked beans and chips, almost stole the show. The vendors were all very friendly, and helpful. It was an awesome time for networking and, of course, shopping. Yvonne Pier's Bagz and Bling had the latest in accessories, and Simply Elegant by Angelica Gilkey offered ready to wear lady's fashions and everything else a fashionista could want. I bought a cute evening finger clutch bag from Bagz and Bling, and posted a picture of it to facebook and friends and family couldn't stop raving about it. Notice the beautiful stones in the picture gallery? Shop at http://aboriginalblingblam.com and make a statement with these hand-crafted, award-winning Aboriginal Bling Blam pieces, literally meaning the first bling.
"Our jewelry is inspired from this definition. As the earth is made of both elements and minerals, so we use these to create our jewelry. The use of copper, brass, or silver adorned with crystals and precious gemstones birth natural healing as well as beauty and inner opulence. As wrappers each unit is hammered, twisted and bent into various pieces of jewelry. The use of ancient, divine, cosmic and African symbols are infused in the design of each unit, thus creating what we call, 'Urbancient Artiqities', urban yet ancient."
Completing the event were a few art exhibits, and the Kuvo Jazz 89.3 booth where you could pick up a pamphlet that mapped out the best jazz venues in Denver. Enjoy the pics!