Colorado Fashion Week 2013, October 5th, 2013: Day 3 was held at the Oxford Hotel in Denver, CO from 6:00pm-10:00pm.
Colorado Fashion Week at the Oxford Hotel
Walking into The Oxford Hotel was like stepping into a royal palace. The Colorado Fashion Week 2013 venue was absolutely gorgeous! Founder, executive producer and creative director Justice Kwesi Kwarteng opened the show by thanking us all for attending and supporting CFW 13 in its third year. Then we were introduced to the host of the show; Lauren Whitney, CBS 4 Denver Weather Anchor.
Robbi Sayuri Collection
The first runway presentation was none other than my friend, former class mate and fellow First Class Fashionista blogger Robbi Sayuri of Robbi Sayuri Collections. As I watched each one of her models strut down the runway, it was as if I was watching Robbi walk the runway herself. What I mean by this is that, Robbi has a very unique and detailed aspect to her construction process, making one who knows Robbi, know a Robbi Sayuri Collections piece. Knowing Robbi for four years now, she has come a long way and her designs were proof of all the hard work she has done to bring her collection to life.
The Robbi Sayuri Collection consist of color changing and ombre fabrics, textured textiles, elegant floor-length gowns, short sexy high-waist skirts, cowl neck designs, sheer overlays, short cocktail dresses, laced up back details and geometric shaped patterns. Her models showcased an elegant, but avant-garde look skillfully achieved with hair and make-up designs.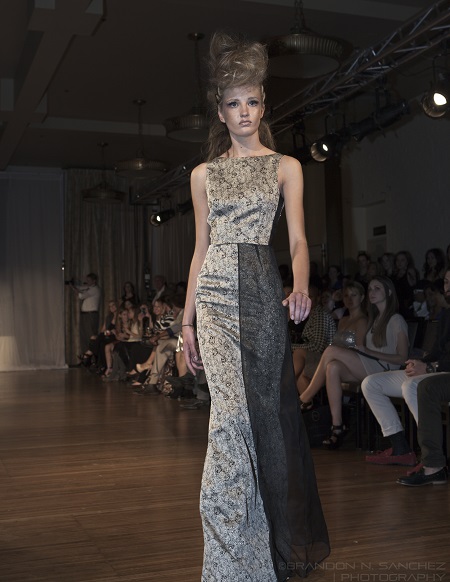 The next designs on the runway was not clothing, but jewelry and make-Up! MAI Couture Make-Up Artistry and Patty Parkhurst, killed it with their simple black body suits to center the focus on the jewelry and make-up. The models were covered in gold, shimmering foundation, chunky earth like jewelry, snake like neck ornaments and huge shoulder pieces made from materials like brass and copper. This jewelry was absolutely amazing! With accessories like these, I would have to say I could see a new wave impacting the fashion industry.
Jaymie's Touch
After viewing some phenomenal make-up and jewelry, Jaymie Alexander rocked the stage with her fashion designs by Jaymie's Touch. The music for this portion of the show definitely set the vibe for her youthful designs. Jaymie showcased designs with high neck-lines, bubble skirts, asymmetric hemlines, sequins, sheer burn-out overlays, off the shoulder tops with deep necklines, high/low pieces, open back designs, jumpsuits, open mid-sections, petal shaping, extreme key holes, ruffled high-waist skirts, cut-out shoulders and uniquely placed frayed edges.
The designs by Jaymie's Touch showcased unique snake prints, organic patterns and stripes. Jaymie Alexander uses fabric manipulations within her designs by cutting the fabric into designs and using multiple stripes. One of my favorite designs by Jaymie was her take on the all-time famous Marilyn Monroe subway dress.
As if the night already impressed your First Class Fashionista, just wait, because it only got better at Colorado Fashion Week. Diana Lopez of Indi-Apparel from Phoenix, Arizona introduced CFW a new vibe to the natural urban lifestyle. These designs showcased twisted fabric manipulations, floral prints, revealing back lines, cropped jackets, jumpsuits, half-and-half designs, geometric fabric manipulations, lacing, open jackets revealing undergarments, satin skirts, halter tops, leggings, lace overlays, loosely draped tops and gathered waists.
Kimono Dragons
After a brief intermission, Kimono Dragons by Francis Roces revealed his new collection. I've worked with Francis Roces a few times in recent years and I have to admit, I have never seen his designs showcase so much uniquely inspired cultural aspects. His designs were breathtaking! Mixing a taste of vintage with aspects of Japanese meets british styles. He used a mix of fabric prints, wide hooded jackets, belts to complete the Japanese aspect, fit to flare skirts, brocade textiles, silk floral prints and stand-up collars. I loved these designs, they are so artistic yet the sense of wear ability is still there.
Following Kimono Dragons was Apricot Lane Boutique Denver. These designs were classic and wearable. Details include; jackets with alternating sleeves, side buttons, abstract prints, fibers of tweed and wool, wide hoods, cowl neck designs and scarf sweaters. Out of all the designers, Apricot Lane Boutique had the best audience response. I believe this was due to these designs being able to be seen on everyday women. They were simple, elegant, work-appropriate, sophisticated and wearable; honestly I wouldn't mind owning a few of their pieces myself.
Regal Rowe
The next designer changed the direction from simple and wearable to dramatic and true avant-garde. Regal Rowe by Sinath Jerome presented three shows in one; Entourage, After Eight and Revolution Noir. Her designs reminded me of styles that can be used for a wedding. They consisted of diamond necklines, colored gowns, floor length dresses, bows, colorful body suits, tall neck pieces made from ruffled tulle, sheer overlays, peacock hair accessories, shimmering bubble dresses, revealing mid-sections, short skirts, asymmetric details, 3D flower embellishments, belted tulle trains on short dresses, gathering, frayed edges, peacock feathered prints, lustrous materials, one shoulder cross-over straps and tiered skirts.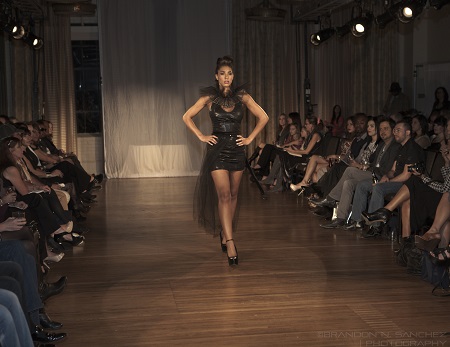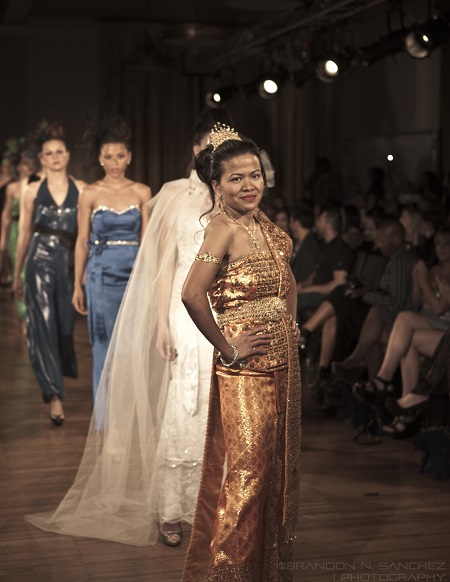 Regal Rowe showed everyone at CFW that their garments are "Fit for a Queen." One of my favorite design elements shown by Regal Rowe was their neck attachments and belted tulle trains.
The Finale with Nicholas Anthony Clothing
Now the part we have all anticipated, the final designer Anthony Heimann of Nicholas Anthony Clothing from Casper, Wyoming. The beginning of his show was delusional and artistic. He had a distressed model walk out in a fairy like dress with no shoes on. She was looking around and stumbling like she was lost. She then picked up the folded jacket and heels sitting on the runway and ran behind stage. The same model comes out ready to walk the stage with her now leather studded jacket and heels. The design details of Nicholas Anthony Clothing consisted of distressed sleeves, sheer trains, gold textured fabrics, sparkling embellishments, floral print short dresses, red velvet fabrics, high collars, back slits, full ball gowns, geometric shaped silhouettes, sheer/revealing floor length gowns, organic prints, huge bustles, sequins, wide lapels, dresses with slits in the side seams, ruffled attachments at the neck and shoulders, fur jackets, fish-net stockings, flared peplum jackets and monochromatic to umbrae fabric colors.
Nicholas Anthony Clothing showcased multiple dresses within the same fabrics. He definitely defined himself as a more dramatic designer, by having his models fling their arms out to the cameras, creating action filled photos. He also performed a demonstration at the end of his show to reveal how versatile his garments are with one another. He took a dress and layered it with several jackets with alternating and asymmetric hem lengths to, all in all, create a beautiful ensemble!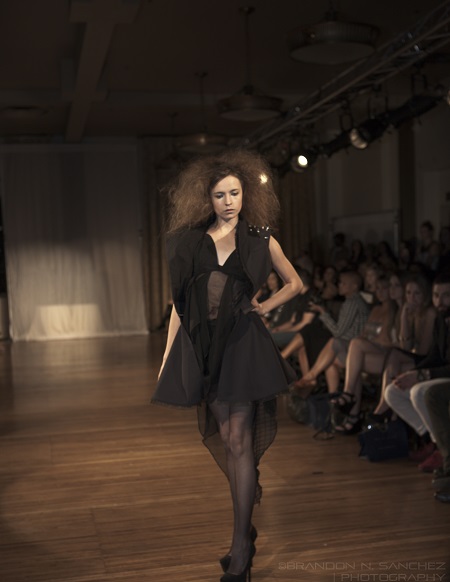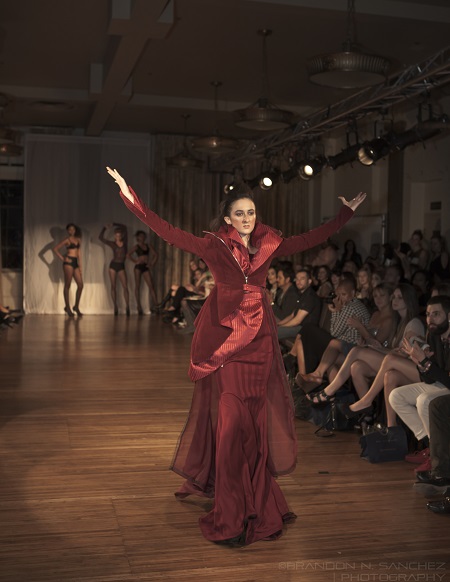 As a former participating designer in Colorado Fashion Week 2012, I must say this year was just as and or better than the last. Honestly, it is hard to say if it was better or not because each show is so uniquely different in its own way—This year Colorado Fashion Week was held at new venue…every year there are new designers, participants and varying design aspects to the show. With this in mind, CFW is never boring or the "same old".
FCF would like to mention the CFW Team and the proud sponsors of Colorado Fashion Week 2013:
Sponsors of CFW 2013 include: The Oxford Hotel, MAI Couture, UNITE, RoofStar Colorado, Mile High Spirits LLC, McCormick's At The Oxford, Healing Intuition Massage Clinic, JTA Fashion Image + Style, COLLAGE Digital Magazine, Apricot Lane Boutique Denver and Walker Fine Art Center: gallery + events space.
Promotional and marketing partners include: Cedric Pride Entertainment LLC, Conceited Ego and FLOR.
Last, but not least, the people who are responsible for the behind the scenes production of CFW and its host:
MC + Host; Lauren Whitney, CBS 4 Denver Weather Anchor
Founder, executive producer and creative director; Justice Kwesi Kwarteng, BFA, MFA: JTA Group
Runway fashion stylist: Tina Hall, tinahallstyle.com
Beauty director: Tiffany O'Toole
Graphic designer: Anthony Stillitano
CFW intern: Riley Martin
We at FCF are so proud to cover this event and invite all of our readers, friends and family to support CFW and share, share, share this review. We hope to see you at Colorado Fashion Week 2014! Please enjoy the photos taken by FCF affiliate photographers Brandon Sanchez and Michael Beckerman. Some photos are from CFW day 2.
Colorado Fashion Week 2013 images provided by Brandon Sanchez

Colorado Fashion Week 2013 images provided by Michael Beckerman