Since working with First Class Fashionista, I have had the opportunity to be in the presence of Ted Medina on several occasions. Whether it was for a job inquiry, fashion shows or even the time he worked with FCF on our own fashion event, each time visiting and speaking with Ted I have felt the essence of positivity fill the room. He has always been professional in his work and willingly extends his knowledge to anyone interested in the hair business. As I mentioned, Ted recently worked with FCF on our own show, Denver Paint the Runway, and because he has been so helpful and generous to FCF, I wanted to get to know this remarkable man on a deeper level and find out– "Who is the real man behind the hair?"
After reaching out to Ted, asking for the honor of interviewing him for a segment on the FCF website, he invited me to meet him and his fourteen-year-old daughter Kailie at Little Ollie's in Cherry Creek.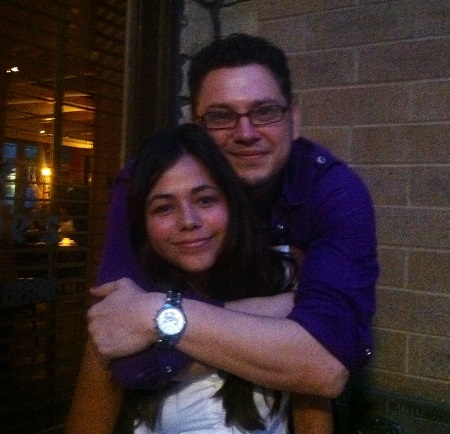 I started the interview by asking Ted to tell me a little about himself.
Surprisingly, Ted Medina did not start his career in the hair industry. He actually began a career in real estate in the late 90s. During this time the real estate business was booming. Explaining how there was high power and volume within the business, he decided to start his own real estate firm called Home Pro Real Estate. After finding out about the stress that came with the fiduciary responsibility, he chose to adventure into the world of hair.
Ted's cousin Jeff introduced him to the hair industry. Jeff Cruz is the owner of Cruz Barbers and Salon, located in Westminster, CO.  Ted thought that he would become a barber, but instead he fell in love with cosmetology. He received his education through the Antoine Du Chez Academy.
Ted was no ordinary student while in school. He was in a different place in life than most of the other students. Having to provide for a family and also leaving a great career in real estate, Ted had more responsibility.
Ted never thought he would be a hairstylist. He grew up in a home filled with athletes. After graduating from Columbine High School, he attended The University of Colorado Denver. He studied philosophy, psychology and played lacrosse and basketball. Unfortunately, in his senior year of college, he broke his back playing basketball. Because of this accident, Ted does not remember quite a few things that happened during this time but one thing he does remember is he would soon become a father to his now fourteen-year-old daughter Kailie.
I actually had the chance to get to know Kailie as well as Ted during this interview.
Kailie told me that her and her father like to go to sports games like the Denver Nuggets. She likes for him to style and cut her hair, of course. Also her father supports her in many of her school functions like tennis. In my opinion, Kailie is definitely following the right path to success, just like her father. She wants to be a neurologist when she grows up and she enjoys reading and writing. One of her passions is that she likes to write poetry. I was so amazed I asked if I could share with the FCF audience one of Kailie's poems. With no hesitation, Kailie sent me one of her favorite poems.
We tend to say never leave,
Never forget,
Never die,
Never, never, never.
But I want it to be always stay,
Always remember,
Always live another day,
Always, always, always.
Because always shows a promise,
A positivity,
Not a negative.
You will find this poem to have exceptional meaning as this article goes on.
As Ted received his cosmetology license, he began training under master stylist and owner of Antoine Du Chez Academy, Robert Miller. Robert taught Ted a lot about the business side to the industry and how important volume is in a salon.
On Ted's day off he would shadow Todd Putman, the creative director at Antoine Du Chez in Cherry Creek. Ted learned something from Todd that he still believes and practices today. Todd taught Ted that, "being really, really good at one thing, is better than being good at multiple things." Todd's theory was that you can be really, really good at one thing and charge a large amount of money for that service. Ted explained to me that Todd was that good at what he did! If he charged $500 for a haircut, people would pay it because he was that good.
I asked Ted to give me an example:
For example customer service, he explained. This meaning the clients experience, not the discount. You have to understand what a good experience will be for that client by his/her body language. Ted continued, he can tell how a client wants to be treated and what is important to them just by touching their parietal lobe.
While doing his famous Hollywood blow-out style, Ted not only explained to me but showed me how being really, really good at one thing is important.
"You start at the root, this is your foundation. Just like a house you need a good foundation to withstand the other parts. If you do not have a good foundation, the hair will fall flat. Next you work the mid-shaft and length to gain rhythm and wave throughout the style."
Ted was motivated! He would take it upon himself to learn and expand on his knowledge as a hairstylist in his early years working in the business. At the core, Ted believes anyone can cut hair, but you need passion, trust and the ability to transmit positive energy. Being a hairstylist is not about the name or the company you work for, the products you sell, or the cost of your service. It is about how the person feels when they leave your chair. With this mind-set and passion, one can understand why Ted carries a large clientele.
After working under some of the most amazing people in the industry, Ted began working at Antoine Du Chez in Cherry Creek. He became an advanced color specialist. At this salon, Ted developed a reference point, in which he compares every salon to. Ted firmly believes that Antoine Du Chez in Cherry Creek is the best salon in Colorado. However, Ted soon realized the most money you can make in the hair industry is in hair extensions, but Antoine Du Chez did not offer this service. Ted began shadowing Doug Kovalcik, owner of Vito Pini in Belmar. Within this experience, Ted gained a superior skill set in extensions.
He left Antoine Du Chez and Vito Pini and began working as a manager and educational director at Avery Bella Salon in Lowry. He fell into this career while working as lead hairstylist for a fashion show produced by DeVelo Magazine. During this work he met the owner Bill.  While working at this salon, Ted found that the owner didn't keep product on the shelves. Bill had a new approach to the norm of salon product sales. He would have the clients pre-order the product that would then be shipped to their house. The reasoning? Bill did not like seeing money sit on the shelf.
Ted spoke to Bill about an opportunity and idea he had. Ted offered $500 of his own money to buy products like Moroccan oil, shampoo and conditioner for the salon. In return, when Ted would sell that product, he would make back $700. After all was said and done, Ted ended up making an initial $1000 from the $2000 of product sold. Ted raised Bills profits by 600% just being a part of the Avery Bella Salon team. After working at Avery Bella for a few years, Ted sadly explained that the salon had burned down! While talking about this incident, Ted suddenly had a sheet of pain cross over his face. I asked about the cause of the fire and he answered, there is no evidence. However, we know the fire was started by a gas can.
While working at Avery Bella Salon, Ted had started his own salon consultation business where he would give advice and help salons that were over charging, had problems with retention, or a struggling stylist. After the tragic loss of Avery Bella, Ted sought employment at his friend Gina Matinez's salon, Blondies the Beauty Shop, which is now called Salon Bodhi. Finally, Ted decided to open his own salon called Teds Hair Studio. He describes his own salon as a place where there are no worries, no negativity and all in all an absolutely awesome salon!
As owner of Teds Hair Studio in Cherry Creek, Ted works Friday-Monday, he is also a Guest Stylist at J Beverly Hills, Sereno Salon. At Sereno Salon, Ted speaks on topics such as how to build business, foil patterns, hair-cutting techniques and more.
With J Beverly Hills, Ted is the educator for the company and leader of the J Beverly Hills Design Team. He talked about how the company is not specific to any salon. J Beverly Hills is a brand that multiple salons carry. As an educator, Ted travels to different salons to educate stylists about the products, hair color, cutting, styling, as well as teach skills that will increase revenue for the salon.
Ted shared with me how passionate he is about the J Beverly Hills product line. He boasted about how amazing the entire line of products and tools are. He even talked about how popular they are, as they are used in Switzerland, Germany and Italy. Ted told me that not too many people know about the line in Colorado and that it is his mission to spread the word about the products to people in his home state.
The J Beverly Hills product line debut was during the Barrera International show on September 5th 2013. Every person on the team from the kitchen cooks to the runway models had their hair styled by the J Beverly Hills design team. Each person on the design team excels in what they do, whether it is up-dos, braids, extensions, hair-cutting, color, styling, etcetera. They are the best in the state. Each person on the J Beverly Hills design team is strategically placed throughout the state to accommodate potential clients in Colorado.
I asked Ted to tell me about a project he was currently working on. His current project at the time was the Gino Velardi Fashion Show 2013.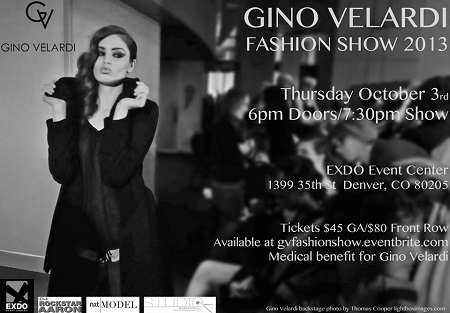 Ted was the lead stylist for the show with the J Beverly Hills design team. FCF had the honor to attend and cover this show! One of the main reasons Ted was happy to be a part of this fashion show is it is a benefit to raise funds for the designer who has cancer. Unfortunately cancer is all to real for Ted. Sadly Ted's cousin has been battling breast cancer for four years now. Since this interview, Ted's cousin, Nicole Davis, has passed. Nicole was very active in helping to increase the awareness of breast cancer and early detection. She was a beautiful person inside and out. To give to the Nicole Davis Donation Fund for burial and other expenses, contact Wells Fargo Bank at 8500 W. Bowles Ave. Littleton, CO 80123. The associated account number is #7320696268, Att: Marilyn.
It seems, Ted always comes back to the place that molded him throughout his career, Antoine Du Chez. As he rejoined the team at Antoine Du Chez, he met Charlie Price. Charlie Price is one of the most recognizable faces in the North American salon industry, and Ted desired to be a part of the Antoine Du Chez Artistic Team with Price and Bonnie Weigle. When given the opportunity, he felt so lucky and honored to be mentored by this amazing team. He talked about the positive energy the group carried and how even though Charlie was the leader, he never acted like it in an egotistical way. As a member of Antoine Du Chez Artistic Team learned salon standards, fashion show standards, and gained organizational knowledge. By working with Charlie, Ted has been given the opportunity to represent his salon in a segment during 303 Magazine's upcoming Denver Fashion Weekend Hair Show.
Ted has worked behind the scenes for many fashion shows in Denver. He has styled for Red Ball, the 303 Hair Show, DeVelo Magazine's fashion show, Denver Paint the Runway, Barrera International, and most recently the Gino Velardi Designs. To his credit, Ted has been given so many opportunities to lead major fashion shows in Denver because he is professional. He does not step in to talk about subjects outside of his expertise. He sticks to hair and has a great team behind him and loves creating positive results. He believes that in order to have a successful team, you must create success for the team, not for the individual. He explained to me that the hair industry is killed by two things; gossip and egos. Young people today believe they have a sense of entitlement, but they often lack integrity. Ted says he does a good job at staying out of drama. For the most part, he is normally the only straight male or even the only male in the salon. He is not a diva in any way shape or form. Ted has a saying he repeated throughout this interview, "I grew up as an athlete, not a fashionista." He likes to think outside of the box to "catch" a vision. For example, instead of looking at Vogue, he prefers Italian Vogue. Instead of looking at runway work, he is looking at French Couture.
Ted told me a little about his personal life. He has two children, a fourteen-year-old daughter named Kailie and a four-year-old son named Jonah. He is divorced from the mother of his children, but he met a lovely lady during one of the 303 Hair Shows a few years back. Ted told me that his inspirations when it comes to hair are his loved ones. He disagrees with the saying "I'd die for someone;" instead he believes in the saying, "I'd live for someone". He lives for his family, some of the strongest people he knows. He works his (for a lack of a better word) butt off, taking away time from his family in order to create a living. Ted shared with me a saying he and his family share. "Each of us is all of us…EOUIAOU." The feeling he gets when he sees or hears this saying is like your mom giving you a big hug. Ted adopted phrase when he first began his career in the hair industry. People were very resistant to him. He would walk through a wave of negative energy when entering a former salon. It was during this time when he wrote the saying "EOUIAOU" on his blow dryer. This gave him a sense of encouragement and positive energy every time he picked up his blow dryer reminding him that his family was right there with him.
As a hairstylist myself, what I see in Ted Medina that I do not see in many hairstylists or people in general is PASSION! Ted never took out a calculator to figure out how much money he would make. He loves what he does. He loves working with genuine people and ultimately creating a genuine vision. Designers are often unsure if anyone can get the look across that they are envisioning for a show. Ted is able to create a desired vision plus more! He loves the feeling he gets when he sees a smile from ear to ear on a satisfied client, designer, or model.
To close the interview, I asked Ted where he sees himself ten years from now.
Ted sees himself as a key player on a corporate level with J Beverly Hills. He knows he has a lot of work to do to get there, but he sees every obstacle as an opportunity and goal to over-come. He would like to expand his business down south in either a restaurant or coffee shop because "damn it" he loves them both! He also sees his fantastic family in a beautiful home. He feels very lucky to have found his life partner.
So "Who is the real man behind the hair?" Ted Medina is a man who is truly passionate about his family and career. He has worked hard for many years, and he is rightfully gaining quite the name in Colorado. He is sure of himself yet humble. His sense of gratitude his refreshing. Ted still feels honored whenever anyone asks him to do their hair. Whether it is a free bang trim or a full color, he is grateful to be the one they've chosen.
I would like to conclude by revisiting the poem written by Ted's daughter Kailie. I feel this poem describes Ted's outlook on life, and what we should take away from his story– A focus on the positive things in life, rather than the negatives.
We tend to say never leave,
Never forget,
Never die,
Never, never, never.
But I want it to be always stay,
Always remember,
Always live another day,
Always, always, always.
Because always shows a promise,
A positivity,
Not a negative.
Thank you Ted and Kailie for your time! To contact this amazing hairstylist email tedshairstudio@gmail.com. Also read "Salon Bodhi Experience with Ted Medina".