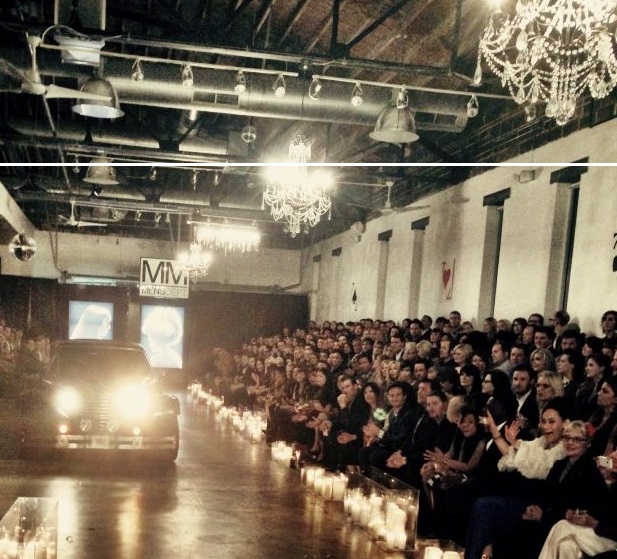 They warned you. Tickets were selling fast and, yes, they did sell out! Sorry but you couldn't even by a ticket at the door. If you've never had the opportunity to attend a Matthew Morris Salon birthday bash and its annual festivities in Denver, Colorado, then mark your calendars for next year's event. The Vegas themed soiree summoned the most fashionable, well-connected mile high socialite. Wondering what time it was before the show started? Yes you could look at your cell but, just for fun, ask someone wearing a watch at this event. Audemars Piguet or Rolex wearers would be more than happy to give you the time. Honestly, I wish I could upgrade to a Audemars. Maybe, one day. It is a beautiful watch. First Class Fashionista saw plenty of wrist candy at the Matthew Morris Salon 7th Anniversary Party and Annual Runway Show.
During the reception guests enjoyed sushi and signature cocktails in an accommodating tented area with plush lounge seating and music. This was the perfect time for mingling with old and new friends—Hey, while Miley Cyrus is twerking with all her money locked away and secure somewhere, at least we hope, other people are busy networking and trying to get there—People I talked to and exchanged business cards with were from LA to NYC. Later this tented area would become a fab makeshift casino with Black Jack, Roulette and more. Proceeds from the event benefited American Red Cross Colorado.
The annual high-fashion runway show featured Project Runway All Star's Mondo Guerra, Fancy Tiger; an apparel, jewelry and other accessories brand with their own Fancy Tiger Events, Pure Addiction and Goldyn. A car, a vintage retro-classic beauty, sat on the runway conjuring up old Hollywood Vegas strip nostalgia. Guests were assigned to seating playing on the luck of the draw. Each ticket holder was given a playing card, a lucky seven or the infamous super power—the Joker. So, it was a promising night. I held a Joker.
Mondo Guerra opened the show with his black and white Spring 2014 collection. Geometric designs, round wide-brimmed hats, fashionable sunnies and something else stood out on the runway, a leather-belted necklace/chest harness. It brought a little avant-garde to this ready to wear collection. Fancy Tiger didn't leave the men out. The Fancy Tiger work to casual looks on handsome male models was absolutely what Denver was looking for, longing for. FCF loved the bomber jackets paired with skinny neck ties. The crisp dress shirts underneath it all perfected the ensembles. On the runway, flowy and feminine cotton floor-length jersey dresses, asymmetrics, off-the shoulder, hi-lo, wrap, and a singletary bubble number stole the heart of fashionistas. Who didn't love this show?
One of my favorites from the runway!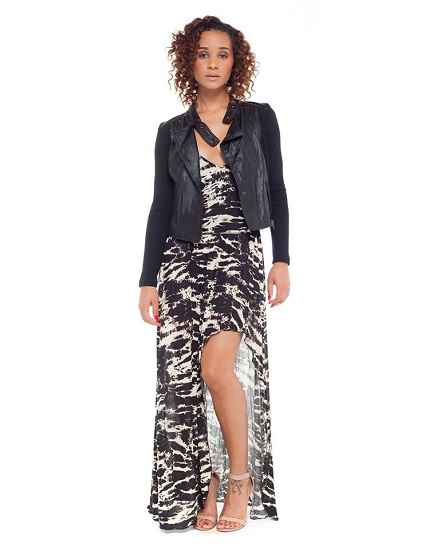 I have a dress like this.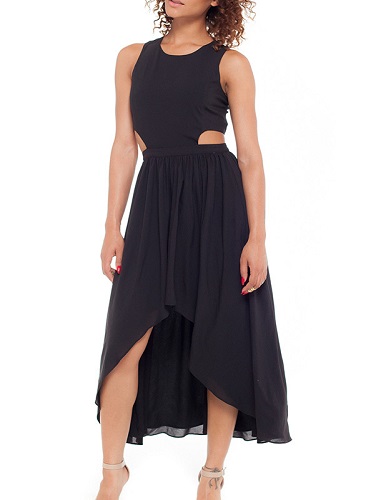 Shop Pure Addiction at http://www.shoppureaddiction.com. I loved their looks on the MM catwalk. Enjoy the video and the picture gallery below! Please feel free to share, share, share, but please don't remove the watermark. Thank you so much for reading. Catering provided by Epernay Sushi Restaurant and Lounge.