Halloween is just around the corner, and we all know what that means. Costumes. If you're anything like me, you're scrambling to put one together for the fun and frightening events that will be transpiring this October 31st.
However, you probably lack the costuming background and the entire closet full of wigs and accessories to just toss one together. If you do have these things; why aren't we best friends yet? For those of us still trying to put together a Halloween costume, I implore all of my fashionista ladies to heed my advice on how to keep this year tasteful and interesting!
First. Keep it classy. We're fashionistas here, and we are all about class! Halloween shouldn't be an exception. So rather than go for the overdone-to-death fallbacks of 'sexy pirate', 'witch', 'adult Disney character', please consider the appropriateness or originality of your costume.
A lot of women dress risqué on Halloween, but there's a difference between flirty and trashy. A common thought is that these type of costumes get more attention and they do, but it's not the kind most of us want to be subjected to. Original and creative costumes generally go over much better and will be remembered. Remember that line in Mean Girls?
"In the real world Halloween was a time for little kids to dress up in scary costumes. In girl world it was the one night a year a girl could dress like a total slut and no other girls could say anything about it. The hardcore girls just wore lingerie and some form of animal ears."
(Mean Girls, 2004)
It's funny because it's true. So let's not be a parody of ourselves, okay ladies?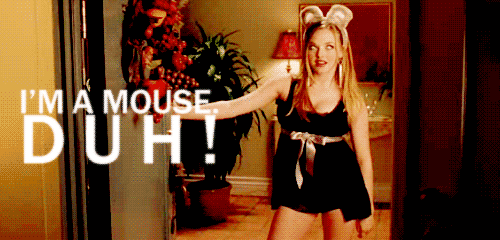 Second. Be creative. Seriously, this is the one time of year you can pretend to be anyone or anything. Have fun with it! At a loss for ideas? Consider doing a conservative version of a monster or creature. I was a full-suited Spyro the dragon for two years at work a while back and I've never gotten more compliments. It's fun to see someone really into their costume, and kids love something they can relate to as well. Still can't get over your Disney Princess phase? Be a Disney princess, just skip the 7" stilletos and short skirt. Still at a loss? Pintrest is a wonderful resource for costume ideas.
Third and most important! Have a good attitude. Just because someone in the bar or at your Halloween party of choice does not follow the above pieces of advice, does not give anyone license to say anything. If you don't like someone's costume, or you don't think it's flattering, hold your tongue. Unless surrounded by impressionable children, the best course of action is to just keep swimming! Watching our thoughts and actions regarding one another is something womankind needs to work on as a whole. Let's be kind to one another! Smile and socialize because Halloween is one of the zaniest holidays in the U.S.
Here are a few fun and easy costumes for 2013!
– Game of Thrones: You can basically achieve Kalessi with a store-bought Roman/Greek costume and a few dragon stuffed animals/accessories. The other women are Renaissance-style garb with fur! Ta-da!
– Sugar Skull: Basically this one is all about the makeup and the curled hair! Have fun with colors and styles, and then wear a dress or simple black to go with!
– The Great Gatsby: Throw on anything 1920s and accessorize with headband and a sassy attitude. A Leo look-alike is a bonus.
– The Hunger Games: A bow and arrow and a brown leather jacket, or a tracksuit but just don't forget the braid, and your Katniss in a snap!
Let's go out and make this Halloween something special, my fellow fashionistas. Let's be remembered for creating something so fun or unique while we smile and down all the creepy cocktails and "finger food" we desire. Happy Halloween!
Want to share your brilliant costume idea with thousands of FCF readers? Comment below.