Mercedes-Benz Tokyo Fashion Week has just come to a conclusion, and we at FCF are here to give you the best of show and the hot new trends coming from our fashionable friends overseas! Personally, I would say Fashion Week in Tokyo gets overlooked as it is often overshadowed by Paris, Milan and, of course, our Fashion Week home team of New York. But in this rapidly growing global fashion market, Tokyo Fashion Week is definitely something to pay attention to. From Lolitas, Harajuku Girls, and 109 in Shibuya, the country is known for finding new styles and trends first, and it definitely has an influence on what we see here over in the states. Customers and buyers are invited to find things they like and to spread them worldwide, so it's fun to see what's going on over there!
So read, learn, and lust after your favorite pieces Japan brought to the runway for Spring/Summer 2014.
Taking place October 14 – October 19th, Tokyo Fashion Week 2013 boasted a pretty formidable list of Asian-based designers. The brands showing work included:
    A DEGREE FAHRENHEIT
    alice auaa
    AMBELL
    araisara
    ato
    ATSUSHI NAKASHIMA
    beautiful people
    CHRISTIAN DADA
    DRESSCAMP
    DRESSEDUNDRESSED
    FACETASM
    HAN AHN SOON
    IN-PROCESS BY HALL OHARA
    JNBY
    Johan Ku
    JUNYA TASHIRO
    LAMARCK
    matohu
    MISSONI
    motonari ono
    Né-net
    NOZOMI ISHIGURO Haute Couture
    Patchy Cake Eater
    sina
    Sise
    SOMARTA
    STOF
    TAE ASHIDA
    The Dress & Co. HIDEAKI SAKAGUCHI
    THEATRE PRODUCTS
    Ujoh
    Yasutoshi Ezumi
    yoshio kubo
    YUKI TORII INTERNATIONAL
    Yukiko Hanai
    ZIN KATO
    99%IS-
Notice Missoni is on the program. I thought it was kind of odd, but oh well. The other brands are the mostly-unheard-of-in-the-US ones, and this will be my focus. I am going to point out a few of my favorites and I hope you guys will take a little time to investigate and see if you can find your own favorite in Tokyo Fashion Week 2013's lineup.
A bicycle ride, aptly named "Tweed Run Tokyo",  gathered 150 people in their tweed apparel and accessories on their jitensha in a route around downtown to signal the beginning of fashion week. Tweed is an enormously popular fabric in Japan, so it's no surprise to see it trending year after year in new styles. Japan is actually the world's biggest market for Harris Tweet, the handwoven 'authentic' tweed that only comes from the northwestern tip of Scotland. Despite the distance, Japan loves tweed and the city appreciates well-constructed goods.
A Few Of My Favorites:

I loved the photos from motonari ono. It's almost a mix of Red Queen from Alice in Wonderland meets cocktails after work look. A lot of color and black two-toned pairings with a lot of chic stylelines that I'm still envious of. The collection, aside from its lack of color, showed a lot of variety while remaining cohesive and is definitely worth checking out, especially if you're the cocktail-dress type.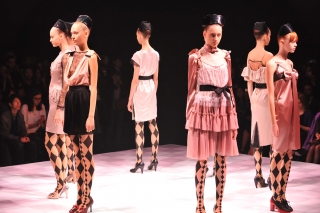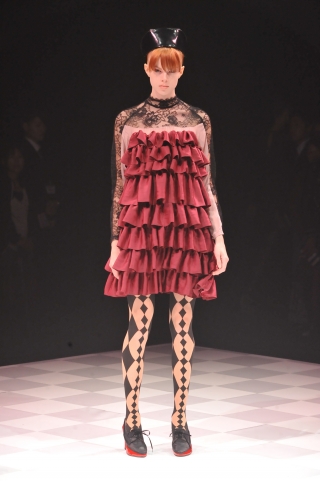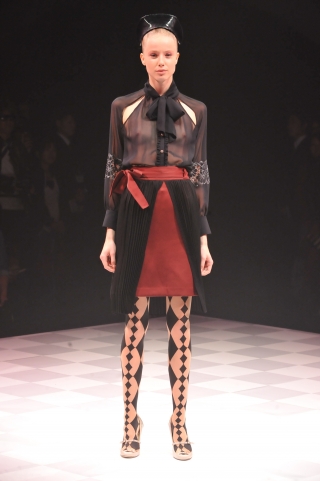 A DEGREE FAHRENHEIT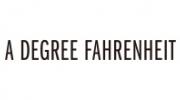 Remember when I said orange was going to be a big deal? Well Japan confirmed it with Yu Amatsu's strong Spring/Summer 2014 collection that really went all-out. Using a variety of finely tailored silhouettes, this collection will wake you up just by looking at it. Simply gorgeous!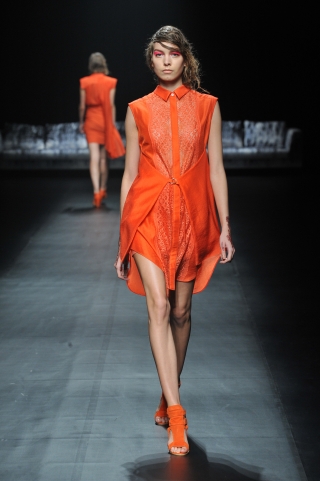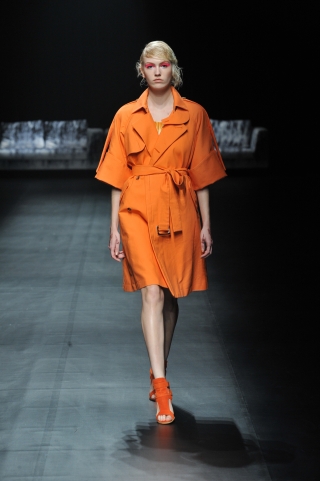 SOMARTA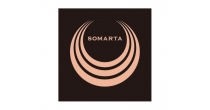 This is definitely a brand to look for. Blending current styles with traditional Japanese kimono layering and the obi belt style, these works are almost exactly the thing one might associate Tokyo Fashion Week with at a glance. The smart choices in fabric leaves the clothing looking crisp and tailored as well as fun with the brutalization of trend colors.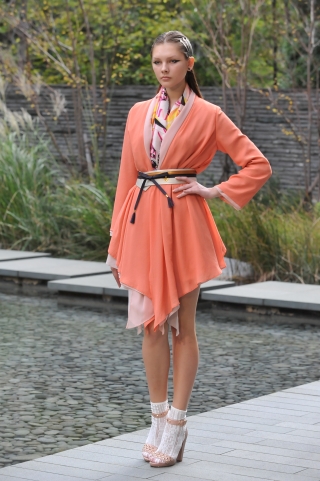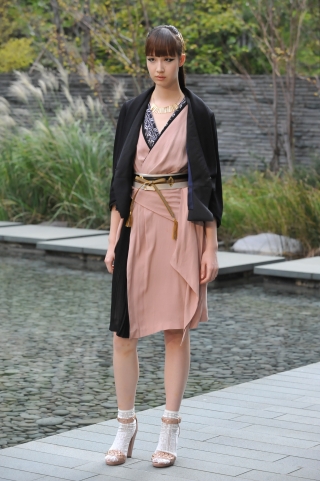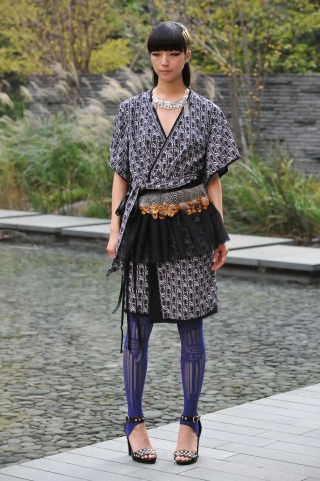 I'm going to leave it up to you to find your own favorite brands, dear readers. I know all of our fashionista friends will be able to find at least one designer that they have never heard of before but creates something they adore. A few of them are new designers as well, including Patchy Cake Eater and 99%IS-, so they may be ones to watch for in the future!
What did you think?
FCF no readers ha ichiban suki collection wa nan desu ka ?