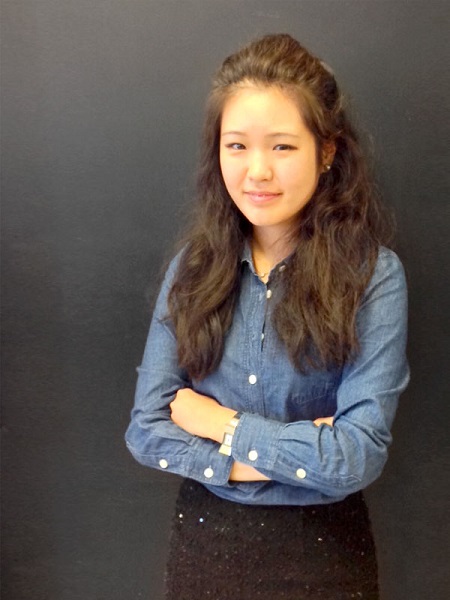 Today at FCF we're going to do something a little different. I was given the opportunity and initiative to find a fellow student designer to spotlight, and I was more than happy to do so. Of my fellow fashion design majors at the Art Institute of Colorado, I selected Sue Bae to showcase here at First Class Fashionista.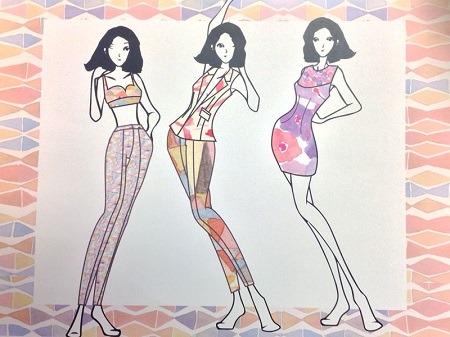 I chose Sue because, although she still has a year to go in the program before graduation, she has a reputation of being an amazing seamstress. She even supervises our open lab hours with the industrial machines at the school. Sue is always patient when explaining techniques to other students, and she works on new techniques in her free time to use in her own work as well. You'll see an example of one of such experiments with lace applique later on. In addition to building a pretty formidable rep here at AiC, Sue has also had to conquer linguistic and cultural barriers. She is originally from Seoul, Korea; which, as you may or may not know, is the largest metropolis in South Korea.
When asked "why Denver?" after hearing more about Seoul, Sue explained that her sister was here and, during a visit, she became smitten with our little 5280. She likes the bustle of the big city, but considers Denver a break from the craziness of her home city. "It's nice to have a rest," she told me.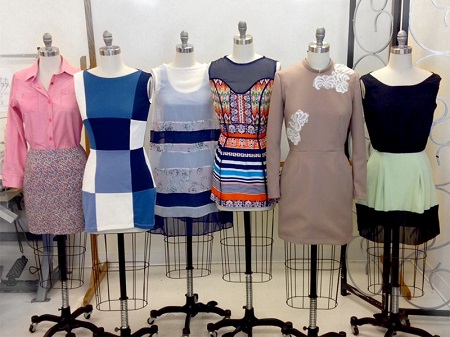 A few of the garments she brought to show in the all appropriate setting of the fashion sewing lab, a place we students know too well.
But fashion design wasn't always something she was passionate about. Originally, Bae was very interested in the fine arts and had intended to go to school to practice and learn this craft. However, she explained to me that in Korea you essentially get out of high school and get one shot at choosing your major. Talk about pressure, yikes! The university she had chosen to attend did not offer fine art, but they had fashion design instead. After taking a few classes, Sue claims to have fallen in love with it. So although it wasn't originally her dream to become a fashion designer, through further practice and education, she says it became one.
This designer says she is influenced by the great Marc Jacobs and Anna Sui, both of whom are famous for nudging boundaries and creating garments that are both ladylike and fun without going over the top. I believe these designers have influenced her work, although she is constantly pushing herself to try to escape her own "box", signifying her individuality.
When asked to explain her overall style, Sue Bae replied "Feminine…But I'm trying to get out of my box. I always end up with sheer fabrics…" Don't worry, she'll find something else to excel at. For her senior collection, a graduate requirement here at AiC for design students, she is creating a line that utilizes more tailoring and masculine elements, such as lapel collars. You can also see the influence of the geometric works of Picasso's Cubism movement; which shows that although she was unable to pursue a degree in fine art, she is capable of incorporating it into her fashion pieces. After great designers and fine art, she says the rest of the inspiration comes from the fabric.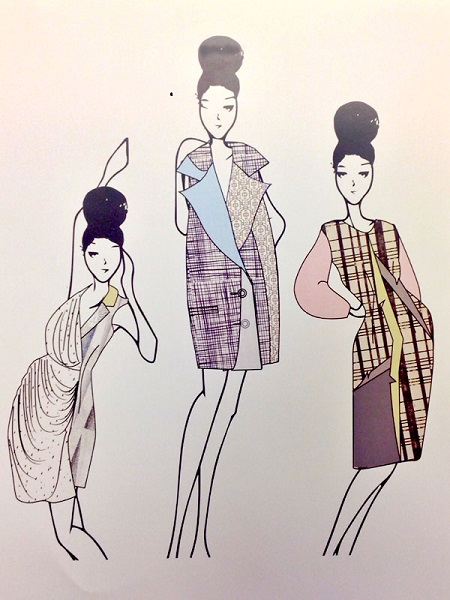 Current sketches for her upcoming senior collection as it stands now in development.
Currently, Bae says she is focusing on graduating, and I'm sure in the next year she'll produce even more envy-worthy pieces. At first she only wanted to design clothing for "daily women's wear" but throughout the course of her growth as a designer, she has fond that she would like to try a higher-end market as well. Designers, you should intern this girl! I swear, she's a fast learner.
So, as the end of another quarter creeps up and many of us become exhausted, I look forward to Sue Bae humbly removing her beautifully constructed piece from her garment bag and giving us a shy presentation- just as I look forward to seeing more work from her in the future. Did I mention Sue is a bit reserved?
More pics of her designs to come! Please bookmark.