Hey there fellow fashionistas and fashionistos! Did Halloween creep up on you too? I know I was just recently writing about costumes, but I didn't even realize how fast it was approaching! So, with only a few days to spare, could it be possible that you still don't have plans? Are you considering doing nothing but sitting at home come All-Hallow's Eve? I know, that's a truly scary thought.
Well, for the procrastinators out there or for those who, like myself, have no concept of the linear progression of time; I have a list of local events that are sure to make your evening a fun one! Here are my top 3. These are events I would go to if I weren't working until 10 p.m.
Denver Halloween Pub Crawl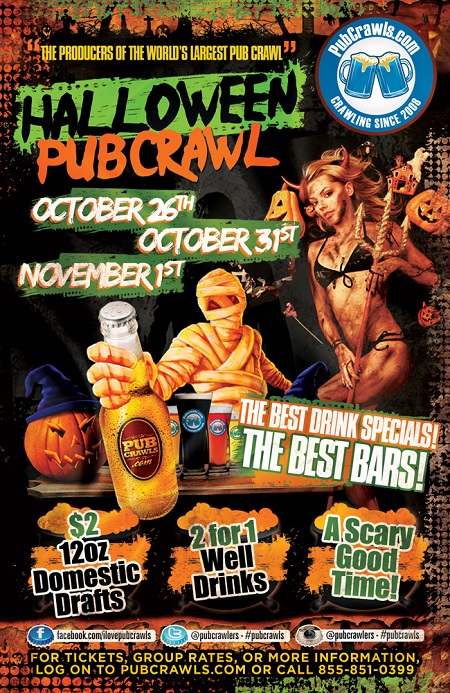 If you enjoy the bar scene, this is an event not to miss. This year it's an official PubCrawl.com event, so it's anticipated to bring out even more Denver patrons than in previous years. Costumed attendees will be granted access to the participating venues and will gain access to exclusive Halloween Pub Crawl drink specials. My advice is to register for this event! Last year I went to LoDo on a whim and the people who had the foresight to buy their access passes for this event got way better deals on both overall pricing and specialty drinks. The downside is that one of the participating days has past. However, you get to use it again the Friday following Halloween, so it still isn't a big loss. The all-access pass runs you $20 at full price, but I snooped around and found it on Living Social for a mere $10 per person. Enjoy!
Visit tickets and more information|living social deal
The 2013 Zombie Ball at the Brown Palace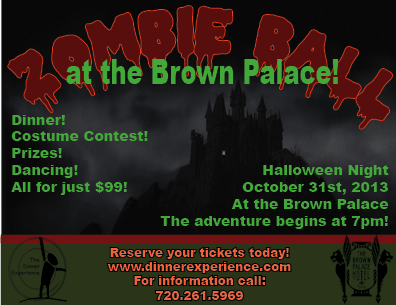 Don't let the horrible event page fool you, this event is kind of a big deal. When I say ball, I mean formal. The Brown Palace Hotel and Spa is famous for its haunted rooms, and often does tours to let guests experience the history of the building. If you ever have the chance, it's a fun side trip. The ball is being held in the Club Room, rumored to be one of the haunted rooms with live music, as well as catered food and a free drink. And what would a ball be without royalty? This year's "Zombie King and Queen", the winners of the costume contest, will be crowned at the end of the night. The downside is, this event is $99 a ticket. However, you get a catered meal by the Brown Palace, and a swanky event to give this year's Halloween memory an upscale twist.
 The Halloween Trilogy Triple Feature at The Alamo Drafthouse Cinema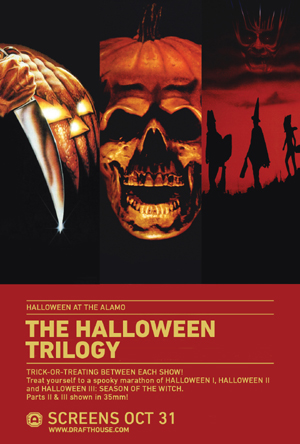 Not excited to go out in the almost-certain cold? This event is for you. If you've never been to The Alamo Drafthouse, you're missing out. It's just past Denver off I-25 in Littleton, but completely worth the drive. It's like a Cinebarre- but nicer. Its more up-to-date, comfy, cleaner, and they really cater to an older audience. The staff is super friendly and their food and drink menu is delicious.
This year, they are showing Halloween, Halloween II, and Halloween III: Season of the Witch. These films are all intended to be sequential, despite Mike Meyer's absence from part three. If you really just wanted to sit at home and watch scary movies, why not do that but have people bring you food and drinks at your every whim? The three movies are being shown for the price of one ticket, and the seats are comfy enough that you might not even need the intermissions in between. Only $16 a person for a run time of 281 minutes of film. It's a deal. Leave the kiddos at home, though, no children under the age of 6 will be allowed.
So there you have it folks. Fun options that may offer something a little different this year for the procrastinators in all of us. And, for those of you who haven't read it yet, don't forget to check out my Halloween advice post, complete with a few last-minute costume ideas!