After attending The Art Institute of Colorado and receiving my Bachelors in Fashion Design. I have studied many fashion designers and found why they have become successful in their careers. The only problem during my studies is there was never enough time. What I mean by this is that I wanted to learn about EVERY fashion designer!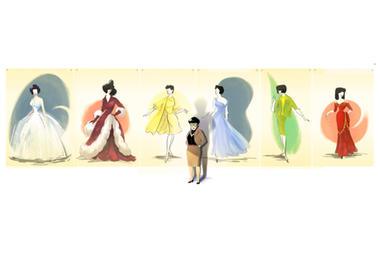 By working with FCF, I have been able to explore a variety of interests within my writings. Searching for an interesting topic for my weekly writings, I used Google. I have always seen the creative twists and doodles on the Google tool bar, but I've never actually clicked on the Google drawings themselves. I recently saw a Google drawing of what seemed to be a fashion designer and her designs. With a strong focus and background in fashion, I randomly clicked on the drawing. This is what led me to learn more about Edith Head.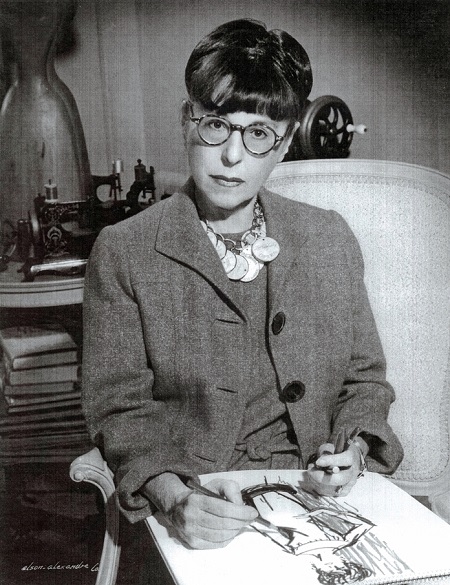 Edith Head was an American costume designer, born October 28, 1897 in San Bernadino, California. She was born Edith Claire Posener, to her Jewish father Max Posener and mother Anna E. Levy. Edith received her Bachelor of Arts degree in letters and science from the University of California, Berkeley in 1919. She earned a Master's in romance languages from Stanford University in 1920.
After her schooling, she became a French language teacher at Bishop's School in La Jolla. One year later, she taught at the Hollywood School for Girls. Looking to achieve a higher salary, she also taught art. During this time, she took evening art classes at the Chouinard Art College. Edith married one of her Chouinard classmate's brother, Charles Head on July 25, 1923. They later divorce in 1936 after years of separation, but she kept her name till death.
In 1924, Edith was hired as a costume sketch artist at Paramount Pictures. Within this career change, she designed costumes for silent films such a The Wanderer in 1925. She worked at Paramount for 43 years until she left to work at Universal Pictures in 1967. By working at Universal Pictures, she was able to work with director Alfred Hitchcock. Edith's new career lead her to her second marriage to set designer Wiard Ihnen in 1940, their marriage lasts until his death from prostate cancer in 1979.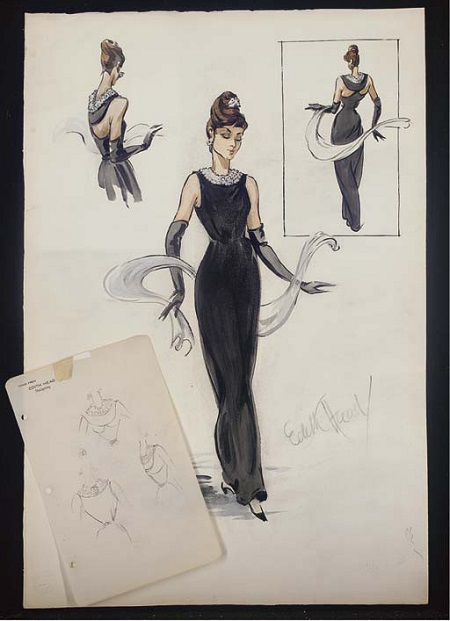 During her career, Edith Head was nominated for 35 Academy Awards and won eight times through the course of 1948-1966. She holds the record for the most Oscar wins by an individual woman for her costume designs. Her Oscar wins were earned by her work with Audrey Hepburn in Roman Holiday and Sabrina, also from her work on several Alfred Hitchcock films.
Edith became well known after her association with the "sarong" dress, which was designed for Dorothy Lamour in The Hurricane. This dress was a strapless evening gown worn by Elizabeth Taylor in A Place in the Sun. In 1944, Edith was known for the top mink-lined gown she designed for Ginger Rogers in Lady in the Dark.
Head became publicly known for her low-key style, classy yet glamorous looks and her extensive work with female stars. She was known for dressing stars of the 40s and 50s; such as Ginger Rogers, Bette Davis, Sophia Loren, Barbara Stanwyck, Shirley MacLaine, Anne Baxter, Grace Kelly, Audrey Hepburn, Elizabeth Taylor, Tippi Hedren, Kim Novak, Clara Bow, Mae West, Hedy Lamarr, and Natalie Wood.
During the 1950s, Edith Head was known by her regular appearance on Art Linkletter's daytime television show, offering fashion advice to the un-chic. She also began designing for Vogue Patterns. Working with Universal Pictures, she moved from movie design to working as a television costume designer, this is when she worked with actors like Olivia De Havilland. In 1974, she received an Oscar for her work on The Sting.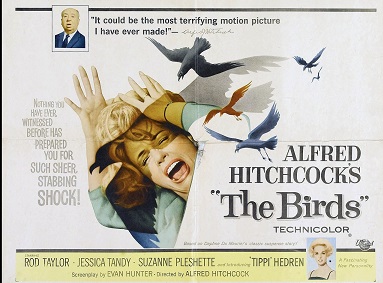 Throughout her career, Edith worked in films such as Vertigo, The Birds, Rear Window, Ten Commandments, Samson and Delilah, To Catch a Thief, and The Lady Eve. All in all, she worked in 750 films!
In the 70s, Edith changed direction once again, by working as a designer for women's uniforms for the United States Coast Guard. She referred to this time in her life as the highlight in her career as she received the Meritorious Public Service Award.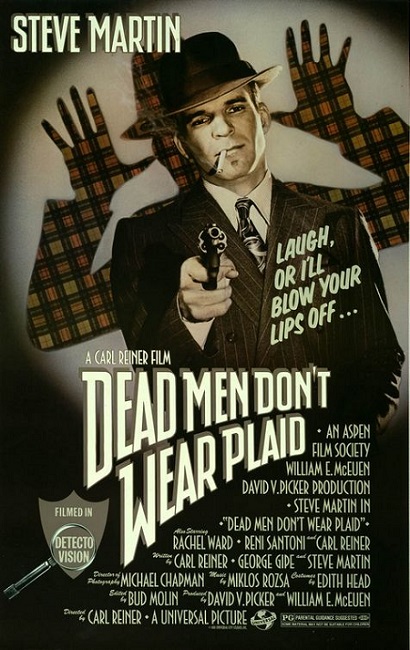 Later her designs were seen in a TV mini-series based on the novel Little Women. During her late career, she designed for the black-and-white comedy Dead Men Don't Wear Plaid, starring Steve Martin and Carl Reiner. This production was dedicated to her memory, after her death from Myelofibrosis on October 24th, 1981.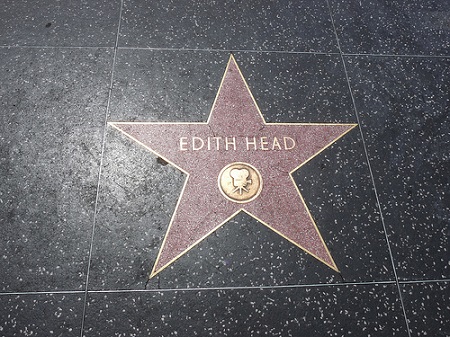 One can find Ediths star on the Hollywood Walk of Fame at 6504 Hollywood Boulevard. We at FCF want to dedicate this article to the memory of Edith Head, an American fashion designer who led the way through the 1940s and 50s.