Day 2 of Denver Fashion Weekend 2013 was, as you may know, a feature in hair and makeup. Produced by 303 Magazine, the event was held at City Hall Events Center and featured designs from J Audrey Hair Studio, Blow Dry Lounge, Evolution, Antoine du Chez, Swank, Ted's Hair Studio, The Look, El Salon, Rita B, Vita, G 3, Juno, Mode, and Halo. Let me just say that City Hall was a wonderful venue for the event. I love when shows are put on here. The runway ran down a few rows of chairs on the main floor, while the stairways and other levels offered a great view for other patrons without having to worry about being the shortest one in standing room only. Generally, that's me, so I was excited to see that had I not the good fortune of a seat, I still would have been able to see the show.
I am not a photographer. I am, however, qualified to hit a few buttons but, mostly, I write. In the wake of camera issues that only I seem to have, I bring you videos of the show as opposed to photos. It's not quite the same but, heck, we can pretend we were there together. But you get the bonus of not having someone's vodka-cran down your backside. So, really, this is better.
J Audrey Hair Studio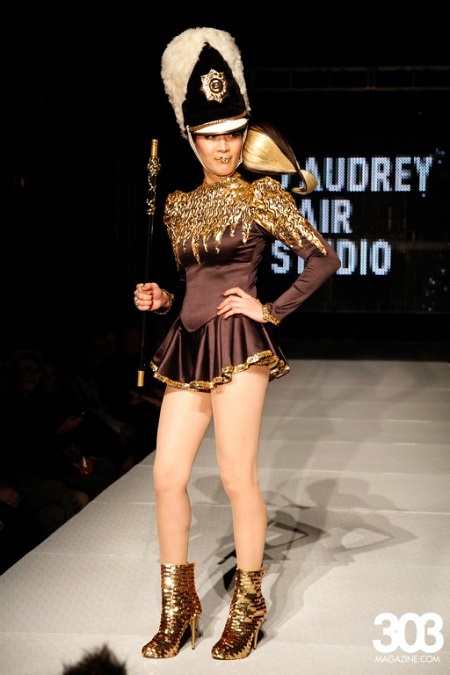 Regrettably, this is where I discovered I couldn't even use my camera and had to frantically go to a video Plan B. I managed this one photo that doesn't quite do it justice. Gwen Stefani's "Wind it Up" played while the cheerleader-meets-marching-band-couture models strutted onto the runway. It was a fun start to the evening, and it got you excited that, at last!, the show was beginning. The girls were cute, and the hair was fun without being too ridiculous.
Blow Dry Lounge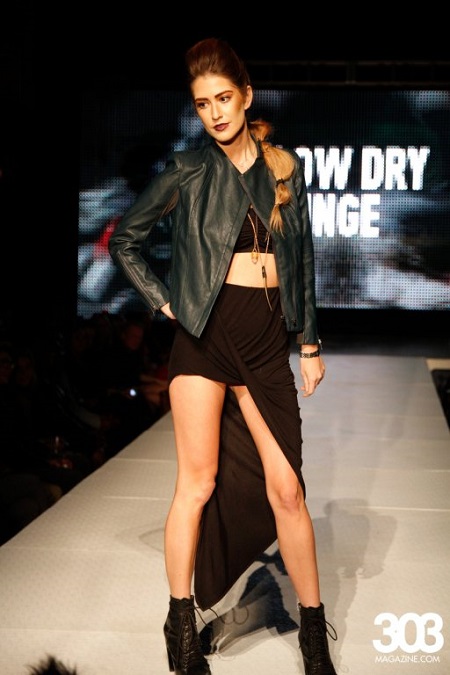 I loved the Lana Del Ray-esque hair in this one, as well as the overall pulled-together theme. This was one of the few shows that I believed showcased hair in a wearable way. The style may have been a little avant-garde, but they weren't too far removed from the realm of what a woman might actually go to a salon and want. Personally, I loved the first look. I would love a big puffy and perfectly curled pony like that. Plus, the girls had some strutty sassitude. Gotta love that.
Evolution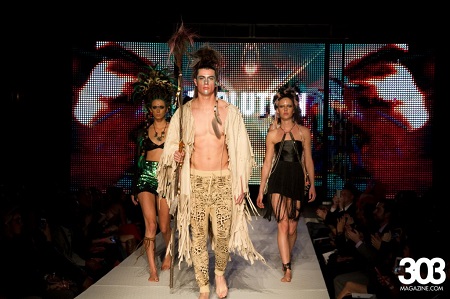 Evolution was a kind of cyber-Native-American mash-up, which turned out to be really interesting. I think the hairstyles were something very unique, and they didn't overuse color too much. The makeup was phenomenal. I loved their main guy. He was so serious and really looked like the 'chief' of this little clan. Also the outfits really brought the theme together without distracting too much from the overall look.
Antoine du Chez
Antoine du Chez really stood out amongst the more urban styles of the rest of this show. Showing traditional Grecian-inspired looks, their girls really looked and posed the part of muses and Goddesses. It was unfortunate none of the hair appeared to actually belong to any of the girls. However, the makeup was really striking.
Swank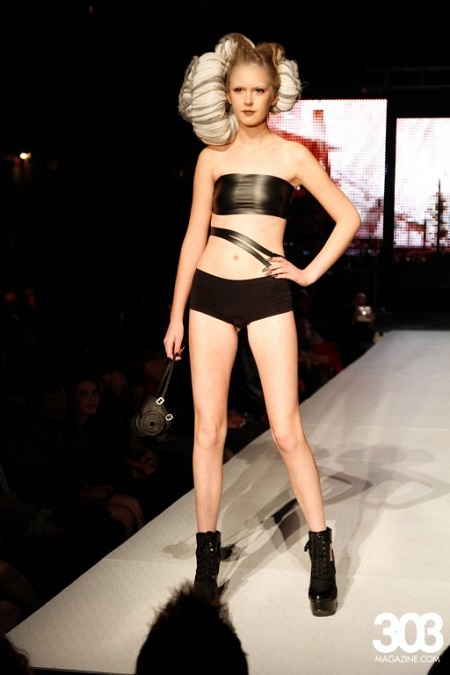 This one was really shock value, and they did a good job at that. The hair really seemed like it was on the back burner to chains and gas mask props, though. Also, using electrical tape sounds really grunge and cool, but I feel like something different could have been done that would have been more effective. However, I really like the big hair pieces with the white and grey, even if it did look a little bit like a Togruta from Star Wars.
Ted's Hair Studio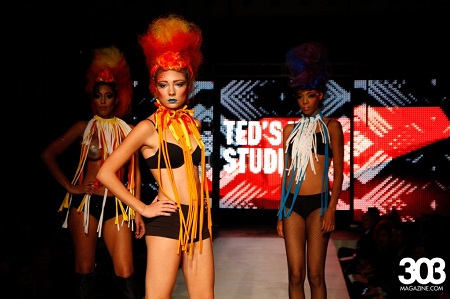 Hey, it's Ted! We like him here at FCF, and I feel like I've see him in some capacity at every show I've been to lately. His designs were very colorful and fun and you can tell that he does hair for fashion shows often. However, they were all really similar and didn't deviate much. Although the colors did really stand out, I would have loved to see a little more variety.
The Look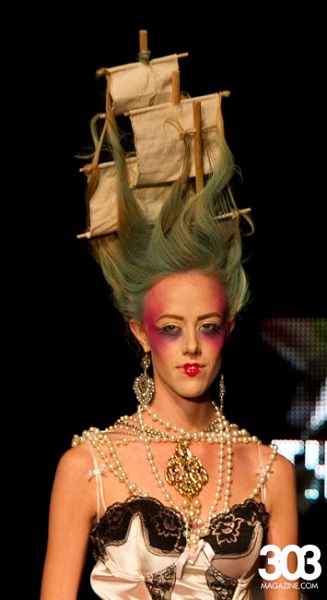 The Look had quite a few interesting styles. It was nice to see a wide variety of hair styles while staying within a unified theme. The clothing was a bit distracting, but I think the props and the makeup really added to the overall look. Also, they had what was my favorite look of the whole show. It was like an Ursula circa "The Little Mermaid"-esque style, complete with a blue wave of curls and a little ship awash in the hair. I loved it. There was something really kitchy and creative about the look that stood out to me. It was all pulled together with the makeup and clothing all working in sync.
El Salon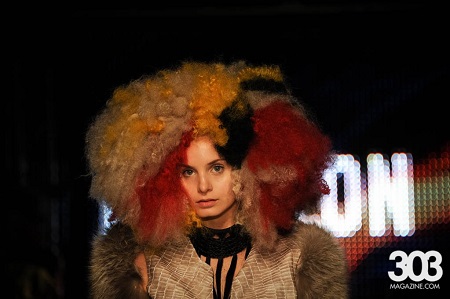 El Salon had an interesting use of colors, but I feel like the styles didn't really impress. It looked like little tufts of fake colored hair all mushed into a ball on the model's head. I'm pretty sure that someone in my video asks "What is that?". Quite possibly I'm missing what they're going for. Tell me if this is true, because honestly I would love to be wrong! However, those colors were fun!
Rita B
Rita B really brought some fun with the upbeat music and the absolutely fierce strut of their little ballerina! Their prima-model really started with some energy, which unfortunately most of her colleagues were unable to match. I think the hair was a little upstaged by the presentation, but they did have some very interesting updos worked into the collection. I liked the usage of feathers throughout.
Vida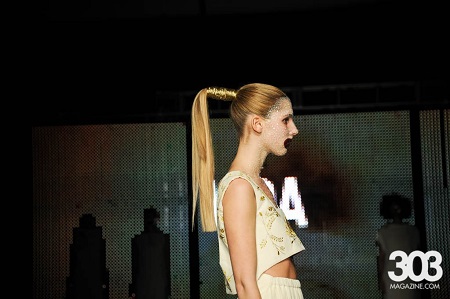 This one was a bit macabre, with the chained faces and dark lips. Sort of a McQueen look, in my opinion. The styles were relatively simple, but the usage of the beads and chains made them more interesting to look at. I think they actually used some of their model's real hair, which is great!
G 3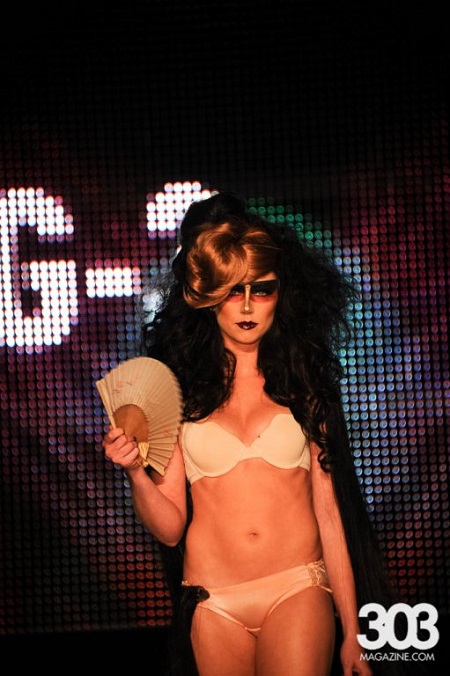 These guys really took 'hair show' seriously. The garments, or what little they are wearing, is also constructed from tufts and wefts of extensions and fake hair that was crimped for texture. None of the hair looked to be the model's own, but they definitely set the bar higher for gravity defiance.
Juno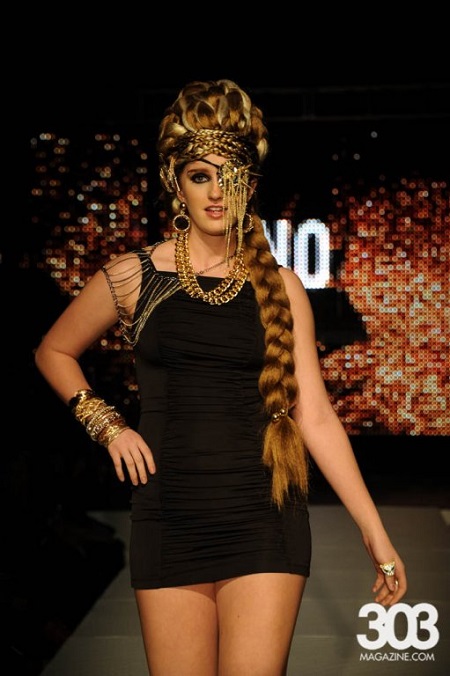 Juno had some sassitude. Excuse their music, internet viewers. I liked that most of the styles had the girl's real hair worked into it; like the gigantic 80's side-pony that was braided onto the model's head. This show had some volume! Unfortunately, they also let one of their models onto the runway with gum, and that really killed it or me. Devil's in the details.
Mode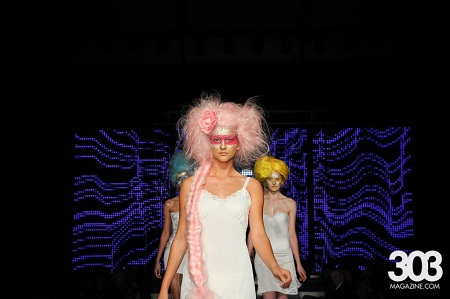 Mode had a wide variety of color and styles, which was a nice thing to see. It was a bit fun to see that they weren't afraid to show versatility and, by opting for all white, the clothing didn't compete with the hair colors. The pink look was definitely the best of the bunch.
Halo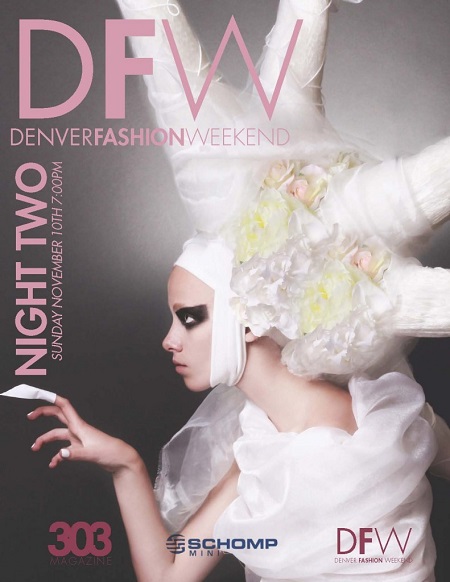 Halo's video is in a few pieces, forgive me. Plan B, the phone cam, actually ran out of memory during filming and I had to borrow someone else's in a panic. Let that be a lesson to all of us photo-hoarders. Halo's presentation was probably my favorite because it was laced with tongue-in-cheek humor. All of the tools that were used to create these crazy styles that came before it are used in obvious ways; like the Styrofoam hair pieces being used as almost bun-like shapes. Ribbon is used to keep the pieces attached to the head, along with the intentional showing of bobby pins strewn across the mess of styles to keep everything secure. The whole show said to me, "Yeah, this is what we used, this is how crazy it is, this is a behind the scenes look and now you're in on it." Maybe I'm reading too much into it, but maybe not. Halo also produced the white-haired looks that decorated the flyers and press material, so you know they have some skill (see above).
Overall, the hair show was quite fun. Despite the fact it really took forever. I will mention this at every show until it changes. Denver fashion shows are painfully drawn out. The doors were at 7, you had to get there earlier to avoid a line, the seating began at 8:45, and I want to say the show itself did not even begin until 9:30. That's a lot of interim time for not a lot of show time. Just saying. However, food truck participants PinkTank and Hey PB & J offered some very unique snacks to keep me at least a little distracted.
One of the most common opinions I heard that evening was that we want real hair! The hairstylists in the audience were positively bored by girl after girl modeling extensions in obviously fake colors, faux hair, and Styrofoam pieces. Honestly, they told me they were only looking at the makeup toward the end of the show. I think it's a great idea. Anyone can rock fake hair… How much skill does it take to work with the girl's real thing? I'll volunteer; hairdressers of the world will weep over taming my uncooperative and thick mane. Maybe a little variety is all we need. Seeing the same thing was what bored the audience, so perhaps some natural styles worked into the line-up would have been a saving grace.
I also would have liked to see more energy. The show began with "Wind it Up" for the girls of J Audrey hair studio, but their cheerleader energy quickly dispersed and wasn't really picked up again until Rita B and their Swan Lake-esque ballet intro. Even that energy faded when the rest of the girls followed in too-serious motion after our pirouetting heroine finished her strut down the runway. The music selections were great and fun, it would have been great to see a little bit of that fun reflected into the women modeling as well.
In the end, I would definitely go again. A few things could be looked at for an even more successful showing in the future but, all in all, it was a great experience. 303 did a great job of incorporating sponsors that integrated well into the event, and the set up in the venue was both gorgeous and well-managed.
Enjoy the complete collection of photos from the official 303 Magazine gallery, taken by their professionals. Bless their hearts and their crazy expensive cameras. See the full gallery here here.