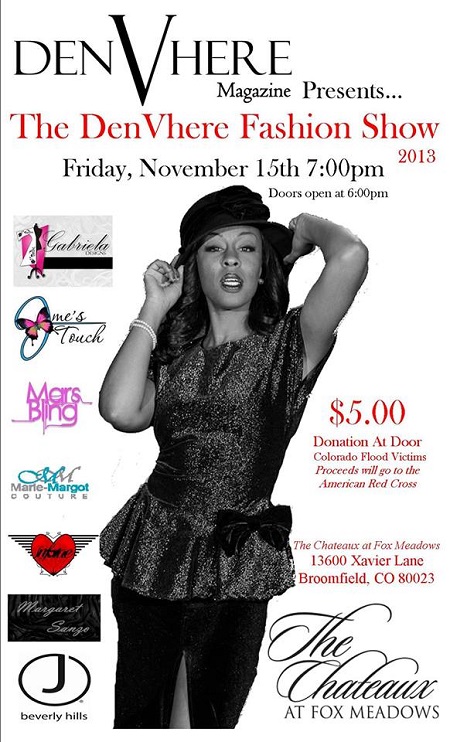 Last Friday was DenVhere Magazine's annual fashion show, held in Broomfield, Colorado. The tickets were only $5 with proceeds going to the American Red Cross. Although, normally, I just claim "press"! and skip the admission costs; this round, I brought a bunch of my friends with me and we all pitched the $5 for entry. The money was to be set aside to help those who suffered from the flooding in Colorado. Hey, it was a good and local cause, and I wanted my friends to experience the event too!
Although Broomfield is kind of a drive– especially for those of us in downtown Denver, where trying to escape to anywhere on a Friday after 5pm is a struggle– the exciting designers and the venue was worth the trip. The Chateaux at Fox Meadows is a french mansion designed specifically for weddings and events. I think one of the best things about this venue is that they don't believe in splitting up the house…or the mansion for that matter, so there's only one event going on at a time, ever. Look at how beautiful this place is!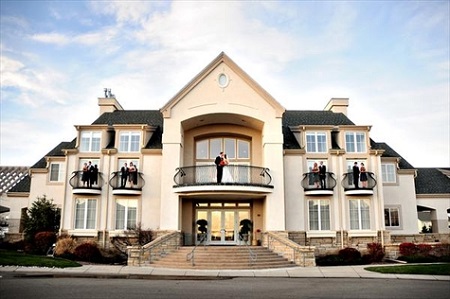 And, that's just the outside. The inside was set up with draped sheer curtain accents coming from the ceiling, and a red-carpet runway that made all the models look like celebrities.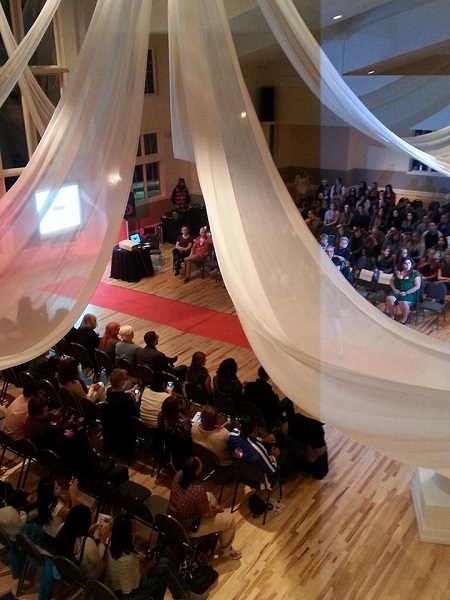 The designers included Infatué, MarsBling, Maggie Burns, Jayme's Touch, Gabriela Designs and hair and make-up was taken care of by our friends at Ted's Hair Studio. Overall, the looks were very clean and put together, and I really loved watching this show.
I didn't take photos this time, as my viewing was partially-obstructed, and I'm still experiencing camera issues ( But please do check out the gallery below provided by FCF's on-board photog). To illustrate my comments, however, I'll be using photos from Sampson Leung Photography. I have worked with this photographer before and he creates amazing photographs.
Infatué
It would take me forever to talk about all the things I loved. Overall, there were a lot of women's ready-to-wear daytime looks, which looked very sell-able and wearable for a lot of women. I think Infatué did a good job of taking otherwise ordinary ready-to-wear silhouettes and adding some sass. I'd love to wear this graphic tee.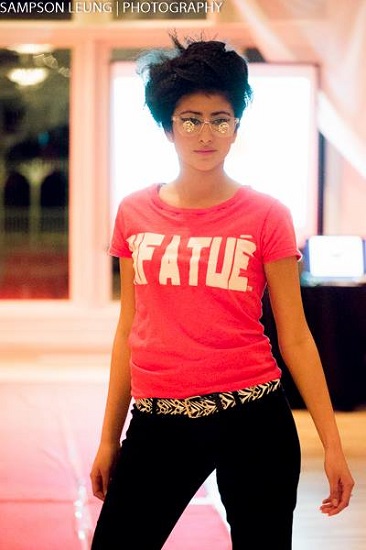 photo by Sampson Leung Photography
Marsbling brought science and bling to the runway.
"MarsBling is a handmade, fashion jewelry line that uses photo pendant jewelry, rather than digital publishing or broadcast technologies, to cover NASA's current planetary science expeditions and pay tribute to past missions to Mars using jewelry built with photos and anaglyphs sourced from NASA's Jet Propulsion Laboratory in Pasadena, CA."
Beautiful, sophisticated models in all black were styled in such a way that was perfect for the Marsbling runway. The tipping point was the hairstyle that included a Marsbling jewel. We absolutely loved this because it absolutely showed off the creativity of the hair team.
Marie-Margot Bridal Couture always wows me. In the 4 years I worked as a florist and creating wedding pieces, I never once imagined my own wedding; true story. But her pieces speaks to the girly-girl buried deep inside of me who wants to get married one day; especially the dress below. I love the unique silhouette and the sort of humor, but reality, in the model's Colorado-wedding-appropriate furry boots.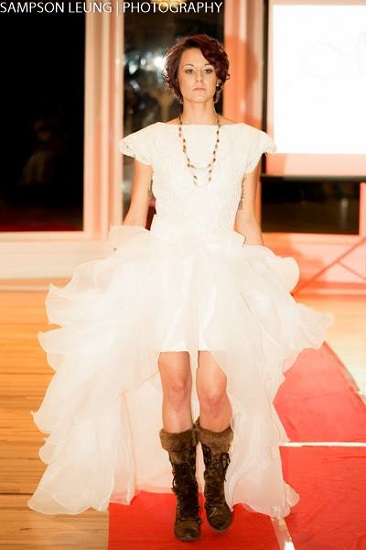 photo by Sampson Leung Photography
Their Day Into Night Lingerie Collection was also shown alongside the wedding pieces, and I think it's a great idea. I've never seen lingerie that I would feel comfortable out and about in before, but the styling of these pieces makes me think that any woman could literally go day to night in this line.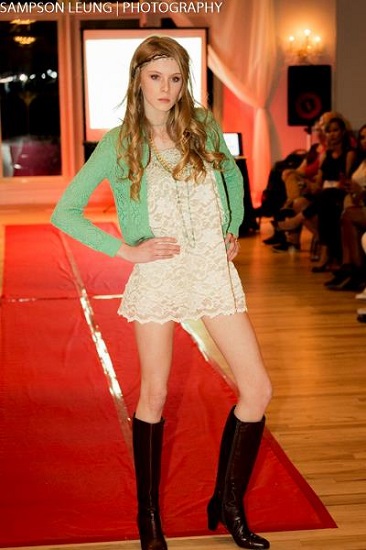 photo by Sampson Leung Photography
Jayme's Touch
I really loved Jayme's Touch. She only recently started showing runway collections. Remember our Colorado Fashion Week coverage? So, it's great to watch as these looks evolve and grow as a brand. I was especially impressed that she had a plus-sized line! It's really a niche market that doesn't get a lot of fashion attention, so it was wonderful to see her creating chic looks for a different body-type in Colorado fashion.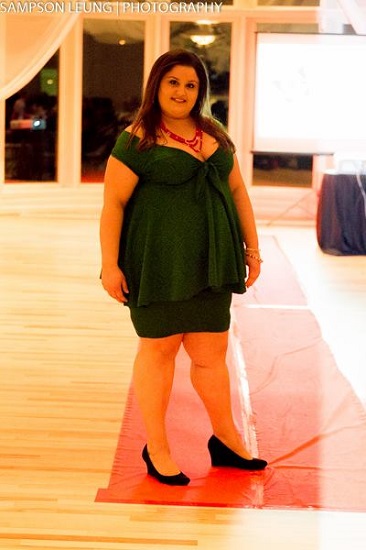 Working the Jayme's Touch runway is Christina Waheed for Jayme's Touch. Waheed also writes for DenVhere Magazine's "Plus-size and Confidence" column. photo by Sampson Leung Photography
Gabriela Martinez closed the show. This designer does a lot of shows, and she is always ready to reveal something new. For this show, as it is mid-November, Martinez snagged this opportunity to showcase a few seasonally appropriate holiday looks. Rhinestone and velvet, and things that sparkled lit up the red carpet, reminding us that Thanksgiving, Christmas and New Year's get-togethers and parties were on the way. Loved the jewels that were paired with your favorite dress? Linda Bowen Scott, FGI Denver Chairman and owner of Bijoux Prive Collection, accessorized these looks.
Overall I had a great time, it was a beautiful venue, and the looks were fun! After going to 303 Magazine's Hair Show previously, it was nice to see more toned-down looks that accentuated the girl's natural beauty rather than making her a statement piece. What can I say…? Personal preference. Also, the wide range of styles was nice to see. I did bring my friends, so it was nice to show them the spectrum of bridal to ready-to-wear fashion.
Runway music provided by local DJ favorite, DJohnson Theceo.
Well, what did you guys think? What did you love? Share with us your thoughts, and feel free to cover anything I may have missed! Enjoy the pics.