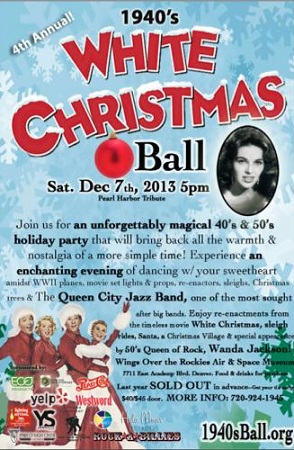 *Picture gallery below.
On Saturday, December 7th, baby it was cold outside as more than 3,000 guests braved 3 degree weather to attend the 4th annual 1940's White Christmas Ball held at the Wings Over the Rockies Air & Space Museum in Denver, Colorado. After being stuck in our homes and offices since Tuesday, the White Christmas Ball, paying tribute to Pearl Harbor, served as a delightful winter wonderland getaway for those experiencing cabin fever. Dressed in 1940's splendor, arrivals to the ball entered the historical hanger of the old Lowry Air Force Base with the anticipation of stepping back in time and swing dancing the night away.
With song and dance performances throughout the entire evening, there was never a dull moment at the White Christmas Ball. The music selection was absolutely perfect. With performances like The Haynes Sister's rendition of "Lord Help the Mister that Comes Between Me and My Sister" and song selections like "It Don't Mean a Thang (If You Ain't Got that Swing)", the dance floor stayed packed. Lucky ladies all dolled up were twirled, dipped and kissed by their courter to these golden oldies. "I'm Dreaming of a White Christmas" was just one of the songs that set the ambiance for holiday romance at the ball.
Activities included photo ops with World War II planes, Santa and lit Christmas trees, an ornament making station and swing dancing lessons, of course. There was also a swing dancing contest! The Pin Up contest almost stole the show, and Dan Daru from Fox 31 hosted the show-stopping Authentic Attire contest; but, stage left, were the vendors. Vintage Treasures (from Trinidad, CO), Funky Finds Boutique with Sister Rox, Navavette, Bettie Page Fashions and others offered beautiful vintage fashion and a lot of interesting items that fit most perfectly with the theme of the event. All net proceeds from the 1940's Ball went to support The Wounded Warriors Project and The Spirit of Flight Center.
After chatting with Heather Noble and Jamie Keegan of Sister Rox about their gemstones, gargoyle and skull jewels, I had fun playing with this viewfinder I found on their table.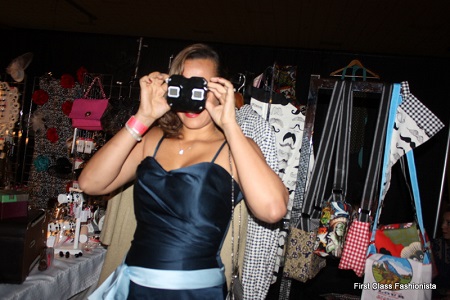 Heather and Jamie were so friendly and in such a great holiday spirit, I am going to share the Sister Rox company description with you. You can find Sister Rox at Funky Finds Boutique. Merry Christmas and happy New Year to all!!!
P.S., My dress was purchased and altered by local designer Gabriela Martinez at The Altar bridal shop in Lakewood, CO. Gabriela also designed my Denver Paint the Runway and Red Ball dresses. –And she just won RAW's Denver Designer of the Year at RAWards! Don't forget to check out our White Christmas Ball picture gallery below.
About Sister Rox:
"Sister Rox began when two sassy sisters put their creative brains together to design and craft beautiful, unique, one of a kind jewelry. Bracelets, rings, necklaces and earrings made from whatever inspires the sisters, are sure to make a statement!
Sister Rox was established in September 2011 when sisters Heather Noble and Jamie Keegan wanted to make their passion for jewelry design more than just a hobby.
Heather is the designer and creative force behind Sister Rox jewelry creations. She comes from an artistic and crafty background dabbling in a bit of everything! Her full time job is nursing but her passion is creating amazing jewelry, one piece at a time. Up to her eyeballs in beads, she hand selects each item that goes into a finished jewelry piece to ensure quality and beauty.
Jamie is a stay at home mom with an extensive background in marketing, public relations, and sales. In her previous life, she was the Director of Marketing for a cosmetics company and custom headwear company. She's excited to be able to utilize her business experience while having the opportunity to dedicate valuable time to her family.
Sister Rox jewelry offers a large assortment of styles and colors, created from a variety of materials. We use Swarovski crystals, semi-precious gemstones, Czech crystals, high quality metals, David Christensen cane glass, pearls, lampwork glass, and many other beautiful components to create lovely jewelry that every budget can afford. Whether looking for a gift, or something for yourself, Sister Rox jewelry is the perfect choice!"
For more information visit the Sister Rox Facebook fan page at http://www.facebook.com/sisterrox. Enjoy our White Christmas Ball in ACTION photos!