So what's your style personality? Is it chic, fab, adventurous, or whimsical? The Carmex sleek tube design is now more stylish than ever in the Limited Edition Moisture Plus Collection!!! The fashion-forward prints were designed with the Carmex user, like you and me, in mind. From black and white to a fab leopard pattern, you can embrace your personal style with a Limited Edition stick.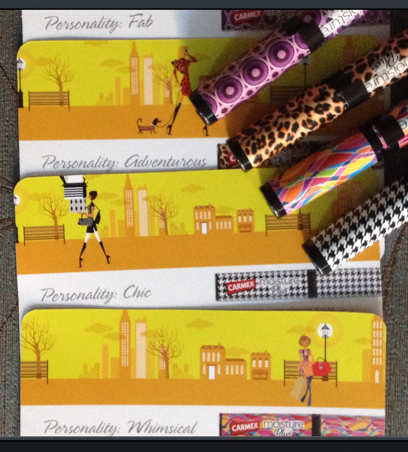 Carmex sent me the complete collection, and I love, love, love the prints. Right away I liked the black and white one, and put it in my purse soon after opening the box. I found out it was the Chic stick after looking through the cards that accompanied this boxed collection. Each Limited Edition stick design has been matched to a specific personality type, which is often expressed in the clothing and accessories we choose to wear. To match your personality to one of the patterns, you can take Carmex's Uniquley You Personality Quiz.
I took the quiz…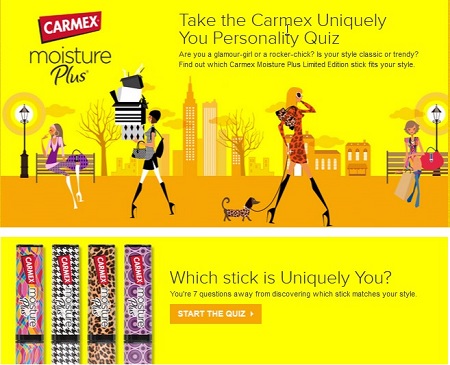 Here are my results:
Your Style Is: Chic
You're a classic, refined beauty with sophisticated taste.
Your personal style is the envy of your friends—you know what you like, and you are rarely swayed in your taste by new fads or trends that come and go. Your closet is filled with black and white wardrobe staples: crisp white shirts, black pencil skirts, and perfectly-tailored sheaths and trousers. Garish colors and loud prints are particularly offensive to you, and you prefer to keep your makeup tasteful and classic: a swath of winged black eyeliner and a classic red lip channel old-Hollywood glamour without being over-the-top. You idolize the sophisticated, classic beauty of style icons like Coco Chanel and Jackie Kennedy.
So the quiz results matched up with the stick I liked right away, and I agree that my style is classic, refined and sophisticated but not everything in my closet is black and white. I will admit that I do have more than my share of little black dresses. Like shoes, a lady can never have too many LBDs. However I will do color, especially during spring and summer, but it's true I won't do loud prints very often. Yes, I am romanced by old-Hollywood glamour, and I like to keep my makeup simple and natural looking with a pop of color on the lips.
One of the most interesting questions I was asked while being quizzed was, "If you had to select a shoe that best represents your personal style, you'd be a…"
1. Flat leather sandal in a pretty color—function and comfort rule your wardrobe.
2. Black, pointy-toe, patent leather pump—an option that pairs with everything and never goes out of style.
3. Sky-high, colorful platform pump—loud, playful, trendy, and a little funky, just like you.
4. Studded leather ankle boot—nothing says rocker-chick like embellished leather.
Well I do love a studded or rhinestone embellished shoe to show off my trendier side, but the shoe I selected to match my style personality was the black, pointy toe leather pump because the pump can be worn with both pants and dresses, and it never really goes out of style – classic yet versatile like me.
The Limited Edition Moisture Plus Collection is available at CVS, Walgreens and Walmart. To match your personality to one of the patterns, you can take Carmex's Uniquley You Personality Quiz at http://mycarmex.com/uniquelyyou .
P.S., to enter to win your every own Limited Edition Moisture Plus Collection from Carmex, leave a comment on this post. Next, head over to First Class Fashionista's Facebook fan page here http://www.facebook.com/firstclassfashionista, , like it and leave a comment on the "Carmex Limited Edition Moisture Plus Collection" post. Happy holidays FCF readers! We appreciate you!!!
–This giveaway has ended.