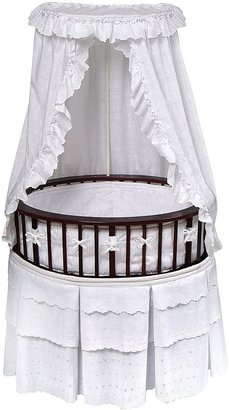 Badger Basket Elite Oval Baby Bassinet – Cherry/Ecru Waffle at Diapers.com.
Within my 22 years of life, I have been to several baby showers. It seems like all my friends are growing up and having children. With the endless invitations and events, I have become quite the baby shower shopper. Whether your host is having a girl or boy, here are some gift ideas that will not break your bank, but will surely be used by the expecting family.
I have to give credit to my mother for teaching me the basics, when shopping for a baby. Important gifts to get a newborn baby include hats. Baby's need to stay warm like…ALL THE TIME! Baby hats are usually sold in sets of three and have the cutest prints. When I'm shopping for babies I usually go to stores like Walmart, Target or Ross.
J.Crew nature Baby for crewcuts selba dot beanie at J.Crew.
The second gift I always get babies are socks. Like I said before, you need to keep babies warm. Socks or little booties like the one's shown below are perfect for newborns. They are normally sold in sets from 2-8 pairs. With gifts like these, you can choose to make them all match or find the cutest pair of each.
Nature Baby for crewcuts selba dot booties at J.Crew.
Another gift idea when buying socks is to buy three pairs of socks in size 3 months, three pairs in 6 months, 12 months, and 18 months. With this gift the baby will have socks to wear, socks to grow into and literally socks for months. Place the socks in a dozen egg carton for a more handmade look.
Nordstrom Mini Boden Socks 7-pack at Nordstrom.
This next gift is something you can never go wrong with. Don't even bother to include the gift receipt, because most likely, your expecting the family will not need to return it. ONESIES!!!!! Babies are super messy, which means they will need multiple onesies. When I get onesies for a baby shower, I try to find darker colored onesies that way if the baby spills something it will not stain the onesie as bad as plain white. Onesies are usually sold in packs of three. You can get different types, from short-sleeve to long-sleeve, to even ones with legs. The thing about onesies that make them different from the rest, are the snaps at the bottom between the legs.
Lee nature Baby for crewcuts short-sleeve one-piece in stripe at J.Crew.
The next and a very important gift you can give a new baby are receiving blankets. When a baby is wrapped real tight in a receiving blanket, it gives them the comfort and feeling of being in their mother's womb. These blankets are normally sold with three blankets to a pack and they normally state on the package "Receiving Blankets". The difference between receiving blankets and regular blankets are that they are tightly woven with medium weighted cotton and normally have square or rounded corners.
Another gift idea is anything homemade. You can actually create a cake made with baby necessities like towels, baby powder, shampoo, rubber duckies…etc. No matter what you get your expecting family, the fact that your attending the event is a great gift. We at FCF hope this article will help you with your baby shopping for your next shower.
Facebook shout outs go to: Abraham F. Castañeda, Claudia Marcela Cohen Colón, Jake Swedensky, JoDee Lundeen, Rose Lundeen, Alyssa Jean Molina, BrookeLynn Silcott, Amber Jessica Thoutt, and Dana Michels De Roin.
Do you want a shout out? Comment on our Facebook fan page and you just might get your name mentioned in one of our posts. Thanks for reading!