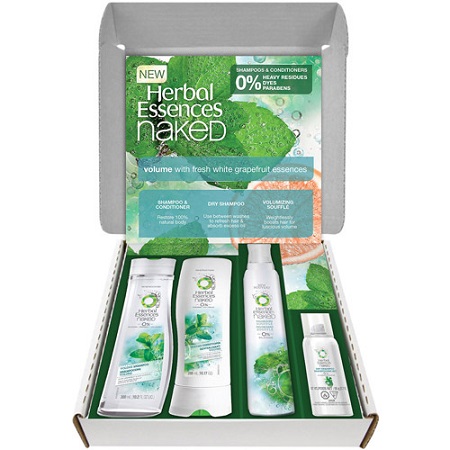 Sponsored by Herbal Essences, today First Class Fashionista is super excited to announce the winner of the $50 Walmart gift card giveaway, but first I'd like to share my Herbal Essences naked hair care experience with you.
You can use the $50 gift card to buy anything you want. The kit is only 12.99 plus tax, and I love it. Herbal Essences naked hair is the shampoo and conditioner you can confidently use while you shower. If you're like me, you usually avoid washing your hair while bathing for fear of skin irritation but Herbal Essences naked has no dyes, Parabens or heavy residues. I had the opportunity to try the volumizing kit, which was just what I needed.
My hair has medium blonde highlights. Going this light looks good on me and compliments my complexion but, of course, the drawback is damaged, thinning hair. After shampooing and conditioning my hair with Herbal Essences naked, I liked that even when my hair was wet and in its natural curly state it looked instantly fuller once I worked in the volumizing souffle. While blow-drying and styling my hair, I also noticed that my highlights appeared brighter. Putting two and two together, I attribute my color restoration to the product's lack of heavy residues and Parabens. By the way, the grapefruit with a slightly minty fresh scent smells amazing and, like deodorant, I think the dry shampoo (included in the set) is a gym bag must-have.
Kenny F, you are the winner of the $50 gift card giveaway! If you decide to try the Herbal Essences Naked Hair Care set, it's available online. Follow along in the video above, as I walk you through each step of the ordering process. Did you know that we have over 50 videos posted to the FCF Youtube channel? Check it out.
Disclosure: This post is sponsored by Herbal Essences. Regardless, our team at First Class Fashionista only recommends products or services we use, will use or have used personally and believe will be good for our readers. We are disclosing this in accordance with the Federal Trade Commissions 16 CFR, Part 255 Guides Concerning the Use of Endorsements and Testimonials in Advertising. In cases where we can not support a product, that product will not be featured at FCF.