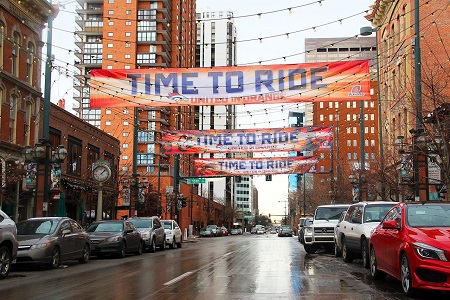 Photo from the Official Denver Broncos website.
Denver has been an explosion of blue and orange lately, and it's hard to go through a social media feed, into a bar, or anywhere downtown and not see signs of "Bronco Fever". It's no wonder the Denver Broncos are headed to the NFL Super Bowl XLVIII to take a shot at the 2014 championship. Last time we won the Super Bowl, I remember my primary school dying socks orange and blue in support. Needless to say, it's been a while.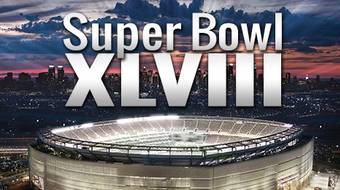 Now, for those in Colorado that aren't football fans, I still feel like it's important to be proud of your state. At the "United In Orange Pep Rally" at Civic Center Park, you could literally feel the good energy of the crowd's anticipation. The kiddos even got in on it with full-gear and face paint! Seriously, it was undeniably adorable. So even if you're not typically a huge Broncos/football/sports fan, I fully endorse "jumping on the bandwagon". Instead of seeing this as a sporting event, take it as an opportunity to bond with your fellow Coloradans! Just don't tell the other football fans I said the bandwagon thing was my idea, okay?
As February 2nd draws closer, how do you rock some Broncos spirit without being too cheesy? There are very few people who can rock the full-fanatic gear and not look a little crazy…Or a whole orange ensemble, for that matter. So, here are a few ways to showcase your team spirit in a more fashionable way.
Skip the jersey and opt for a t-shirt you can wear and add to your regular wardrobe. In addition to having a 'don't care' tee for running errands on off-season, you can also wear these tops in future seasons. No guilt for shopping for a one-occasion shirt or a jersey of a 'former player'. I have a Tebow jersey at home- yikes.
Denver Broncos tee in Heather Gray
'47 Brand Women's Denver Broncos Let's Go Scrum V-Neck T-Shirt
Opt for subtle jewelry.
Even Alex and Ani got in on the team jewelry for all-occasions. Unfortunately, their charms sold out faster than one could blink, and most of us will have to wait until the hopeful re-issue next season. I fully endorse scouring eBay for a set- hey, get me a silver one?- but if you don't have the patience, here are some other fabulous options for team-inspired bling.
Denver Broncos stainless steel crystal stack ring set
Denver Broncos sterling silver logo pendant
Lastly, go for some glamor and use your cosmetics to add a subtle shade of spirit to your Sunday look! Orange can add a wonderful pop of color to a lip, while navy can be used to create all kinds of smokey and bright-eyed eyeshadow looks. Try combining orange and blue eyeshadow in a gradient for a fun effect. I work with a girl who has some Broncos makeup mastery, and it never ceases to get complimented.
Urban Decay eyeshadow in Evidence
SEPHORA COLLECTION Colorful Eyeshadow – Luster Matte in  N° 91 Rio
Giorgio Armani Rouge d'armani sheer lipstick in shade 300
What are you guys rocking for the rest of this season? Share and let's see! I'll show you mine if you'll show me yours!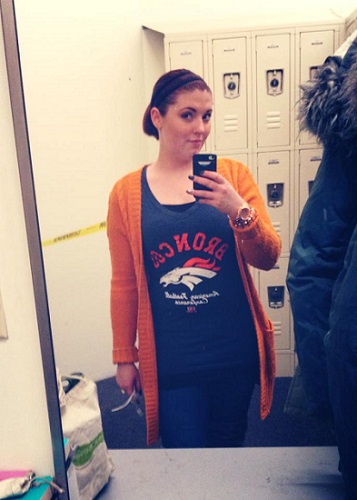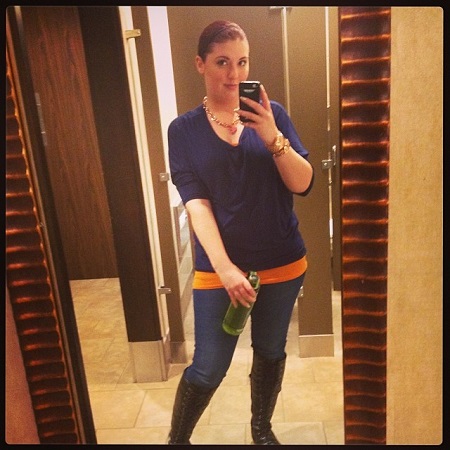 Got some undeniable First Class Fashionista – level team style? Hashtag: #Broncosfashionista! Seriously, it's going to be fun.