Join all your favorite fashionistas at Beauty Bar in Denver- every Thursday night. Watch Project Runway: Under the Gunn while you meet and mingle between scenes of the new Lifetime show. Under the Gunn mentor Mondo Guerra and contestant, local designer Stephanie Ohnmacht, are hosting the viewing party!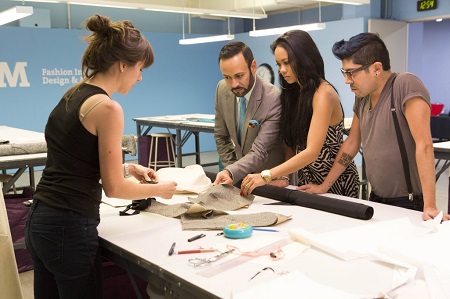 This Thursday, January 30th 2014, Mondo and Stephanie O have a special surprise competition for all of us fashionistas that love to sew and design! They gave little information about the competition, but recommended we all invite as many people as possible.
Beauty Bar is the coolest place for these series of events. Get there early at 6pm, sip on your favorite drink and get your nails did!!! Under the Gunn starts on the big screen at 7pm. GET THERE EARLY and you can get a seat during the show. Mondo and Stephanie give away great prizes through a raffle giveaway, SOOOO make sure you buy a raffle ticket at the door. They're only $1 and the money goes towards AIDS charity.
After the show, pictures can be taken with Mondo and Stephanie. Not to mention you can purchase one of your very own Stephanie O. garments to add to your wardrobe! Again, here's your chance to meet and greet with the most fabulous people in the Denver fashion community. In prior weeks, I have run into Gabriela Martinez, Fashion Designer/Owner at Gabriela Designs and Maggie Burns, Owner/Designer at Marie-Margot Bridal Couture. It usually lasts till 9pm, but if you stay late you'll be able to enjoy a free tasting of chicken and waffles, carefully prepared by the Beauty Bar.
We at FCF hope to see all our local readers Thursday. Reminder, this Thursday is Westword's WhiteOut 2014 fashion event, so manage your time well if you want to make an appearance at both. Mondo and Stephanie ask that all people attending WhiteOut wear all WHITE!!! For outfit ideas see: What to Wear to Westword's WhiteOut.
Beauty Bar is located at:
608 E, 13th Ave.
Denver, CO 80203
Westword's WhiteOut is located at:
McNichols Building
144 W. Colfax Ave.
Denver, CO 80202