FirstClassFashionista would like to invite you to shop: DesignerClothes@FirstClassFashionista
DesignerShoes@FirstClassFashionista
DesignerHandbags@FirstClassFashionista
*BOOKMARK THIS SITE and return for Updates to this Post* Official Celebrity Fashion and Gossip Website
Here is where you can tell thousands of fans what you think. Share a comment with thousands of visitors. *Copyright Protected. First Class Fashionista permits a direct link and credit.
Celebreality Oops:The Real Housewife of Atlanta Kim Zolciak-Bring on the Bling?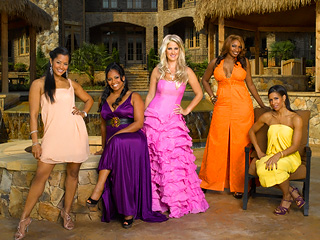 1. I'm going to keep Big Poppa a secret because I've seen what can happen to public relationships-like Nick Lachey and Jessica Simpson.
2. Big Papa I want this Cadillac. I can pay cash for it…?!
3. I'm a black girl trapped in a white girls body…Tyra, I was drinking when I said that. I have a lot of African American friends. It just works for me.
4. Nene and Sheree fight for attention my attention. When I hang out with Nene, Sheree gets mad and when I hang out with Sheree-Nene gets mad.
5. I can't drink cheap champagne. It gives me a headache. I ordered a $12,000 bottle of Dom Pérignon for breakfast.
6. I brought you (Sheree) your medicine in a Ferragamo bag.
7. I don't like red wine because it stains my teeth (but she smokes cigarettes).
8. I'm wearing Dolce & Gabbana and a million and a half dollars worth of jewelry.
9. I'm going to tell Big Poppa I bought it (a bracelet)-Thank you Papa!
10. My dream is to be a singer (but Nene says that she never even heard her hum).
11. She asked me "What is 2 + 2" and I said 4. She asked me "How to spell cat" and I said Kat.
12. I don't want to sit around with Nene and eat chicken.
13. I'm 29 years old.
14. I can't believed the *hit you talk about me.
* Feel free to let me know if I missed a-positive or negative.
---
As featured on "The Real Housewives of Atlanta"
Discount Jimmy Choo Shoes
Discount Jimmy Choo handbags