In a two story building filled with low-lite blue lighting, live music, delicious foods, desserts, signature cocktails, beautiful people and fashion, the 2014 Whiteout Fashion Show was the place to be on January 30th! Tickets started at $45, and a portion of all proceeds went to The American Transplant Foundation.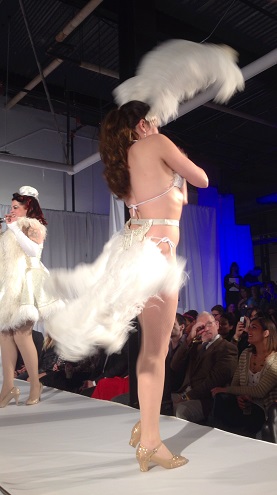 To begin this unforgettable night at the McNichols Civic Center Building, there were beautiful burlesque dancers in all white! With this live performance of singing and dancing, this 1920's inspired performance set the bar for the rest of the night.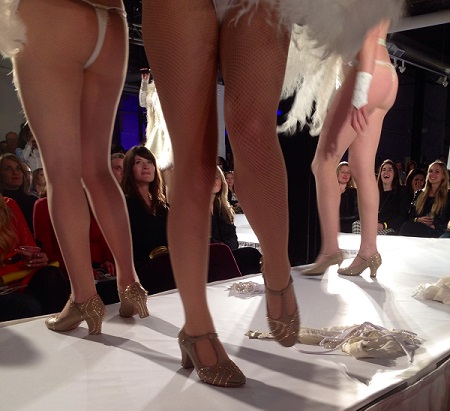 Dressed from head to toe in glitter, feathers, and white bikinis each dancer dropped their tops, ending with only the feathers covering the upper body parts.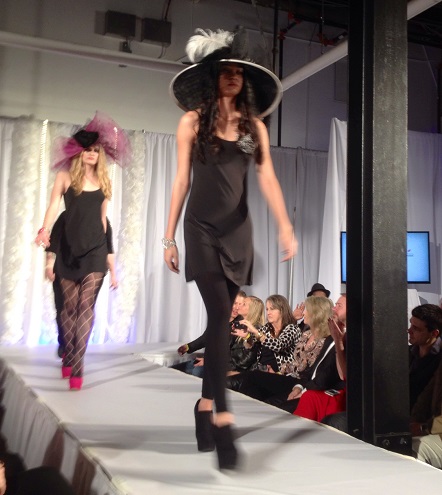 picture taken with mobile phone [see our event photography and video below)
The first designer of the night showed off her top-notch millinery skills paired with black cocktail dresses, patterned tights and fabulous shoes. Susan Dillon of Kitty Mae Millinery creates each one of her elaborate hats and headpieces by hand. She uses couture techniques and hand forms each silk flower and bouquet. As a writer for FCF, this was the first time I had seen Kitty Mae on the runway, and I have to say, "I was blown away!" You can tell each one of her designs is a masterpiece of its own. You can find out more information about Susan Dillon of Kitty Mae Millinery at:
http://www.kittymaemillinery.net/about.html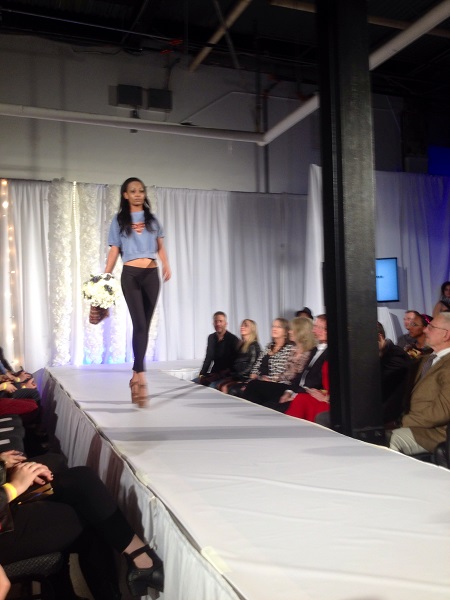 picture taken with mobile phone [see our event photography and video below)
After seeing Susan Dillon's beautiful designs, we didn't know what else would come down that runway! But Brandi Shigley of B.Shigley designs and Plum Sage Flowers stole the show with their smartly designed mixtures of elegant floral settings and ensembles of "Do what you love, love what you do," inspired tops and handbags by Brandi Shigley. I have to say, the inspiring graphics of B.Shigley designs formed a cloud of positive energy across the room. Reminding each and every one of us to literally, "do what you love, love what you do." She paired her graphic designed mid-sweaters, knit-tees and handcrafted bags with simple, black, ankle-length leggings. The arrangements by Plum Sage Flowers were definitely an unexpected surprise to Brandi Shigley's ensembles. They brought a bit of elegance and luxury to the designs showcased. You can find out more about Brandi Shigley and Plum Sage Flowers at:
http://bshigleydesigns.com
http://www.plumsageflowers.com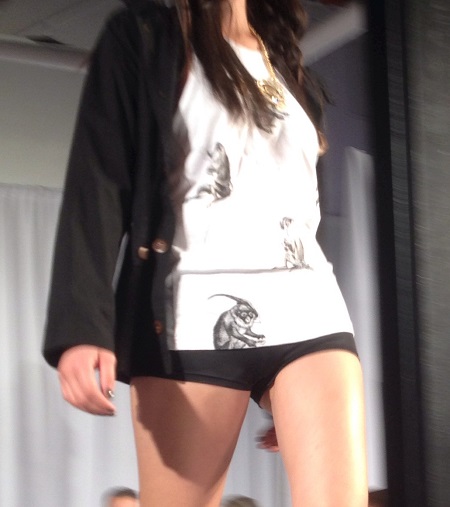 picture taken with mobile phone [see our event photography and video below)
The third designer of the night was Akomplice. Showing off their modern graphic tees, mixed with hot pants and fish net leggings, this line WAS A CATCH! Something really awesome about this portion of the show were the outrageous shoes matched with leg warmers (we're not sure if the shoes were provided by True Love Shoes for this segment or not). They were thick, chunky and VIBRANT! Akomplice showed off the coolest animal prints within their designs. One of my favorites was the monkey print, each one of the monkeys on this particular shirt were doing something different. In my opinion, that is something you don't see very often in fashion. A lot of the time it's usually the same print over and over, but this was definitely original! To find out more about Akomplice, visit:
http://www.akomplice-clothing.com/blog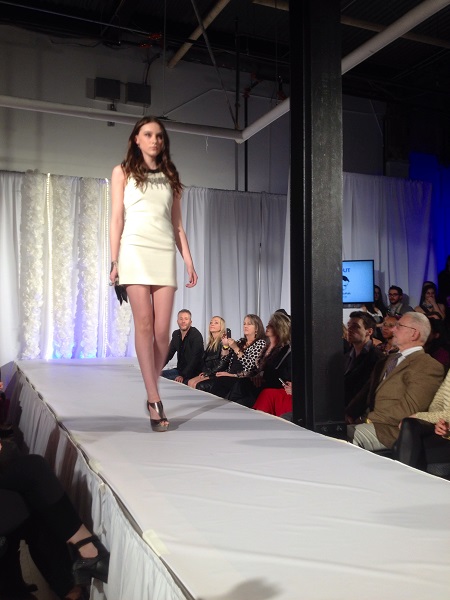 picture taken with mobile phone [see our event photography and video below)
Common Era took over the stage as the fourth presenter at WhiteOut 2014. The ensembles walking the runway were sophisticated! I could see that these looks were deliberately styled and smart. The designs were colorful, chic and simply put together for the "girl on the go!" My favorite element brought to the runway by Common Era was the scalloped edges. To learn more about Common Era, go to: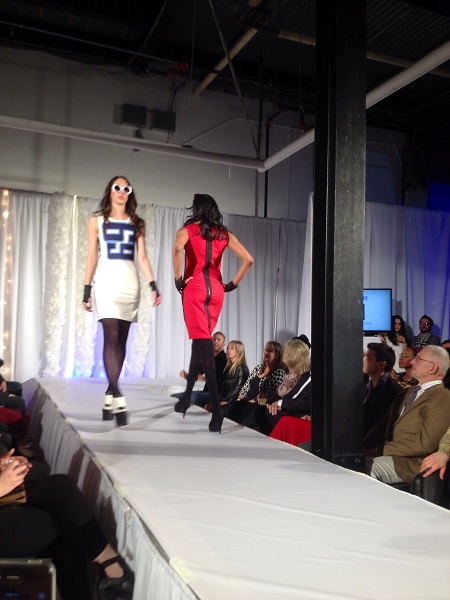 picture taken with mobile phone [see our event photography and video below)
The next designer could not have picked a better time than NOW to show her uniquely "sporty" fashion collection. With the Denver Broncos taking on the Super Bowl, designer Mona Lucero was spot on with her new designs for this time of the year. Lucero had her models strutting the runway in jersey tunics with graphic numbers like "69, 221 and 9656." Her design elements were striking and bold; showing exposed zippers, asymmetric pant legs, thunder bolt graphics, and mixed skirt panels. And, the accessory choices really finished the Mona Lucero Designs in a modern way, matching men's button down shirts with scarves, open-finger gloves and bold, chunky shoes. To see more of Mona Lucero's designs, visit: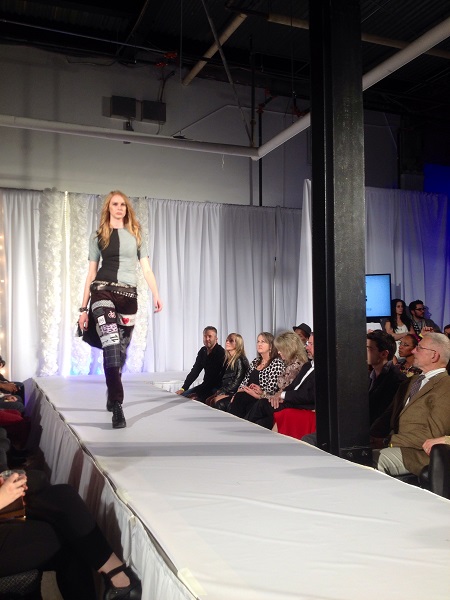 picture taken with mobile phone [see our event photography and video below)
The sixth designer of this wonderful night was…Equillibrium! A "ooh aah" sound effect came from the crowd as Equillibrium showed off their edgy designs through rough patchwork with a mix of glitter. If you want to see the grunge of the 90's mixed with glam and glitz, this is your designer! Equillibrium threw us quite the design party with neutral colors, a mix of patterns, prints and panels, studded shoulder detailing, corduroy fabrications, suspenders, slits and SAFETY PINS! To learn more about this amazing designer, visit: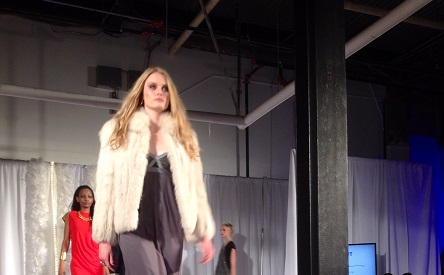 picture taken with mobile phone [see our event photography and video below)
Next to illuminate the runway was Goldyn. This boutique revealed their mix of brands sold in the "it" places like New York, along with up-and-coming designers. Scene on the runway was a plush white fur jacket, loose light weight pants, a loosely draped red cocktail dress and a jean jacket paired with ankle length men's trousers. To learn more about this boutique, visit: http://www.shopgoldyn.com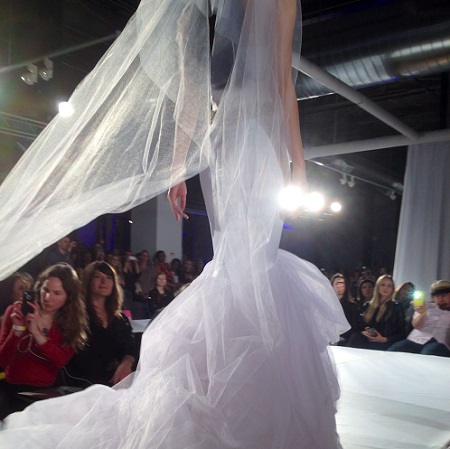 picture taken with mobile phone [see our event photography and video below)
And last, but definitely not least, this night of fashion could not be complete without the wonderful wedding designs by Deedee Vicory of D'Lola Couture. D'Lola demonstrated design details of glitter, satin, massive amounts of tulle, delicate embroidery, lace, and ruffles. Deedee Vicory, being the fabulous designer that she is, enhanced her designs with elaborate veils, trains, bows, covered buttons and ankle length dresses. The last dress shown by D'Lola and Whiteout would have to be explained as simply…"What we all came to the show for!" According to a trusted source, the last and final dress shown by Deedee Vicory was explained to be dedicated to her beloved husband, Justin Vicory. He has been diagnosed with Melanoma. Knowing this about the final dress and the designer, you could see and feel emotion arise from the audience. Read more about the Vicory family and their fight against cancer here.
We at FCF would like to acknowledge everyone involved in this show including: Oxford Club, Spa and Salon and True Love Shoes & Accessories. To find out more about this event and other upcoming Westword events visit: www.westword.com. If you are sharing photos from this fabulous night via social media, tag #whiteout14.
Thank you all for reading and comment below with any opinions about our event coverage, or the show. We at FCF appreciate our readers and love to hear from you! Enjoy the pics and video!!! Feel free to share, share, share.