4th Annual Goodwill Good Exchange Fashion Show & Clothing Swap, February 6th, 2014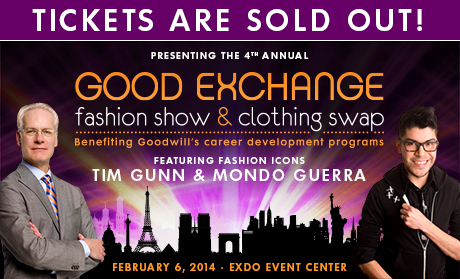 Once again, the EXDO Event Center was the center point of Denver fashion. February 6th marked Goodwill's 4th Annual Good Exchange Fashion Show & Clothing Swap with esteemed guests Tim Gunn and Mondo Guerra. As you likely know, Tim Gunn is an Emmy-award winning fashion guru currently working on Project Runway and his own show Under the Gunn. Mondo Guerra is a almost-winner of Project Runway season 8, and a winner of Project Runway All Stars. When I found out that I could attend the Good Exchange Fashion Show, I basically did my happy dance. For everyone who was there, I'm sure you understand why, but for everyone else I will just have to recap it for you!
If you weren't able to attend, I'm not completely shocked. Although the tickets didn't exactly fly out the door, they slowly but surely dwindled down until the event totally sold-out. More than 800 tickets were sold, and all proceeds went to benefit Goodwill's career development programs. So not only did they put on a good event, but it was all for a good cause! Don't you just love a night out you can feel good about the next day? The show began with designs made by students from Goodwill's youth program. Actually, strike that. The show began with Tim Gunn explaining what REALLY happened with Mondo's stolen victory in season 8 of Project Runway. I can say stolen because we in Denver support our own, of course- And, who didn't think he was a shoe-in? Needless to say, I never thought the loss would be due to "the season of the crack-smoking judges". Hearing Tim Gunn tell this story was absolutely hilarious. Hearing Tim Gunn say the phrase "crack-smoking judges" was even better. I know you all couldn't be there, but I got as close to the speakers as possible so you, our beloved First Class Fashionista readers, can also hear the story. It's not the best quality – did I mention the 800 people at the venue?- but you get to hear Tim Gunn in all his sassitude. You're welcome.
Then! the students brought out their designs. Using items chosen from Goodwill, the students were assigned a fashion capital to base their design upon. These were global destinations and the students even made mood boards to present to Mondo when discussing their intentions. Aptly so, since Tim Gunn himself is all about mentoring and his new show, Under the Gunn, features Mondo learning the process himself.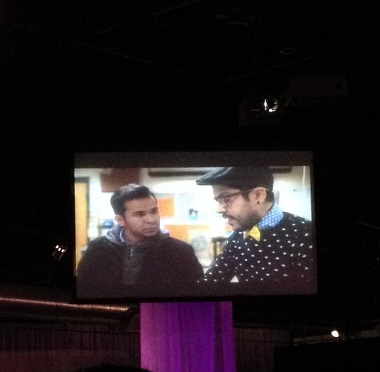 The student's upcycled designs were fun and creative, and I think it was great to see what they could come up with when presented with a fun challenge like this. At the end of the show, the winners from the students were as follows:
School Winner – Denver School of the Arts


3rd Place – Jackie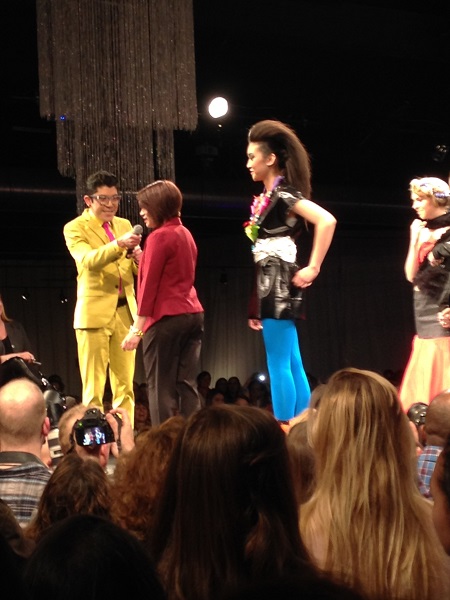 2nd Place – Carlos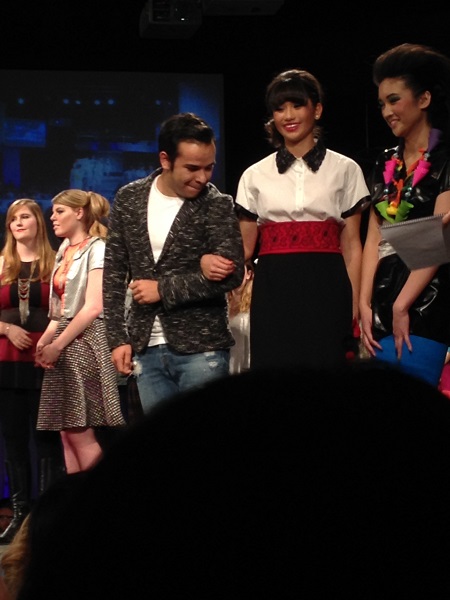 1st Place – Calahana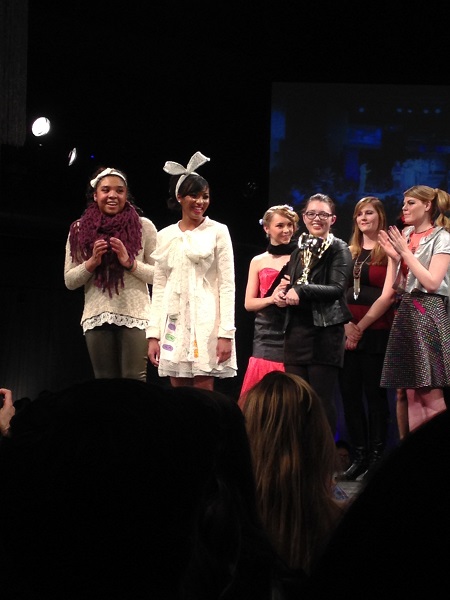 Then local celebrities strutted their stuff  with looks created from pieces at Déjà Blue. For those of you who don't know, Déjà Blue is a Goodwill boutique that is the first of its kind. It offers more on-trend and higher-end items at steal prices. Even the building uses re-purposed fixtures and displays, so you don't pay extra just because the store is well set-up. Just like the show itself, the proceeds go to Goodwill's career development programs. "Models" ranged from news and radio personalities and even a very popular doctor. These looks were quite well put-together, and I even wanted to go see what was currently in stock at Déjà Blue! After the presentation of the awards and thanking the sponsors, the runway portion of the show ended. I'm happy to say this is the point in the night where even after being fortunate enough to be around both Mondo Guerra and Tim Gunn before the show, I finally gathered my courage to get a photo with them both. Eek!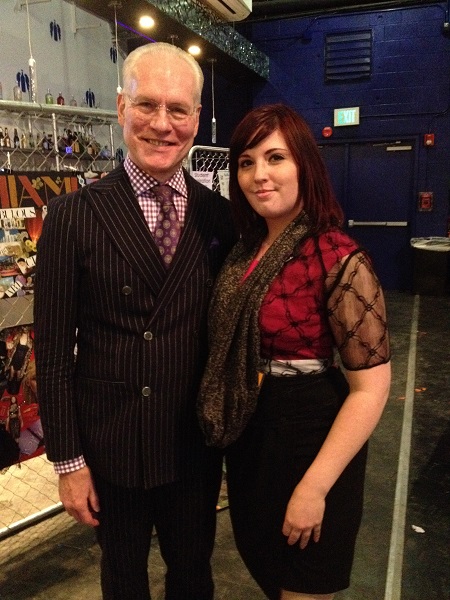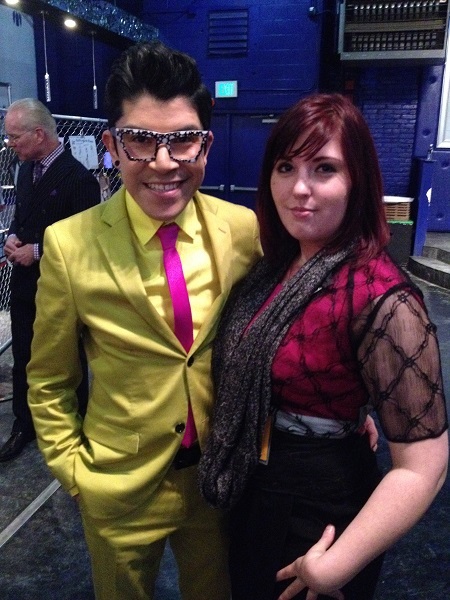 Meanwhile, while I was barely containing fangirl noises, the clothing swap was underway. I assume there was probably some pretty good stuff there from the crowd. By the time fellow FCF blogger Marissa and I made our way in, the swap was probably about mid-way over. The deal was – upon entry to the show, you brought 10 items to swap with you and at the end you leave with 10 more. Kind of cool, right? I wish all fashion shows did this. It's fun and I feel like we're all one big fashion family! Thanks for the sweaters and whatnot guys, I wore one today!
Overall, the show was phenomenal. How cool is it that Mondo, who learned a lot of his sewing-skills by re-purposing thrift store clothing, is now helping to put on the Good Exchange Fashion Show & Clothing Swap? It's too perfect and goes to show that even big things can have humble beginnings. It's all about the passion! The amount of talent we are starting to draw as a fashion community really has me floored. Come'on Denver, we can be a fashion destination if we keep pushing!
What did you all think? I'd love to know! Tell us at FCF all about it! 😉