Swimsuit Fit Guide
With Spring Break and the warmer weather dangling inches from our grasp, it's a good time to investigate swimsuit styles. Whether or not you will be embarking on a fantastic getaway cruise- it's a thing, and if you're going I only ask that you take me with you- now is the time to buy swimsuits. You will have a different variety and generally a lower price if you shop at the beginning of the season rather than getting them in the literal heat of summer.
Overall, this year swimwear is trending throw-back silhouettes and a retro aesthetic. How fun that we ladies will get to rock the styles of pin-up ladies! These styles tend to be more flattering for all body types, including curvy women. Karla Colletto, an American designer known for her fun campaigns, put out this "model on the run" style video that really got me excited for the season.
VIDEO :
So what should you be wearing? I'll run-down a few body types and your best look! Here's my swimsuit fit guide.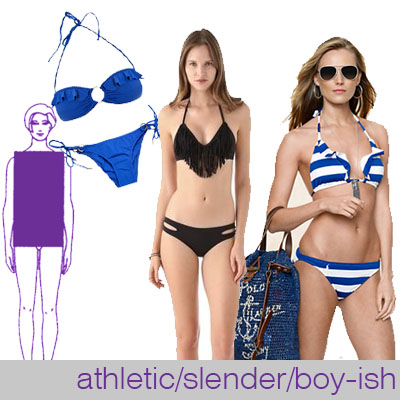 Lean and Athletic Body Type
1. L-Space Audrey Fringe Bikini Top
L-Space Estella Bikini Bottoms
The fringe adds feminine interest to your silhouette, as well as emphasizing the more lean torso.
2. Ralph Lauren Blue Label Ruffle-Trimmed Triangle Top

The horizontal lines add more emphasis to the top and bottom and help to create the illusion of a more hourglass-shaped figure.
3. Melissa Odabash Greece bandeau bikini
The bandeau looks great on lean body types and helps to draw the eye upward to your neck and face.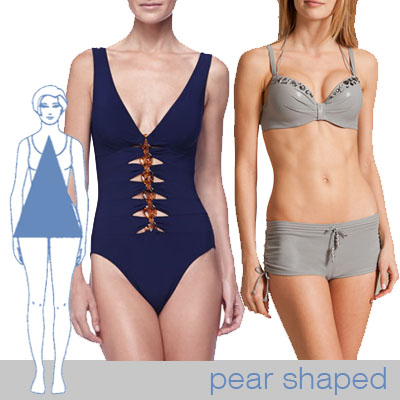 Pear-Shaped Body Type (bigger on bottom)
1. Karla Colletto V-Neck One-Piece Swimsuit
The deep v will help accentuate your top half, as well as the color is very on-trend this season!
2. Victoria Falls Push-Up Bikini
A go-to classic of adding where needed and minimizing heavier areas to create balance.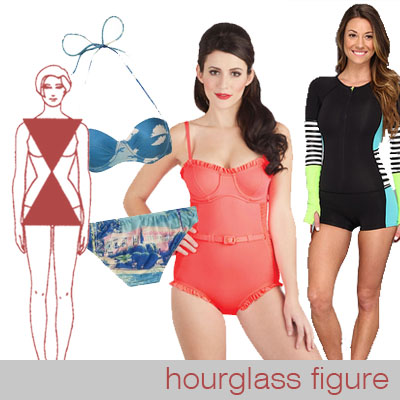 Hourglass Body Type
1. We Are Handsome Hideaway Corset Bikini
The corset styling will be both flattering and supportive, and the retro 70's print is completely perfect for this upcoming season. It's a very original piece.
2. Coral Gables Days One Piece
Retro styling and fun colors make this a great statement suit. The belt will help to accentuate the waistline and create that va-va-voom shape!
3. Roxy Outdoor – Waveline Spring Wetsuit (True Black) – Apparel
Sometimes being an hourglass makes you extra curvy- insert my raised hand here- and you want a chubby-day suit. This is going to be my go-to. I've seen this on multiple body types and it's actually fantastic.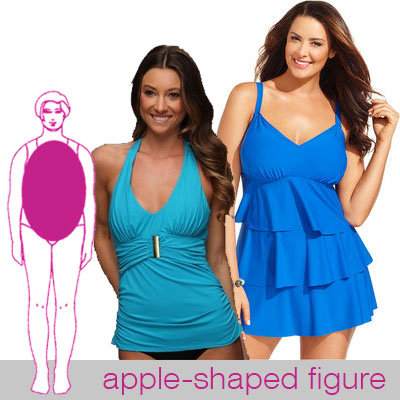 Apple-Shaped Body Type (bigger all around but emphasis on the shoulders)
1. Spanx Swimwear – Belted Beauty Halter Tankini Top (Aquamarine) – Apparel
This is a very figure-contolling top to 'hold it all in' as Spanx are well-known to do! Not to mention the belt will help define more of a waistline and the halter will elongate your figure. Pair with a pair of boyshorts for a very cute mix-and-match vibe.
2. Swim Solutions Plus Size Tiered Ruffled Swimdress
Ruffles=super cute and tummy-friendly. This almost looks like a dress, and it will serve well with a nice cover-up to transition in and out of the water.
So whatever your style, prep for Spring Break and swim season now, and make sure to get your best look on! If you have any questions or if I forgot to mention your specific body type, feel free to comment and FCF will help you through!