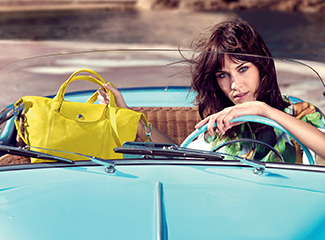 A new season is always a good reason to get yourself a new bag…Right? Warmer, sunny days sweetly promise that spring is on its way. This means it's almost time to store-away those black and brown handbags, and brighten up your look. Like Alexa Chung, we're loving Longchamp's Le Pliage Cuir line of bags! Carry a beautiful, vibrantly colored Le Pliage Cuir in confident style this spring and summer.

In this video, Alexa is in dreamy Saint Tropez modeling the new Longchamp collection.
It's all in the details. This medium-size bag is classy, comes in great colors, and is very versatile. The signature embossing is perfect for the fashionista who is looking for a bag without the silver or gold metal plating. The colored leather is gorgeous, and you choose how you want to wear it. Crossbody bags are in. Wear the Le Pliage Cuir as a crossbody bag during the day when you're on the go, and remove the strap for the office or an evening on the town.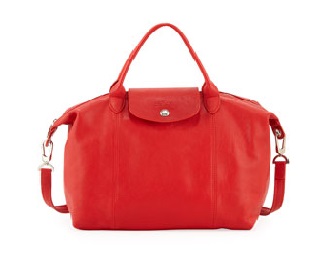 Le Pliage Cuir Handbag with Strap in Vermillion, $555 at Neiman Marcus (click link to shop)