At First Class Fashionista, I'm proud to say that we have been able to sponsor and partner with a lot of wonderful causes. We now have the great opportunity to promote Mission Wear, a Denver-based non-profit that helps women with overcoming obstacles to gain employment through sewing. Primarily, they create upcycled handbbags from donated materials that would otherwise be discarded and trashed. My favorite are their tote bags made from recycled banners – large-scaled prints, interesting look, eco-friendly, and water-resistant, they're fantastic.
In May, Mission Wear is holding a fashion show to showcase how fashion-forward upcycling can be. This is an opportunity for all who would like their work to be in a fashion show to see their looks strutting a catwalk. Another Chance Fashion Show, as it is aptly named, will be taking place on the 14th and is currently looking for participant RSVPs.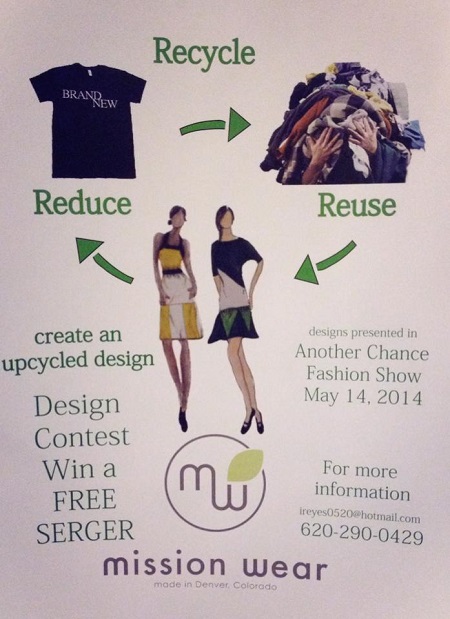 Fashion designers and aspiring fashion designers! I know you're reading this. Here at FCF and in Denver we have a very involved community of talented people. Now is our chance to come together and support a great local non-profit. All you have to do is create an original design using upcycled fabrics and enter it to Mission Wear. Aside from local thrift stores or your own "Goodwill piles", fabric for this contest can also be selected at Mission Wear. They're offering free fabric from their selection of donations to aid in the creation of these runway garments.
Oh, and you may have noticed where it says contest, the best part is if you have the best upcycled design, as voted by the panel of selected judges, you win a  FREE SERGER. I know a lot of people who would adore a serger. And even if you think you don't, I promise it's because you've never had the sheer bliss of creating a t-shirt in two hours.
Interested participants can contact ireyes0520@hotmail.com or call 620-290-0429. Additionally, I bet these women would LOVE a little volunteer help for hair, makeup, and models. So, all you HMUAs and models, get in touch either with me (sstyles@email.com) or with Beth McWhirter, the Director of Mission Wear (beth@themissionwear.org), and we'll all work together to make their first fashion show a success. Beth has done a lot of good work for the community, and I feel that we can do a lot of good together as well.
For more information on Mission Wear, or to purchase some of that fantastically-unique merch I was talking about, please visit their official website at www.themissionwear.org.