"Life is too short to have boring hair."
It's so true. As per my school quarter trend to freak out and change my hair, I invite you all on an adventure into attaining the new trend of crazy-colored hair. I like to call it the "My Little Pony" trend, and some refer to it as the "Pastel" or colorful "Ombre" hair trend. Whatever you call it, it's new and gaining popularity fast. Gone are the days that having colored hair meant you were too punk or fringe to work mainstream jobs. Color is more appropriate than ever, so let's take this opportunity to embrace some fun for Spring!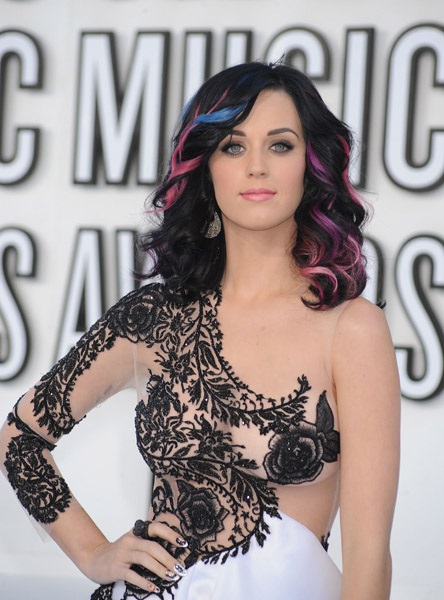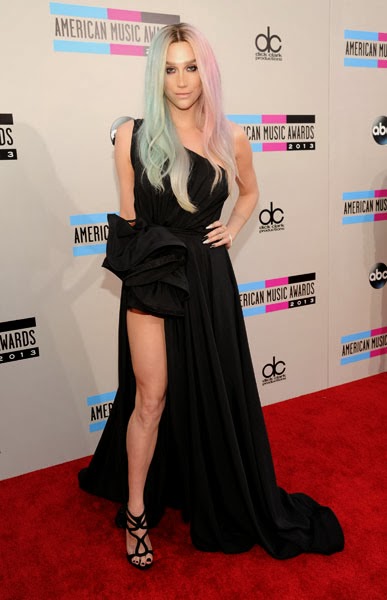 These hairstyles have been blowing up all of my social feeds, especially Pintrest and Twitter. There are whole tumblr blogs just devoted to snapshots of girls with pastel hair! So, after gazing at a few hundred photos and going back and forth on my opinion, I decided to give it a go. If you're not feeling the urge to add washed-out color to your life, spend a few hours on the We Love Pastel Hair Tumblr and get back to me.
Truth be told, this one was a little daunting, even for a self-dye aficionado like myself. When I say aficionado, I mean I dye my hair a lot and I'm not afraid to experiment. This is not for everyone because, honestly, it doesn't always turn out exactly like you want. I'm not unfamiliar to the concept of dying my hair crazy colors, but I haven't gone for anything blatantly unnatural in a long while. Thankfully, I did something very similar last Summer when I went for a color I like to call "orange sherbet".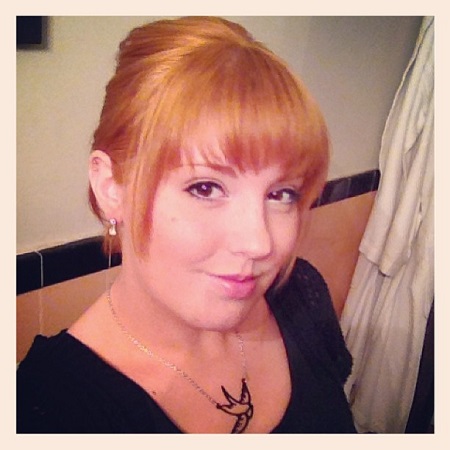 With this tutorial, the concept is just about the same but the notable differences will take you from the strange woman with colored hair to on-trend chic if done properly. If you want a different color, just substitute dyes and remember the color wheel rules!
GETTING STARTED:
Off to get supplies! What you are going to need is the following:
bleach powder & developer
toner
dye in the color you want  (it's okay if it's darker; we're going to dilute it)
white conditioner (imperative that it is WHITE)
cap
gloves
mixing bowl
All of these things can be found at beauty supply stores like Sally's. I'll give you a list of the specific products that I bought to help.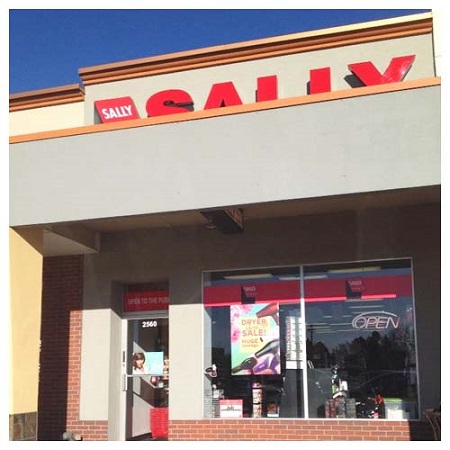 x2 MANIC PANIC FLASHLIGHTNING Complete Bleach Kits 30 vol  (Get two. I don't care if your hair is super short, buy two! Not having to worry about running out of bleach mid-way is worth the extra $10. Trust me, it will take much more to fix if you skimp!)
MANIC PANIC Virgin Snow Toner
MANIC PANIC Hot Hot Pink Dye
Mixing bowl
x1 bottle of generic-brand cream white conditioner (I didn't own a white one already, so I just got an inexpensive one for the dye process, but if you have one you can use it as well)
These are your basics. Bear in mind that I'm working with dark red-brown hair, and you might not need a bleach kit that works with 30 vol developer. Remember, the higher the number, the stronger the developer, the darker hair you start with. There is a 40 for darker hair and a 20 and 10 if you have light hair already. I don't recommend going higher than 40; have a stylist do it instead. It's just not safe for your hair.
Bearing in mind my starting color, I also bought a few packages of corrector to further take the red out of my hair. The Virgin Snow toner will do the trick by itself if your hair doesn't have a lot of red in it to begin. But I have a ton of red tones, so I also grabbed:
x2 small packets of Ardell Red/Gold Corrector
x1 small packet of Ardell Unred Color Additive/Corrector
Additionally, a few post-treatment things that will help you include purple toned shampoo and conditioner. They will prevent your hair from being brassy and getting gross. Totally worth the 6.99 they will set you back. I bought
x1 bottle Ion Cool Blonde Shampoo
x1 bottle Ion Cool Blonde Conditioner
There are alternate products you can use as well, ask one of the associates if you think a different selection will work for you. I personally like the MANIC PANIC bleach kits because they come with a tint brush, gloves, and a cap. If you don't already own a trillion of these like I do it's a nice little money-saver. Plus, they're intended to work with their own toner and dyes best, so it's nice to get coordinating products when possible.
Alright. Ready? Let's begin!
BLEACHING
I know, bleaching is a scary no-no word for a lot of people who dye at home. But it needs to be done (if you've decided to do this). Unless you have super pale blond hair already, the pastel will *not* work unless you bleach your hair first. Even blonds should consider bleaching and toning a bit to take out the yellows and to get the nearly white blank slate you'll need to achieve this look. You can also have a professional get your hair to white and do the pastel yourself. It will still save you money and you can dodge a scary endeavor.
If you're crazy like me, soldier on and prepare your items. Bleach at your own risk. Remember, it's best to start with unwashed hair (usually a few days or so) so that your natural oils will prevent the bleach from burning your scalp. I'm a student, so I'm set on this part already. Don't think that you can skip this, because your burning scalp will make you regret it. Just don't wash your hair for a day or two.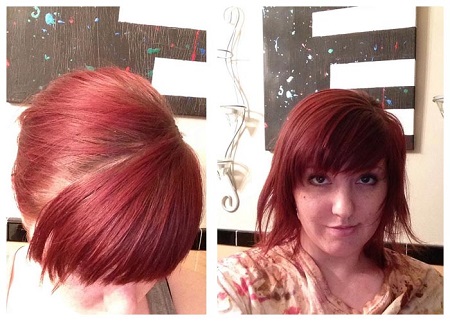 So here's what I'm starting with. Like that shirt? It's a DIY-dye veteran, too. Here's a shot of the products in action!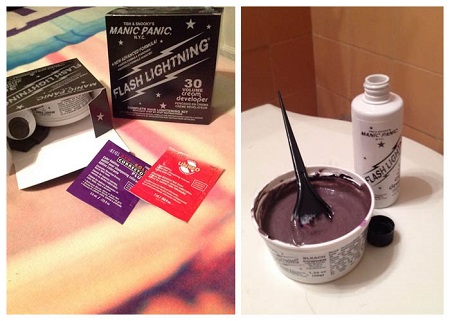 Follow the instructions included with the bleach kit. You probably won't need to use all of the developer, you just want the consistency to be something like Yoplait yogurt. My dye also has the color correcting packets included, so it gives me a scary-looking purple color to start. This will mellow out. I promise. You just have to remember the color wheel: yellow-orange is opposite of blue-purple, so adding that color in will prevent you from looking like a hot yellow-haired mess after bleaching.
Put the cap on and be sure to check it periodically to make sure the application is going smoothly. Also, always wear your gloves! I'm not wearing them here because I only used the tint brush to poke around. Bleach will turn your skin colors and is dangerous.
Your roots will dye faster. Don't freak out. That's what the toner is for- which gets applied 1/2″ from your roots and not directly on them. After you've reached the maximum time (and hopefully the color of a banana or the inside of the banana peel), wash it out. Wash it out all the way! It could take a while, but it's better for your hair to get all the peroxide and whatnot out. Let it dry before applying the toner. You can either let it air dry, or blow dry it with COOL air to speed up the process.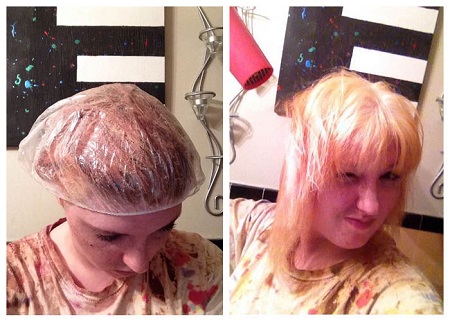 TONING
Yay, toning! To get that funky looking yellow out of your hair, it's time to put some toner in. The color cancels out the yellow and orange-y pigments to create a white blond. I used about half the tub to cover my head. It's good because you just plop it on as is and it's vegan- No more rude chemicals for your hair, this is all pigment.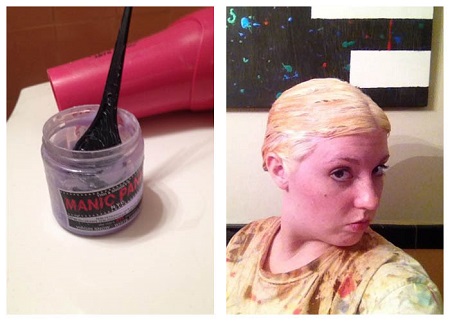 You'll notice I still have orange in my hair. This is leftover from having my hair dyed red before and intentionally not letting the bleach turn all of the strands to blonde. It's to achieve that pink-orange combo without having to buy more dyes. Ideally, though, you probably want your hair all one inside-of-a-banana-peel coloration.
Now wash it all out again, and use that purple shampoo if you feel build up! Don't worry about conditioning, that will come in mass amounts in the next step.
COLORING
Now we get the chance to add tone as well as apologize to our hair. You just mix that WHITE conditioner with a tiny, tiny bit of your desired color and mix it together in a bowl. Add more or less color dye for the darker you want to go. Don't leave it on very long as your hair is currently very light and porous and will soak it all up! I mixed about a spoonful of Hot Hot Pink into my bowl full of conditioner and mixed a separate one with a bit of leftover purple. I had to add more depth to be used on the ends. Just make sure and watch it develop and use your best judgment. Don't be afraid to wash off a strand and see where the color is at. The best part about this step is that it's actually good for your hair and you can always add more color without worrying about damaging it.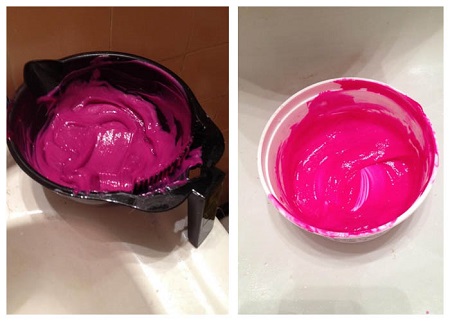 Any leftover dye can be saved and used later or added to a conditioner to keep your hair color longer. It will wash out over time and you'll have blondeish hair again, so it's a good idea to keep this stuff around. When you're satisfied with the color, wash it out using our fantastic new purple shampoo and add more conditioner if you feel it needs it.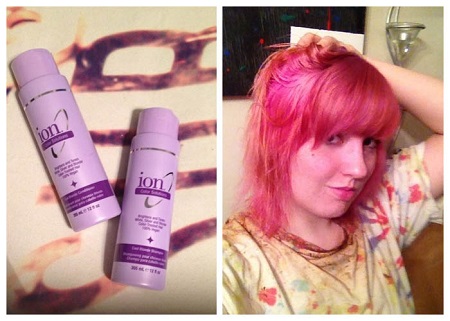 Here's a view of my hair wet. Obviously it's darker since it's wet, but I like the different tones of pink and orange running through it, and where they meet in almost a peach. Tomorrow I will wash it out again after a conditioning masque to further lighten it.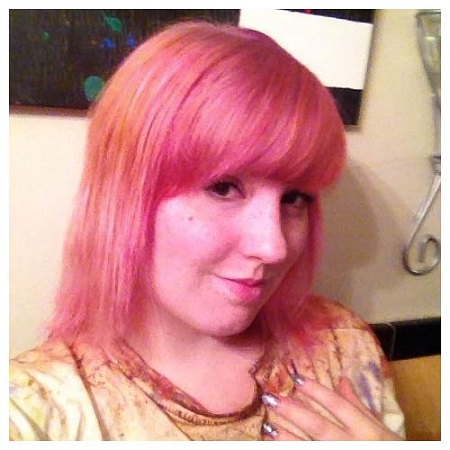 Ta-da! My very own My Little Pony 'do. Like I said, it's getting a good moisturizing and another wash to lighten it up tomorrow, but it's been through enough for one day. The hairstyle and I are both going to bed at this point.
3/24/14 – My hair today!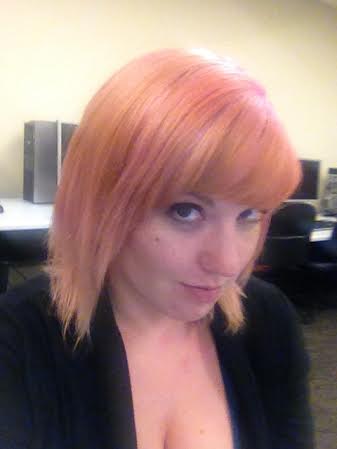 Well, there you have it! Are you guys going to give it a shot? Anyone brave enough should definitely let us at First Class Fashionista see your results! If you want to add a Twitter or Instagram photo, be sure to tag #firstclassfashionista and let us see! Don't worry, I'll set up a hashtag like #rainbowhairdontcare  and post mine up there as well for solidarity.