MODAPERITIVO introduced the Denver fashion industry to the true taste of Italy with Denver's very first fashion happy hour!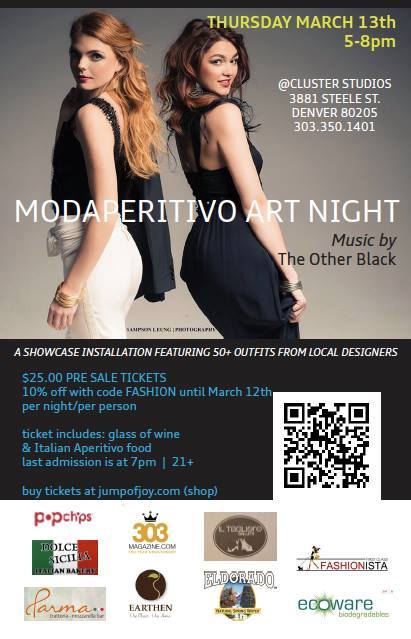 Thursday, March 13th at 5pm, I made my way to the very private Cluster Studios located at 3881 Steele St, Denver. This venue was so private, you wouldn't know you were there if it hadn't been twenty or more people dressed from head to toe in their most fabulous suits, dresses and jewels on their way inside. Stepping into the Cluster Studios, you would find yourself walking into a new inviting atmosphere. The lights were dimmed with the only glow coming from the flickering candles placed precisely along the walkway. This was no ordinary fashion show. As soon as you entered the venue you were able to see the masterpiece designs on display by our local fashion designers.
Designers involved in this amazing night include:
ACIRE by Erica Vallejo, CARLOS MELENDEZ DESIGNS by Carlos Melendez, DesignsBy TonyTagle by Ramon Lobo, GABRIELA DESIGNS by Gabriela Martinez, GINO VELARDI designs by Gino Velardi, INFERNAL CONTRAPTIONS APPAREL by Karen Holloway, JUMP OF JOY by Loredana Venturi, KIMONODRAGONS by Francis D Roces, LAVENDER ELEPHANT by Abbey Leigh Arabie, MARGARET SANZO DESIGNS by Margaret Sanzo, MDHAENEL by Madeline Haenel, MONA LUCERO DESIGNS by Mona Lucero, ODDD by Denver Oddd, PETRA AISHA LAVIGNE Designs by Petra Aisha LaVigne, ROBBI SAYURI COLLECTIONS by Robbi Sayuri, SALWA OWENS by Salwa Nahhas Owens, and VANDALISM DESIGNS by Troe' Williams.
After walking through this amazing showcase, one can truly appreciate the hard work it takes to be a fashion designer.
The designs by Madeline Haenel of MDHAENEL were absolutely show stoppers!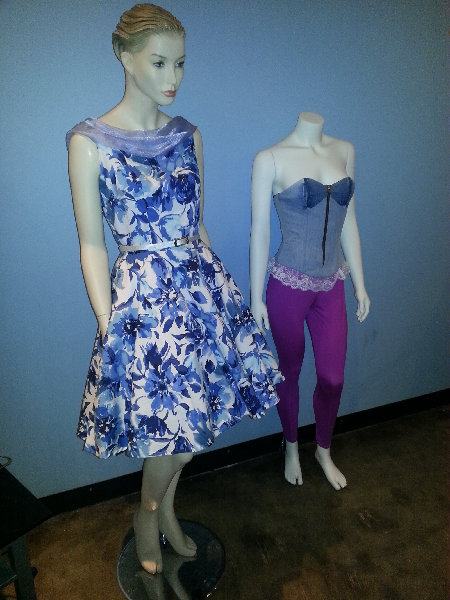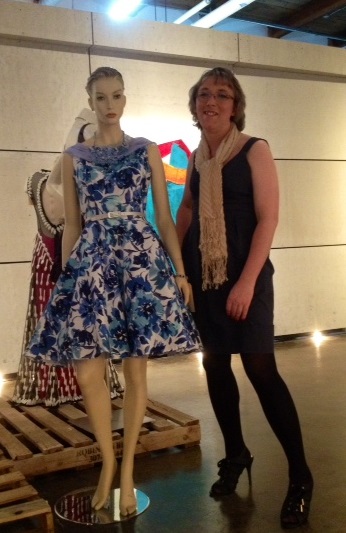 Showing a more elegant side of Denver Fashion was designer Robbi Sayuri of ROBBI SAYURI COLLECTIONS.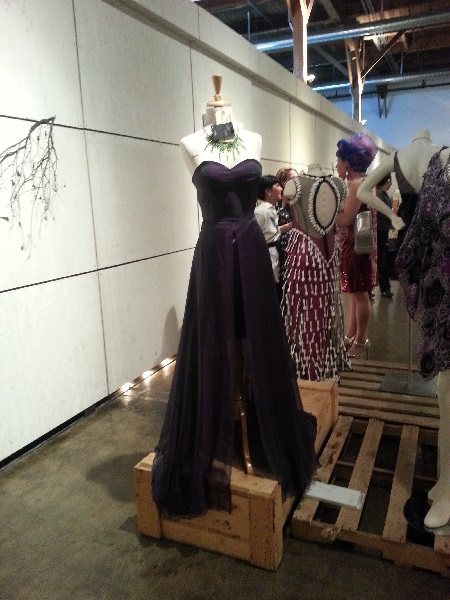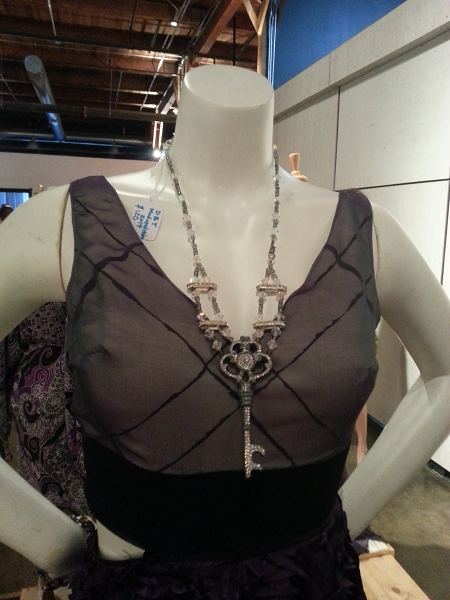 This design had jewelry from Ramon A. Lobo of Designs By Tony Tagle. More of his elegant work was seen on the rustic branches along the walls of the gallery.
Not only was I able to catch up with some of my prior classmates at this event, but I was able to get a close look at their fine detailed ensembles.
Erica Vallejo of ACIRE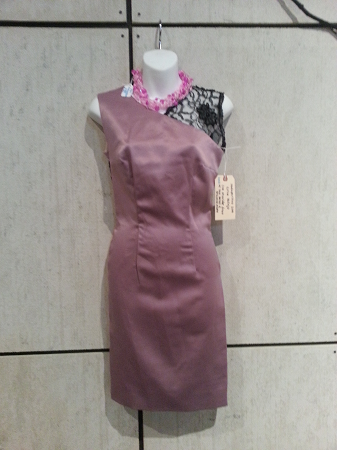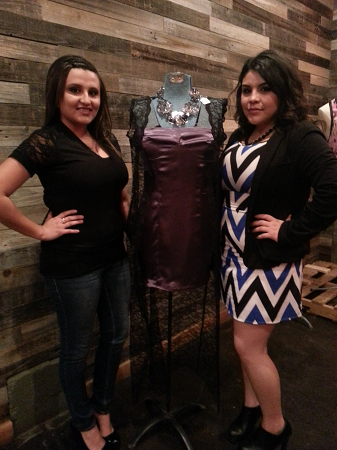 Petra Aisha LaVigne of PETRA AISHA LAVIGNE Designs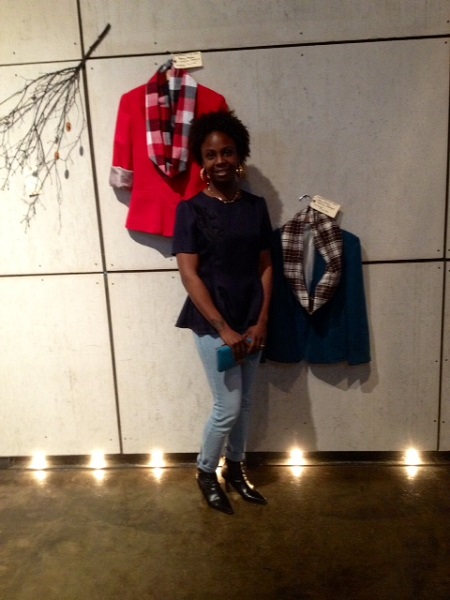 What I love most about events like this is MEETING NEW PEOPLE!
Karen Holloway of INFERNAL CONTRAPTIONS APPAREL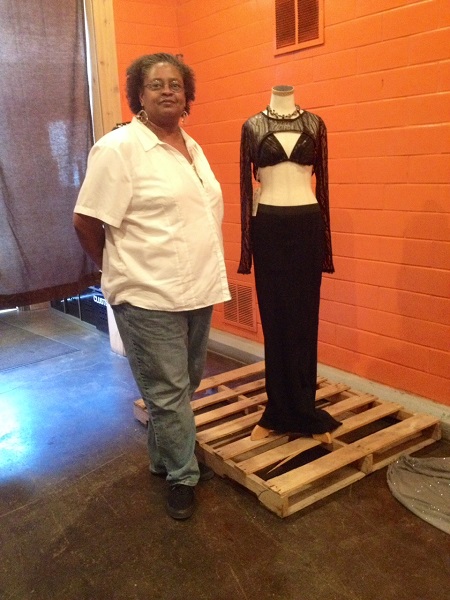 Carlos Melendez of CARLOS MELENDEZ DESIGNS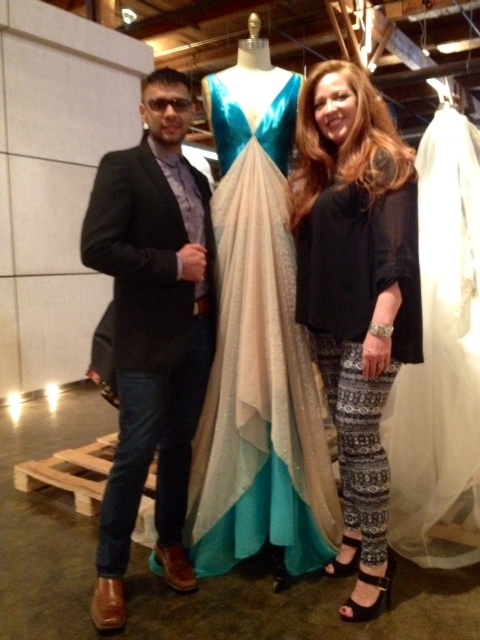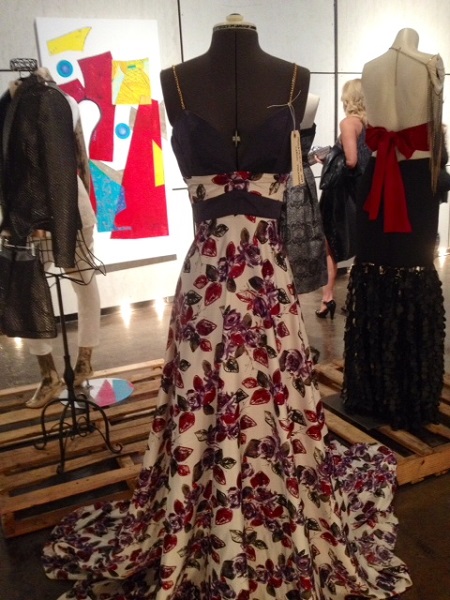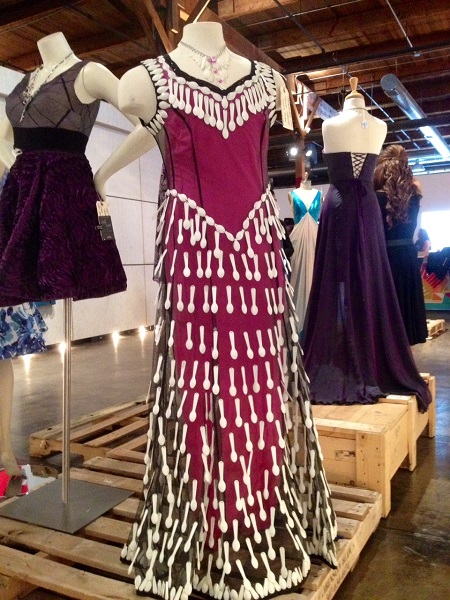 If you are in the industry you know them, you know their work and you know their style – Our leading Local Denver Fashion Designers are up next!
Gabriela Martinez of GABRIELA DESIGNS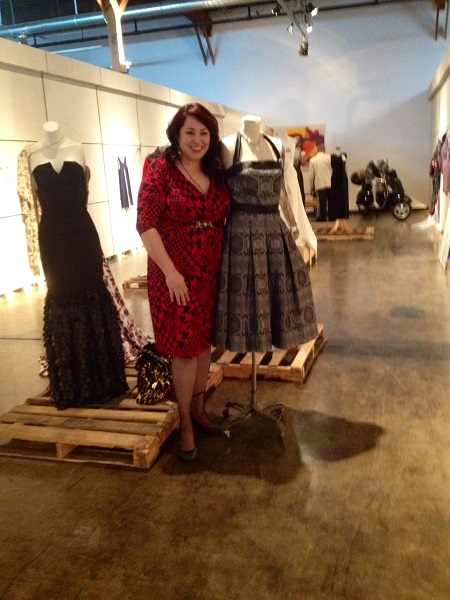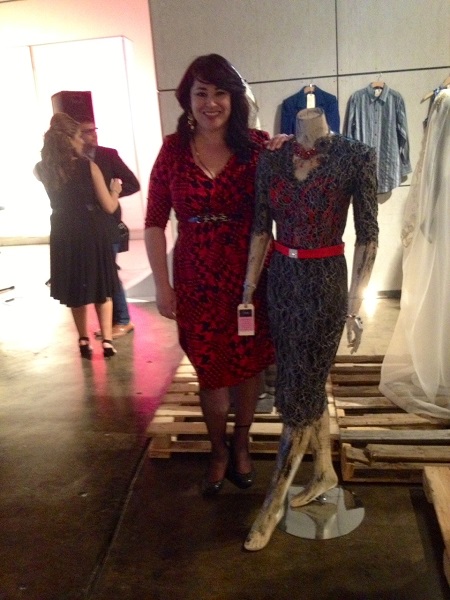 Gino Velardi of GINO VELARDI Designs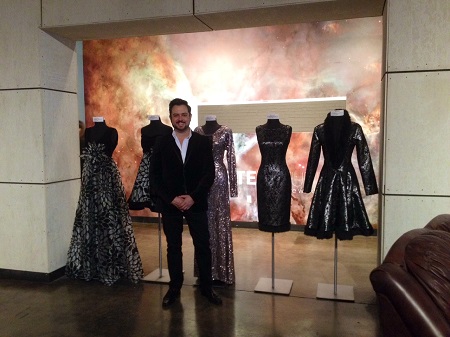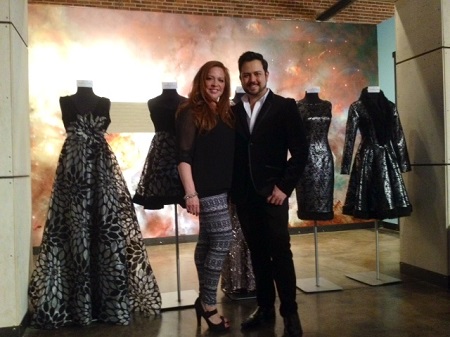 Francis D Roces of KIMONO DRAGONS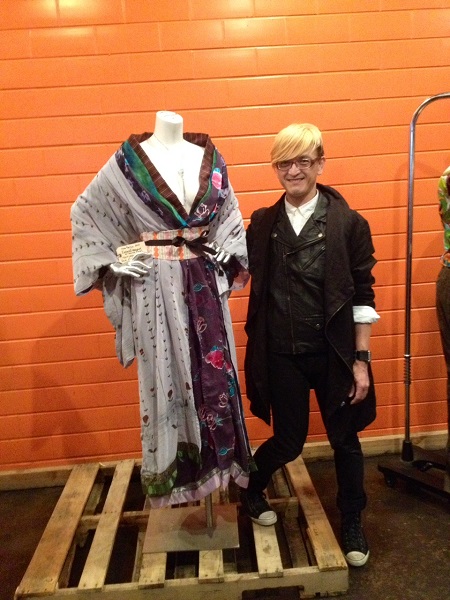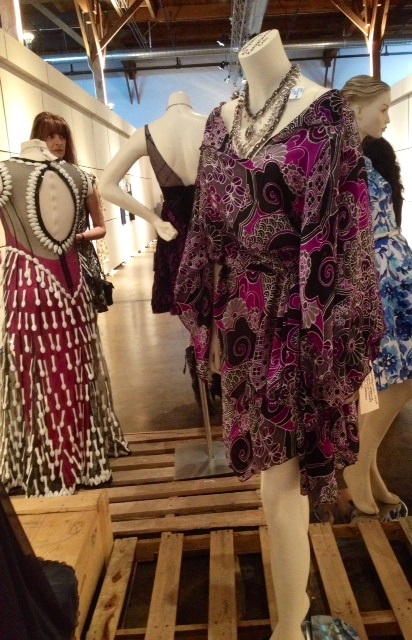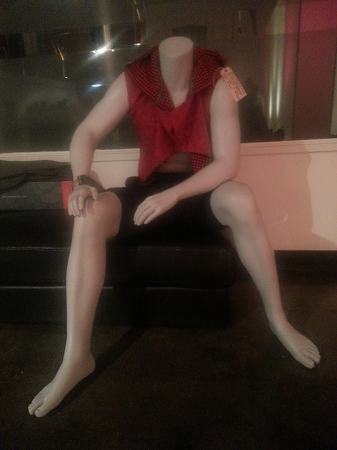 Mona Lucero of MONA LUCERO DESIGNS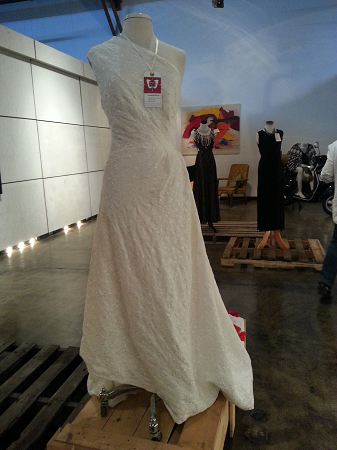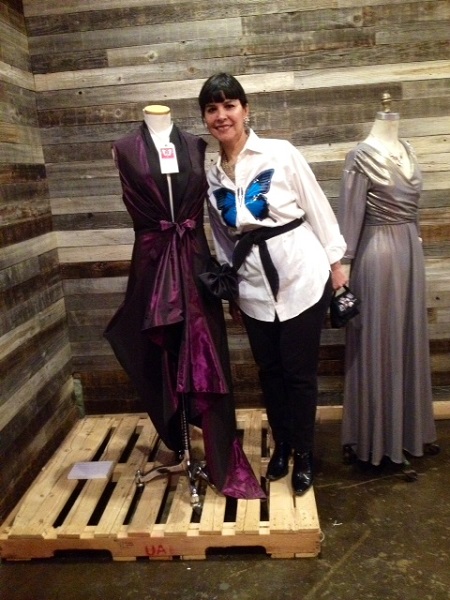 Something really great about this event was that it was not only about the fashion designers, but it was a complete art event. I met the painter whose works decorated the entire gallery.
Luci Geller
36" x 72" Empty Nest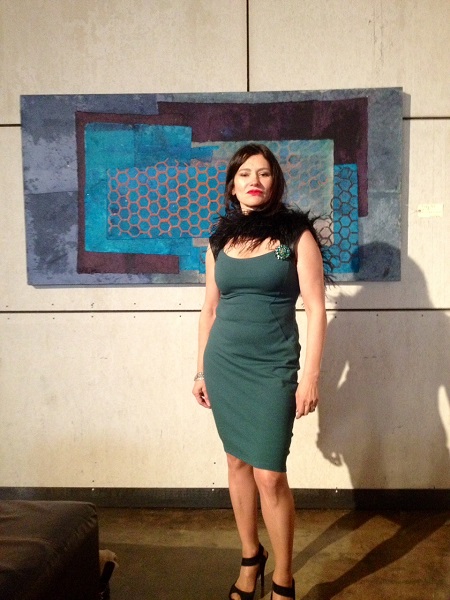 If you love her work you can email her at Lulugel@hotmail.com.
The live band, The Other Black Musician, played throughout the night; creating a relaxed feel for the MODAPERITIVO guests.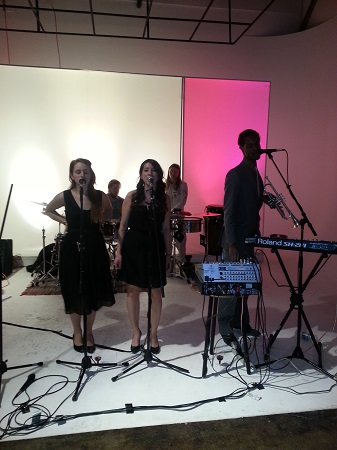 Your very own FCF was able to meet and greet with these fabulous people, while we were served the best Italian food from vendors like Parma Trattoria Mozzarella Bar and IL Tagliere Salumi.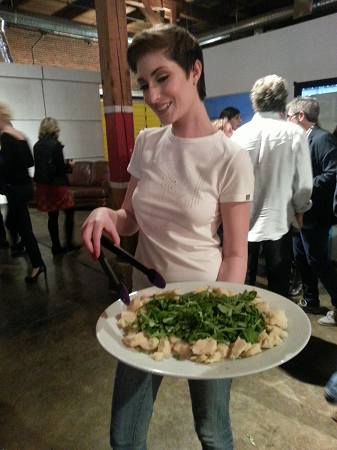 TWe at First Class Fashionista want to thank the very lovely Loredana Venturi for putting on this amazing event and giving FCF the chance not only to attend but to team up with MODAPERITIVO as a promotional partner. We all had such a wonderful time and hope this becomes an annual attraction.