Would you like to know the building blocks to changing the world in a positive way? Well…you have come to the right place because the WordLove Tour is on its way and it might be heading in your direction. Brandi Shigley and Sahar Pazirandeh are realistic idealist looking to empower people like you and I, and get us moving in a positive direction. They're taking on the WordLove Tour to offer one-on-one guidance and group workshops.

With your participation in the WordLove Tour, you'll be taken over by an infectious power of positivity and strength. Each participant will be invited to a closed group forum on Facebook with Brandi and Sahar. This forum is provided so that you can keep in touch, especially when you feel you need empowerment and support. After attending the tour, you will also be able to stay in-touch with the topics covered during the presentation with your very own digital workbook, including "Find Your Voice" and "Do What You Love".
Your very own FCF had the amazing chance to talk to Brandi Shigley (right) about the upcoming WordLove Tour.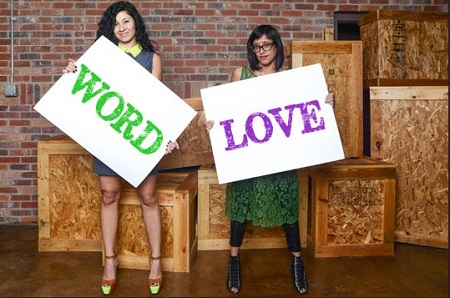 FCF: What can people expect when attending the WordLove Tour?
Brandi: People can expect to be motivated, inspired, and equipped with the tools and techniques to find their voice and create a life in which they are taking their passions to the next level.
FCF: Can you tell me your future plans with the tour? For example what should we expect next year.
Brandi: Sahar (my co-inspirer) and I will be in New York City in October with the WordLove tour. We plan to tour a couple times a year in different parts of the nation.
FCF: What are your plans with Fashion Denver, now that you are focusing on the WordLove Tour?
Brandi: I've never been somebody who can only focus on 1 thing. My focuses are timely. Right now I'm focusing on WordLove but as soon as I'm back, the planning and implementation will continue for our Fashion Denver summer market. When I'm back from the tour, I will also be focusing on my weekly accountability sessions with dreamers who are becoming doers. All of this information can be found at www.dowhatyoulove.us.
FCF: Brandi, anyone who follows you or has met you in person knows that you are a very positive and optimistic person. What advice can you give to someone struggling or thinking about giving up? What keeps you motivated?
Brandi: For people who are struggling:
1) Surround yourself with positive and inspiring people. Stay away from getting sucked into drama which drains your energy to focus on what you love.
2) Don't give up! Unless you realize that you honestly just don't want to pursue that passion. It happens!
3) Find a mentor, job shadow, or interview somebody in the field that's doing something similar to what you love.
4) Put yourself out there and be proud of who you are.
I stay motivated when I constantly challenge myself. Whether it's trying new design techniques (graphic design or with my handbags) or creating a new event that goes outside my comfort zone. WordLove is just that, a new challenge!
FCF: What is the main goal or focus of the WordLove Tour?
Brandi: The main focus is to un-stick people from their fears. To free themselves so they an be in a position to speak their mind and do what they love.
Workshop Details Denver and LA
DENVER:
May 8th, 2014
6:30pm-9:30pm
1070 Bannock Street
Denver, CO 80204
LOS ANGELES: 
May 13th, 2014
6:30-9:30pm
1342 S. La Brea Ave
Los Angeles, CA 90019
The WordLove Denver Tour Schedule
May 6th (Tuesday): Art Institute of Denver's Ownership Class talking fashion business tips.
May 6th (Tuesday): Urban Angels event unsticking women from repetitive negative thought patterns and inspiring them with newness.
May 7th (Wednesday): Third Way Center: To offer truth and hope to high risk, mentally ill, disadvantaged and often homeless adolescents, and their families.
May 8th (Thursday): WORDLOVE Workshop DENVER Edition at the Do What You Love headquarters
May 9th (Friday): Emily Griffith Technology College talking fashion business tips
May 10th (Saturday): The "I Have A Dream Foundation" talking fashion business tips, connecting, and following your passion.
The WordLove Los Angeles Tour Schedule
May 12th (Monday): Fullerton College fashion dept.
May 13th (Tuesday): WORDLOVE Workshop LA Edition at Studio 1342
May 14th (Wednesday): Happy Birthday Brandi! Thank you for working on your birthday! xo – Sahar
May 14th (Wednesday): The "I Have A Dream Foundation" talking fashion business tips, connecting, and following your passion.
May 15th (Thursday): New Village Girls Academy- Motivating and inspiring young women to find their voice and do what they love.
May 15th (Thursday): Women Empowered– Sharing our journeys as entrepreneurs and giving tips and techniques for women to build the life they crave.
May 16th (Friday): Day In The Park with Downtown Women Center LA. We will be speaking and have a booth full of fun summer activities. Jump rope while singing all the things that hold you back. Double dutch while shouting out what drives you and makes you happy!
Thanks for reading and we hope to see you at this amazing event! For more information and to purchase tickets visit www.WordLove.us. Did you know being a First Class Fashionista reader/supporter gets you a special discount? Here's the link to your FCF discount: http://wordlove.us/first-class-fashionista-wordlove