Dove Men+Care and Target Celebrate All-Star Dads with Chance to Win Midsummer Classic 2014 Game Tickets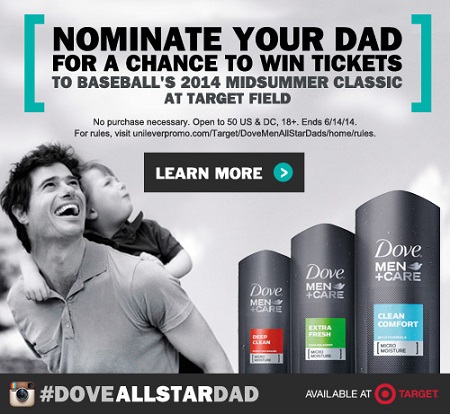 Do you have an All-Star Dad in your life? Do you want to tell the world how inspiring your dad, husband or father figure is? I do. My All-Star Dad is the best! I am proud to say my daughters, who are successful young women now, have a dad who is always there for them. Our three girls can talk to Dad about absolutely everything, and sometimes he is the first to know about school/career challenges and even matters of the heart. I truly admire their father-daughter relationship. Dad is a father who relishes every moment spent with his daughters. He held their tiny little hands on the day they were born and never let go. He is present to encourage, uplift and celebrate their successes. They look to Dad to show them what being a man is all about. My husband is an All-Star dad, and that's why I'm entering him for a chance to win tickets to Baseball's 2014 Midsummer Classic at Target Field in Minneapolis!
Check out my All-Star Dad video on Instagram @FirstClassFashionista.
You can enter your All-Star dad in the Dove Men+Care and Target contest too. Create a short video sharing why your All-Star dad is the best for a chance to win an all-expense paid trip to the 2014 Midsummer Classic for YOU and your DAD. You can submit your video directly to the contest page at http://www.bit.ly/1m1Sm2m or via Instagram using hashtag, #DOVEALLSTARDAD. Videos submitted via Instagram can be a maximum length of 15 seconds, and videos submitted through the contest microsite can be a maximum length of 30 seconds.
Dove Men+Care and Target will select the top 10 videos, and starting May 15, 2014 viewers will vote for their favorites. If your video is voted into the top 3, you'll win the All-Star Dad contest. Those who participate by voting will be entered for a chance to win a $10 Target gift card.
Good luck to everyone! As always, we at First Class Fashionista thank you for visiting our site.
Dove Men+Care products are available at Target.
Disclosure: This post is a Global Influence sponsored post. Regardless, our team at First Class Fashionista only recommends products or services we use, will use or have used personally and believe will be good for our readers. We are disclosing this in accordance with the Federal Trade Commissions 16 CFR, Part 255 Guides Concerning the Use of Endorsements and Testimonials in Advertising. In cases where we can not support a product, that product will not be featured at FCF.