If you weren't among the lucky crowd to finish out the "Under the Gunn Thursdays" event series with Mondo Guerra and Stephanie Ohnmacht on April 10th, I am sad to say you missed a great send-off.
For those not in the know, "Under the Gunn Thursdays" were the weekly 21 and up viewing parties of the "Under the Gunn" television show on Lifetime. These viewing parties, hosted at Beauty Bar, have been a way to catch up on fashion's top necessities: fashion, competition, cocktails and Tim Gunn. In addition to the Beauty Bar's famous Martini and Manicure specials, Mondo and Stephanie offered a fun and interactive experience. Truthfully, it was a good time.
I didn't want to talk about this too soon to give fans of the show a chance to watch the finale themselves. If you haven't, and how can you not have(?!), Season 1 is available on Amazon Video or you can just see the finale on the Official Lifetime page.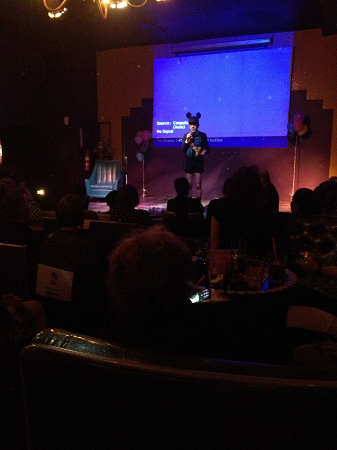 …But upon announcement of the winner – and honestly, did any of you guys see that one coming? – It was a bittersweet wrap-up of the event. Mondo, however, let it slip that a second season and another year of viewing parties may be in the works! Yes, you heard it hear on First Class Fashionista: There may be another season of Under the Gunn and round 2 of viewing parties! We have an exclusive video of Mondo's wrap-up speech that gives the juicy details.
Although there will be no "Under the Gunn" for now, I still recommend checking out Beauty Bar for Martinis and Manicures. For only $10, you get a drink from their specialty menu and a manicure. It doesn't cover the tip, but it's still a steal for a night out with the girls or a little bit of me time. I rarely go out, add drinks and come back looking even more glamorous; it's a nice change.
So what did our fellow fashionistas think of the ending? Is that who you thought would win? Was that who you were rooting for? I've been dying to talk about the ending, don't disappoint, readers!
Brand Statement:
To celebrate his new role, Mondo is hosting "Under the Gunn Thursdays" — weekly 21+ viewing parties at Beauty Bar Denver, featuring special celebrity guests, prizes and activities. Denver-area "Project Runway" fans may remember similar events he hosted for season eight and "Project Runway All Stars.