Simple Products on Sale at a Great value
If I use the right products to clean, nourish and protect my face, I love what I see when I look in the mirror. During seasonal changes, however, my sensitive skin is highly prone to breakouts and blotchiness. It's springtime here in Colorado and this means temperatures can go from high 80s one day to a snow day the next. Yes, this happens.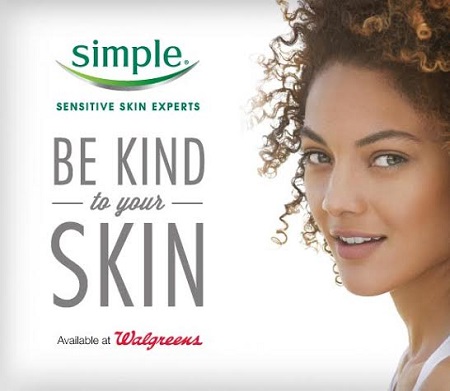 The common reaction to a breakout is usually increased washing; which, of course, I do. Then I end up not even wanting to smile like the lady in the ad above because my face is sooo dry and my lips are painfully chapped…Can you imagine? To combat this dryness and restore essential vitamins lost during washing, I recently started using the Simple hydrating Light Moisturizer. I am very happy with the results thus far. My skin is hydrated and my complexion is more even-toned.
So when I was selected to share with FCF readers about Simple Skin Care's latest products, I was delighted. I know and trust this line. I believe Simple is an expert on sensitive skin care. Simple is SENSITIVE and KIND to your skin. Available now is the new Ultra Light Gel Moisturizer, Simple Foaming Facial cleanser and the Simple Nourishing 24-hour Day/Night Cream. At Walgreens buy any 2 or more participating Simple products during the month of May and get 2,000 Balance Reward Points. For even more savings at Walgreens, participating Simple products are buy 1 get 1 50% off when using your Balance Rewards Card.
Disclosure: This post is a Global Influence sponsored post. Regardless, our team at First Class Fashionista only recommends products or services we use, will use or have used personally and believe will be good for our readers. We are disclosing this in accordance with the Federal Trade Commissions 16 CFR, Part 255 Guides Concerning the Use of Endorsements and Testimonials in Advertising. In cases where we can not support a product, that product will not be featured at FCF.