Taking the Journey to Find the Voice to Do What You Love
This was the first event of its kind; changing the way attendees thought, behaved and spoke. Brandi Shigley and Sahar Pazirandeh were the hosts and inspirers showing us a new way to live our lives.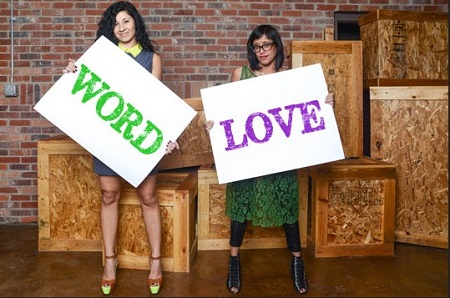 May 8th, 2014 at 6:30pm…I walked through the doors into Brandi's very own studio at 1070 Bannock Street in Denver. As I looked around I felt the energy from everyone in the room. It was energy full of acceptance and openness. People in the room had no idea what this event was really about and honestly neither did I. As I looked around, there was a table covered in poster boards asking all guests to admit their fears. As the event began, we all got comfortable with our hands filled with sweet fruits, cupcakes and smooth wine.
Sahar and Brandi knew how to get our attention. They began with an up-beat song about their story and how they learned to speak up. Following their funny dance moves, the Great Brandini demonstrated her awesome magic skills. Even though the song and magic trick was up-beat and their dance moves were crazy funny…we learned about the deeper meaning within the song as Sahar told her story.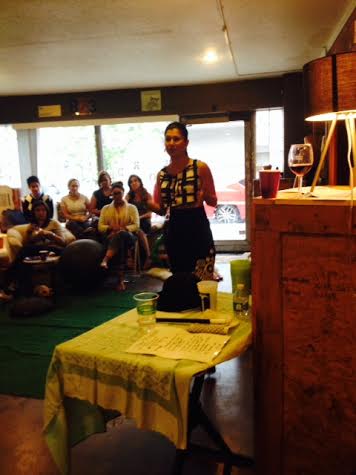 Without going into great detail about her own personal journey as a young girl in her country, Sahar pointed out the facts. Here in America we have a choice…the girls in Nigeria DO NOT! We have freedom, Sahar's people in Islam DO NOT! Sahar's life growing up was far from perfect or ordinary for an American, but as she went on explaining her life until now, she pointed out the fact that "it's my story, but it doesn't own me anymore." As Sahar became an adult, she was making all the money she would dream of…but she was not happy. She also explained how "you cannot receive unless you let go." Her financial success in adulthood proved that money cannot buy happiness. As Sahar walked us through her footsteps, she reminded us all that we should stop "shoulding" on ourselves. What she meant by this is that we need to stop saying "I should be…" We need to ask this question to ourselves, "If no one and nothing was in your way…what would you do?"
You can find out more about Sahar Pazirandeh at
hhtp://www.saharpaz.com
Following Sahar's emotional story, she asked guests to find their voice and tell their own. Two brave souls in the room did not only tell their story, but had all the attendees in tears and smiles. Griselda Nanifito and Abdul-Saadiq Johnson were those brave souls.
Griselda had no ordinary story as well. She explained her common experience in becoming a business woman making 6 figures and still not finding happiness. Griselda described how her and her husband left everything they had to start a new life…They literally lived the American dream of starting over. A few thoughts Griselda brought to my attention; focus on the happiness not the money and the new slavery is debt.
Adbul began his story by telling the audience that his true happiness in life is to be loved. After traveling, he found himself without a friend in sight. His mother gave him unexpected advice. By telling Adbul that he was not a doer, she helped him turn his life around He become the person his mother described him not to be. He shared a situation that helps him be a doer. The situation starts by you pulling a number in line…your standing in line and your phone rings. You step out of line to take that phone call. When you get off the phone and back in line will you still have the same number? This story was one I could relate to. To me it meant that if you start putting objects in the way of your goals, you will only create a longer wait time for yourself, when in theory and practice you need to be your own number one. Abdul ended his story with these six words, "Think it, believe it, and speak it!"
As if this emotional roller-coaster couldn't get any better, Sahar came back onstage and went over Permission, Practice, and Validate. What this means is to give yourself permission to mess up and look like a fool. Next, the Great Brandini took over as she demonstrated another magic trick.
After Brandi's awesome magic trick, she told us a little about her own story. We learned that the story behind the woman with the biggest smile and the most positive attitude began in a happy orphanage. Adopted into a wonderful family, Brandi was loved and happy. Being the awesome fashion designer she is today, it all began in grade school when she would make paper purses and paper wallets to put inside her paper purses. It was so cute; she even passed around her paper ID that she made back in the day at school.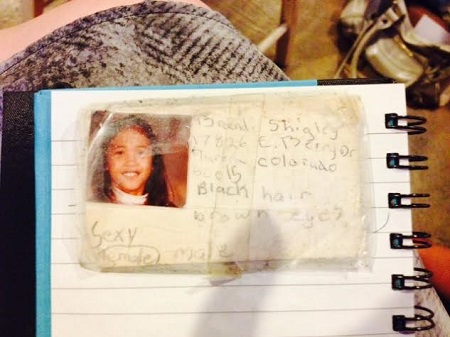 Brandi Shigley gave us all permission to honor our very own process in designing. Whether you are detail oriented and it takes you hours to design one garment or you need colorful shapes and lines to create a drawing. We are all unique and no one is the same.
Once she became so well known in Colorado, she decides to move to California to begin a new journey. In California she tried to establish her business as a designer, but she quickly learned that the people in California were not as interested as her supporters in her home state of Colorado. With some hard work and determination she eventually took over the position of Marketing and PR for a skate board brand. She found this quote to be true, "those who step outside their comfort zones to pursue their dreams will always fine true happiness."
In 2005, Brandi explains with her "dreamer, doer" attitude, that she received the first ever Mastermind award from the Westword. This award granted her $4,000 to create her own office space. After maintaining a strong presence in the fashion industry, Brandi was later given the opportunity to create a proposal for a fashion project competition. For this opportunity, Brandi illustrated the great pressure she had to go under in determining how much she was worth. Know your worth, she said. Another strong point Brandi talked about was weeding out the negative energy. She mentioned a friend that would visit her and vent or "dump on her" during her creative hours. After months of enduring the negative venting of her friend, Brandi finally had enough and tweeted on Twitter, "Stop complaining and start creating." In other words, take all the negative energy and pour it into something productive. After Brandi tweeted, CNN contacted her and asked permission to write an article about it. With all this publicity and having her hands in all types of projects, Brandi realized she was spreading herself thin. She needed to focus on the essential and eliminate the rest. This is one concept I myself can relate to. Brandy soon realized what her passion is at this stage in her life, which is consulting and marketing.
You can find out more about Brandi Shigley at
http://www.dowhatyoulove.us
Here are a few points Brandi left us with:
1: Don't spend time doing what's keeping you from what you love.
2: People die; live every day doing what you love.
3: Embrace change and find things and people you love.
4: Surround yourself with people that bring and keep you up.
5: Lose negative friends and find better ones.
6: Keep in mind nothing comes easy. It's all worth the wild roller-coaster.
As a participant of the WordLove Tour, we are invited to a closed group forum on Facebook with Brandi and Sahar. With this forum we can keep in touch, especially when we need empowerment and support.
Proud Supports of The WordLove Tour include:
Fluo Apparel
First Class Fashionista
B-Fresh
Women Empowered
Mondo Guerra
Girl Talk HQ
You Can Do It Diva
Studio 9720
GTG Marketing
Luna Bars
Rayce PR