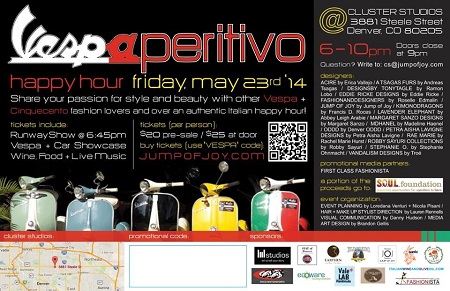 ATTENTION, ATTENTION, ATTENTION vespa AND fashion lovers – It's a vespa + fashion happy hour!!! Get ready for a night of entertainment as you meet and greet with some of the coolest people in the Colorado fashion industry while experiencing a truly authentic Italian happy hour. You Don't want to miss this one. Join us Friday, May 23rd at Cluster Studios for Vespaperitivo! Featured designs from ACIRE, A Tsagas Furs, Jump of Joy, Kimono Dragons, Rae Marie, Stephanie O, Margaret Sanzo, Robbi Sayuri, Vandelism Designs, FASHIONANDDESIGNERS, Designsby TONYTANGLE, Eddie Ricke Designs and Petra Aisha Lavigne.
Tickets are still available but space is limited. Purchase your tickets now at http://jumpofjoy.com/collections/happyhour/products/art-night-modaperitivo. Use the code YOUANDME to get your ticket discount.
Tickets include:
A taste of the finest selection of red and white wines
Prosecco
Tequila drinks
Italian Happy Hour food
Attendance at the runway show starting at 6:45pm
A viewing of the VESPA collectible motorcycles and car show
Music
Sponsors/Supporter:
FIAT of Denver
ERICOMOTORSPORT Denver
Eldorado Spring Water
Ecoware compostable wooden cutlery
Earthen compostable bamboo dishes
Suerte Tequila
Italian Wine and Olive Oil
II Tagliere Salumi
Belfiore Cheese
121 Video Studio Production, and last but not least your very own
First Class Fashionista
We hope to see you all there! Cluster Studios is located at 3881 N. Steele St. Unit B, Denver, CO 80205. Get your networking ON. Oh yeah.