Were you there at Mission Wear? Okay, mostly I just wanted to say that because it rhymed. Seriously, say it out loud and tell me it wasn't fantastic. For all of us fashionistas who were unable to attend the Another Chance Fashion Show, fear not- I have photos!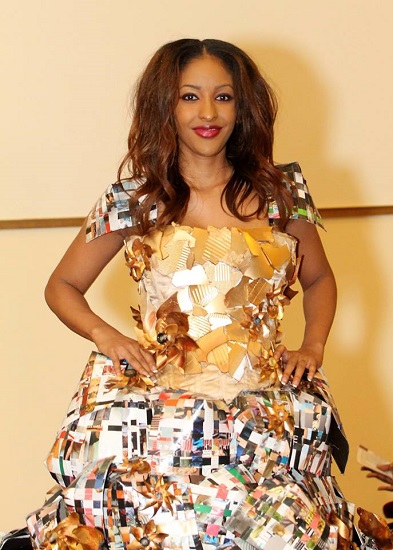 Image provided by Mission Wear.
Despite starting off a bit slowly, the fashion show had a great turn out. I'm kind of surprised that so many people could fit in that church! The show took place in the same church where the Mission Wear operation normally works out of, Our Savior's Lutheran Church on East 9th. Food was generously provided by Noodles & Company and beverages- strange as it must have been to drink in a church- came from Strange Brewing Company. Mission Wear had the whole set-up down there in the old 'burbs, so I wonder how the residents felt about getting a taste of fashion for a night.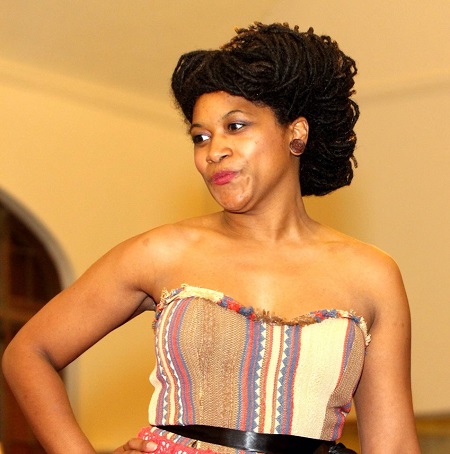 Image provided by Mission Wear.
The outfits were as interesting as they were unique. Honestly, I don't even know how the judges were able to choose a winner. From historical looks to classy dresses and avant-garde ensembles, the recycled materials took on a wide array of forms. But, there could only be one winner. Richard Smith's design, made from flooring and plastic french fry bags, won him a Singer sewing machine. With the detailing, it's hard to even tell that it's recycled materials. I want to know how he manipulated that thick fabric so elegantly.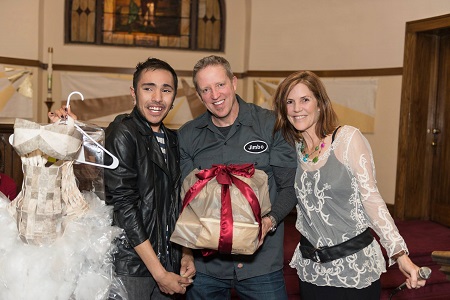 Image provided by Mission Wear's official Facebook page.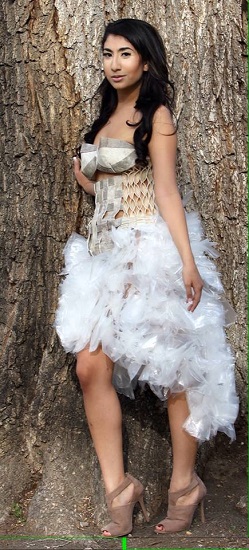 Image provided by Mission Wear.
Garments not created by students or local talent was provided by Wash Park's Birds & Belles clothing boutique, who did a wonderful job showcasing some rockabilly style on the runway. 
First Class Fashionista was proud to be a part of promoting this show. It was a great way for aspiring designers from all backgrounds to get their work out there and seen. I'm so proud of all of you, and I'm especially glad that some of my fellow Ai Colorado students were able to find time to put their designs into the show. Everyone who gets a chance should pop on by the Mission Wear Facebook located here and thank Beth McWhirter for sponsoring the event and putting on such a great show, as well as Irma Rayes who worked tirelessly behind-the-scenes to make it all come together.
Congratulations to everyone who participated, and thank you to everyone who came together to support a local Denver fashion event. Enjoy the picture gallery. Feel free to share, share, share!