Value Your Beauty Contest: For a chance to win a trip to NYC, post a picture of you and an inspiring woman in your family sharing your definition of beauty using hashtag #FDBeautyis in the caption.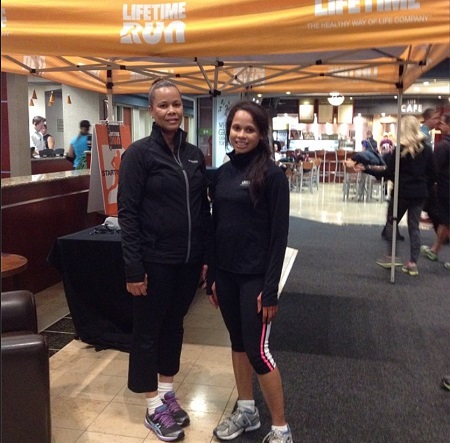 Do you have an inspiring woman in your family that exudes beauty from the inside out? She inspires you to be the best version of you that you can be. My inspirational woman is my very own daughter. I'm a lucky lady, right? A few years ago I tore 3 ligaments and gained 30lbs. I recently fractured my foot but that's another story. Honestly, I recovered pretty quickly from the ligament tears back then, but I never returned to a regular workout schedule. I have to tell you that it got really, really comfortable on the couch. Almost two years after the injury, my daughter bought me an elite gym membership for Mother's Day. As costly as it was I only went once or twice a week. I truly lacked the confidence I needed to get moving. Getting back to my old self and fitting the clothes in my closet again seemed so unattainable. So, why go…? My daughter was relentless. She kept pushing me, reminding me how I taught her the importance of eating right, exercise and trying to maintain a healthy body weight. It's now June 2013 and the gym launches their 90 day fitness challenge for the summer! My daughter learns about the challenge and brings home a flyer, saying we're going to do this together. She had no weight to lose but she was right there with me for every weigh-in and she even ran the program's 5k with me at the end of the challenge. This was a journey of compassion and self-discovery. My daughter, who knows me best, knew I wasn't happy and came to my rescue. It all eventually clicked for me. I realized I had stopped loving myself the way I should, and I needed to put me first – in front of the line of all the things to do. In 3 months I re-gained my confidence to get healthy and fit. I knew that if I made an effort, change would surely happen. I lost 20lbs, finishing the 90 day challenge in the top 5 for weight loss! How do I define beauty? I think true beauty shines from within – from the inside out. Beauty is kindness. It is compassion. It is the expression of loving yourself and others. And confidence is, without a doubt, beautiful! Beauty IS finding happiness!!! Thank you family, friends and First Class Fashionista readers and supporters for your unyielding support on my journey to a fitter, healthier lifestyle. I truly value the beauty in my life.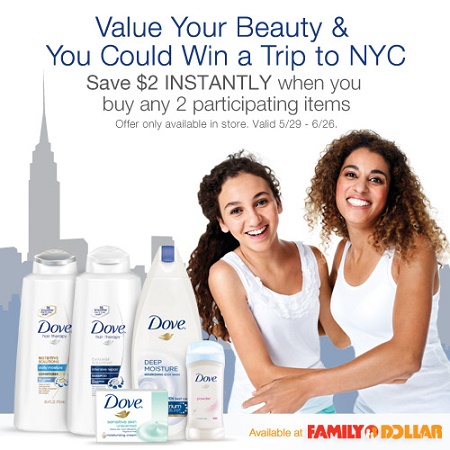 Dove and Family Dollar want you to show off your real beauty for their Value Your Beauty contest. Take a picture or video of you with an inspiring woman in your family, using the hashtag #FDBeautyis in your caption for a chance to win a trip to New York City, courtesy of Dove and Family Dollar. See the live feed of entries HeRe.
To enter:
1. Take a picture of you and the inspiring woman in your family.
2. Post the picture to Twitter or Instagram and leave a comment using the hashtag #FDBeautyis sharing how you define beautiful.
3. Complete your contest entry at http://familydollar.com/pages/dove.aspx?cid=sbo.667.8791.2396.
4. Bonus. Post your picture URL for an extra entry each day.
Going on now until June 26, 2014, save $2 when you buy any 2 participating Dove items in-store at Family Dollar.
Disclosure: This post is sponsored by Global Influence. Regardless, our team at First Class Fashionista only recommends products or services we use, will use or have used personally and believe will be good for our readers. We are disclosing this in accordance with the Federal Trade Commissions 16 CFR, Part 255 Guides Concerning the Use of Endorsements and Testimonials in Advertising. All opinions stated here are my own. In cases where we can not support a product, that product will not be featured at FCF.