Matthew Morris Salon and Skincare presents EYE CANDY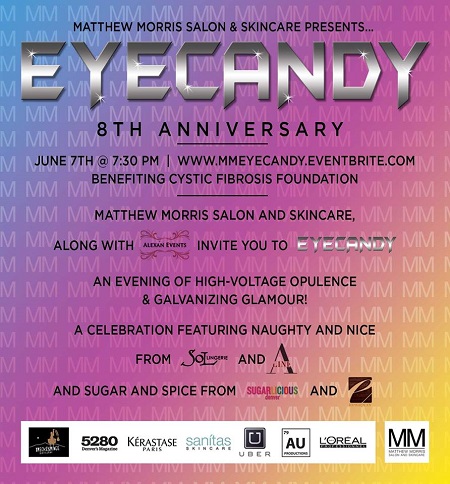 "Nothing about Matthew Morris, his south Broadway salon, or the parties he throws are without epic attention to some very boss details." – Denver Post
Denver, CO – Saturday, June 7, Matthew Morris kicks off summer and celebrates 8 successful years at their annual anniversary runway Show! Every party only seems to get better, with endless surprises and intricate details. Inspired by 80's excess, Matthew Morris Salon and Skincare presents EYE CANDY, a runway extravaganza full of sugar and spice, everything from naughty to nice.
A night of sophisticated collaboration from SOL Lingerie and A-Line Boutique delivering an elegant edge to fashion artistry featuring collections on the runway that will be one to remember and Epernay Lounge and Sugarlicious delivering pure indulgence in taste. Creating a night of "artistry and flair" says Black-Tie Colorado, the parties host a killer crowd- "the most dapper of Denver's male hipster population" says the Denver Post, and the most fashionable ladies, and well-connect mile high socialites in Denver. When they warn you tickets sell out fast, they mean it.
"Recognized as one of the largest luxury lingerie boutiques in the country, SOL Lingerie's mantra of 'Get Fit, Have Fun, Feel Fabulous' while offering superior customer service makes it the place to shop in Denver for lingerie. The jaw-dropping runway looks of their European lingerie designers are not to be missed."
Toasting to a successful and memorable year, Matthew Morris Salon and Skincare is proud to have been recognized in 2013 for SALON TODAY Magazine's 2nd runner up in the country for Salon of the Year, 5280 Magazine awarding us Best Stylist/Salon and Power Couple, winning North American Hairstyling of the Year award for first ever Men's Hairstylist of the Year, for our memorable hat collection being featured on the cover of MODERN SALON and the inside spread, for being finalists at NAHA for Masters of Business and Salon Design, having our editorial work grace the pages of magazines in Italy, Spain, and Russia, and most recently being honored as L'Oreal Professional SOHO 2014 On the Road Academy for advanced education.
This annual runway show "puts all other block parties to shame", says the Denver Post. A night to celebrate success, fashion, and charity! Matthew Morris's celebrations are always the "talk of the town for weeks after…but it's not just about him: the events raise money". Ticket sales benefit the Cystic Fibrosis Foundation– Colorado Chapter.
Cystic Fibrosis (CF) is a life-threatening genetic disease that affects the lungs and digestive systems of approximately 30,000 children and adults in the United States. More than 10 million Americans are unknowing, symptomless carriers of the defective CF gene. The disease occurs in one out of every 3,500 live births of all Americans and about 1,000 new cases of CF are diagnosed each year. Virtually every approved CF drug available today was made possible because of the CF Foundation's support. The CF Foundation is one of the most efficient organizations of its kind and is an accredited charity of the Better business Bureau's Wise Giving Alliance.
Soley, the daughter of one of our stylists, was born with CF and the disease has caused her to go through a lot of pain and sadness over the years while spending endless hours in hospitals and doctors visits. Knowing children like Soley progressively get worse the older they get, makes it that much harder on them and their families. Our stylist says, "just in the last 11 and half years, thankfully because of funding and donations, it has provided so much more research and tools to extend a CF patient's lifespan from 27 to 37 years old. It really makes you appreciate your valuable time with your children and your own life".
To learn more about cystic fibrosis and the CF Foundation visit www.cff.org.
SPONSORS:
ALEXAN EVENTS, SOL Lingerie, A LINE Boutique, EPERNAY, SUGARLICIOUS, BRECKENRIDGE DISTILLERY, KERASTASE, L'OREAL PROFESSIONNEL, SANITAS SKINCARE, iSClinical, 5280 MAGAZINE, UBER and FOUR SEASONS DENVER.
Press Release Contact:
L'Erin Stortz
General Manager
Matthew Morris Salon
lerin@matthewmorrissalon.com