Did you miss the chalk art this year? Despite living downtown since I came to Denver, I'm ashamed to admit this is only the second time I've been since moving here. I've been missing out. Here's a recap of what we saw, complete with a photo gallery from Saturday night's masterpieces!
The official dates for 2014 were as follows:
May 31-June 1st, 2014
Saturday, 10:00 am – 10:00 pm
Sunday, 10:00 am – 7:00 pm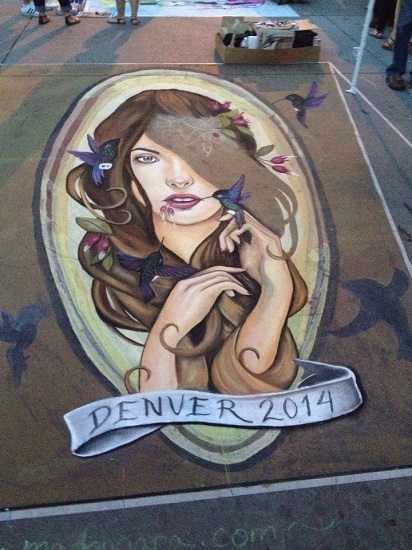 What is the Denver Chalk Art Fest? Gasp! Okay, well for those of you who don't know, learn now and begin preparing for next year, because after seeing these photos I am convinced you will want to spend at least an afternoon checking this out firsthand. Drawing on the 16th century Italian Renaissance traditions of using asphalt as a canvas, the chalk art festival features artists from around Denver and Colorado putting their work- literally- out on the streets. It's a dangerous proposition, especially with the rainy weather we have been having frequently these past few weeks, but the artists will tell you that it's not all about the physical production of the work. Chalk art is a type of performance art, where its creators and its audience both are witness to the evolution of the piece and its interaction with the unpredictable elements. This includes rain, of course, but can also include mishaps while placing color, irregularities in the pavement, or even wayward children unknowingly smearing the canvas. Knowing that the work is impermanent is also part of the fun; the viewers know that they are lucky enough to be witness to fleeting beauty in its simplest form.
This year, the weather was generous, and despite a few ominous raindrops, it remained a beautiful and calm Spring evening. There is always food and drinks available to those perusing the work, and the 16th Street Mall is always popping around this time of year anyway. Overall, it makes for a great atmosphere to get out of the house and do something a little different on a weekend.
Although I can't choose just one favorite, the pieces were amazing. The sheer ability to erase the black coloring of the pavement with pigment with chalk alone was impressive, let alone the fantastic imagery that was put upon it. I do admit, however, there is a soft spot in my heart for the Hungry Hungry Hippos rendering. It was not only a beautifully recreated nostalgic piece, but done in a 3-D style that few other chalk artists achieved.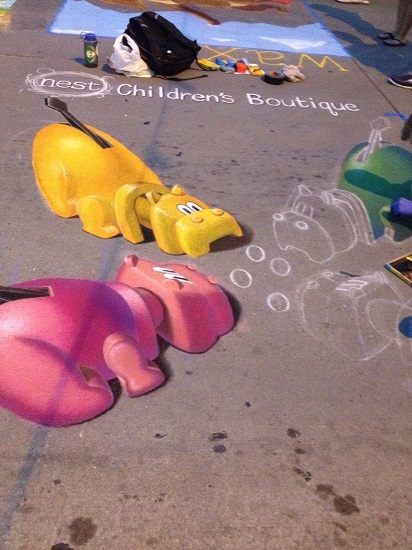 The talent some of these people have is truly inspiring! It makes me want to pick up some chalk pastels and give it a go next year. Anybody else want to be on my team? The 2015 sign-up information should be up soon.
For all who are interested for the upcoming year, the official website (found here), states that there is no cost to the artists and pastels are provided! All that is required is an application and an image of what you intend to create.