Alex and Ani Follow-Up to Jewelry with Meaning Review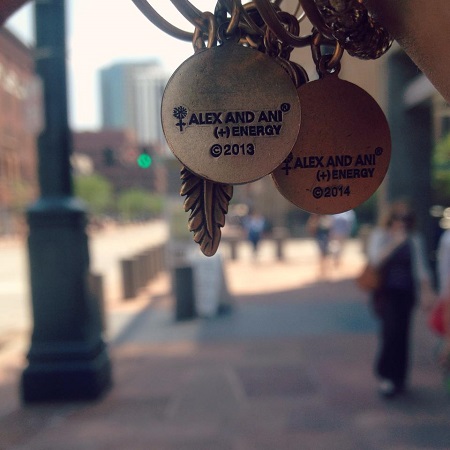 So I've been sporting my Alex and Ani for almost a week now. Almost. And I have to tell you, despite any initial reservations I might have had, I am in love. In love! I know, it's crazy. I'm not really one to go for the fad of the moment or to jump on a bandwagon. However, after wearing these bracelets, I have come to accept them on a different level than simply trendy jewelry.
Wearing my Alex and Ani prompted conversations, especially at work, with others who had adopted the same idea. Some of these people were my customers, some random people, and a few employees I just never had any reason to talk to in depth before. Unavoidably, we would compare arm candy. But I didn't get the sense that any of us were collecting the pieces simply to collect them. For some, every piece had a specific story. For others, they just hoped to bring the positive energy the pieces stood for into their daily lives. One girl showed me her Hamsa Wrap explaining that she used to have two just to keep negative energy away because she needed all the help she could get! According to the Alex and Ani website, the Hamsa Wrap is said to be a "symbol is worn as a defense against negative energy, destructive forces, and unseen dangers as it reflects the gaze of the evil eye away from the wearer. The Hamsa is believed to channel the forces of good, bringing happiness to all who wear it".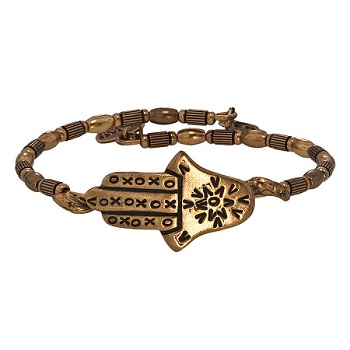 The Hamsa Wrap, from the official Alex and Ani webpage.
Of course, I've already upgraded my own collection. So far, in addition to the initially 3 I was sent, I have 5. Unsurprisingly, I swooped up a bird-themed Feather Charm Bangle and the Tree of Life Charm Bangle. The Feather bangle is said to help those who "seek wisdom and [aspire to] reach new heights", while the Tree of Life represents "strong roots, consistent growth, and fruition".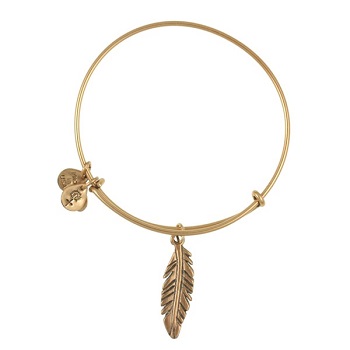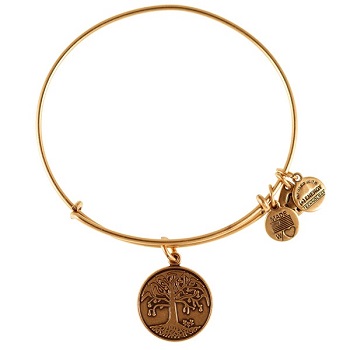 The Feather Charm Bangle and the Tree of Life Charm Bangle, both from the official Alex and Ani webpage.
In reality, I bought the feather because of the role of birds throughout my life. I adopted a pair of baby birds that fell out of a tree when I was really young and I've had a love for the creatures ever since. The tree I purchased because of its allusion to Yggdrasil, or the myth of the 'world tree'. The idea of a tree that connects us all always appeals to my more romantic side.
See what I did there? I told stories about myself based on my pieces. Stories that probably wouldn't come up otherwise in casual conversation. So I guess the reason I like Alex and Ani is that they inspire connection. Anything that can use fashion and appealing adornments to connect like-minded people is completely and totally my scene. People across social networks and even in real life come to connect with one another based on what symbols they choose to identify with and show to the world.
So what did I pair with my bracelets? First off, everything. They go really well with my business-casual attire for work, and I think that the color of the Rafaelian Gold finish is subtle enough that it can go with both regular gold hues as well as rose gold. I adore rose gold, so it's great I didn't have to worry about swapping out my favorite watches for the bangles- it was just another thing to stack on my arm. However, denim and dresses were my absolute favorite combination with my Alex and Ani arm bling. There's something about the femininity and freedom of a dress paired with the down-to-earth boho-chic look of denim that really drives it home.
Here are some fab style suggestions: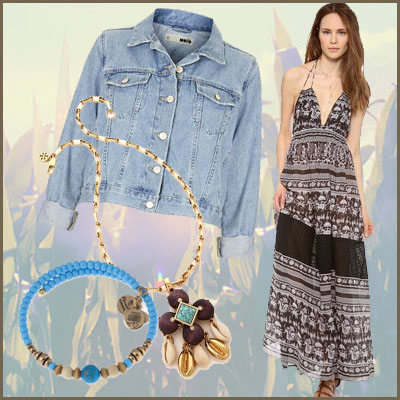 Topshop Moto Crop Denim Jacket, Free People Printed Triangle Top Maxi Dress, Tory Burch Luca Pendant Necklace, and Sea Canyon Wrap by Alex and Ani.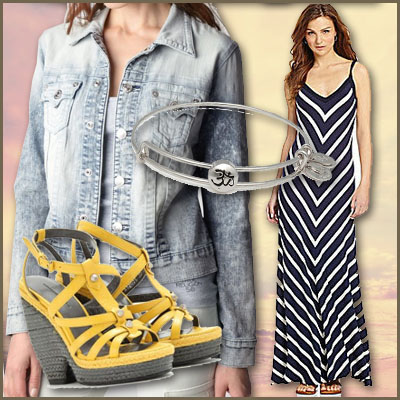 Hand Picked Womens Denim Jacket, Karen Kane Mitered-Stripe Maxi Dress, Balenciaga Trainer Espadrille Wedge Sandles and Sacred Studs Bangle.
Just some suggestions! But seriously, anything by Free People fits wonderfully. And denim. And jackets. Okay, most things work fantastically! Needless to say, I still want that Phoenix Wrap like a fish wants water. Probably more. They're certainly as addicting as I predicted, just for a different reason than I had initially anticipated.
So what about you, FCF readers? Do you wear Alex and Ani? What are the pieces that speak to you?